Don't Cry Over Sour Milk (Using Your Raw Milk Gone "Bad")
A few years ago, I wouldn't be caught dead suggesting that you use up and consume your soured milk products, let alone touch them myself. The proper place for them was down the drain!
That was until I became a raw milk advocate. Though it took a little bit of reading and researching to wrap my mind around it, raw milk or cream that has soured is actually NOT harmful or dangerous, but rather chock full of beneficial enzymes and good bacteria! (However, pasteurized milk is dangerous, as it is lacking these enzymes and bacteria, and rather than souring it putrefies- so avoid once it goes bad!)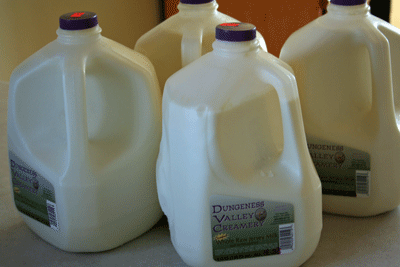 This past weekend, my MIL scored 14 gallons of raw milk on clearance at her local health food store. Being down for a conference, I was fortunate to be able to take 4 of them off her hands! Only problem was they weren't able to be frozen immediately after purchasing, so when I opened them up the day we brought them home, 3 out of the 4 had begun to sour significantly, and the 4th one was about to. Nonetheless, I froze them, knowing I didn't have time to deal with them immediately.
I hadn't been planning on using it all up at once, but a freezer switchover last night (and a 24 hour wait period before plugging in the new standup freezer) left me with nowhere to even keep these frozen. By morning they were 1/2 thawed in the garage, and I knew that I had no choice but to deal with them today. Besides challenging my kitchen skills (a challenge I'm always up for!), this is a great way to practice good stewardship of the food that God has blessed us with!
Here's my plan:
** Make 2 gallons of yogurt
** 1/2 gallon of cream cheese and whey
** If any is still fresh enough, 1 gallon of kefir. If not, it may turn into yogurt as well. Or I may get more creative and come up with a different option.
** Soak a big batch of waffles using this natural "buttermilk", to make tomorrow and freeze all the leftovers
** Make this Custard Pudding as a treat (towards bottom of article)
** Make some chocolate milk for my kids and I this afternoon, with a bit of carob powder and rapadura (for those wondering what carob is, I am planning to write a post on it in the near future!)
** If I am able to actually separate the cream (challenging because these are jugs, not open jars, and I don't have a basting syringe to suck it up), then I will make some cultured butter, and make less yogurt than planned. Here's a simple tutorial for making your own butter.
Interested in learning more about using your own raw milk or cream that has soured?
Learning to Maximize the Use of Your Real Milk and Cream– from the Weston Price site. Includes some great suggestions, and a few recipes as well.
When raw milk goes sour- I found this thread in the Mothering.com forums. There's some good discussion on the topic, and lots of ideas of how people use their soured milk and cream.
Raw Milk: Discussing it's Merits and Safety– for those not yet sold on raw milk, or wondering about the safety of all of this.
What do you do with your raw milk and cream that has soured? I'd love to hear  your ideas (maybe it'll change my to-do list)!