Giveaway Week: Berkey Light Water Filter ($209 value)!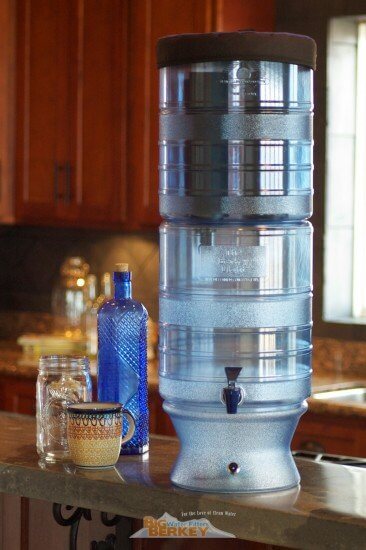 Drinking pure water is a pretty hot topic these days. Once the public began to be aware of the toxins in regular tap water, the bottled water industry absolutely boomed in the 1990's and early 2000's.
Greener and more sustainable living has slowly moved to the forefront, with the introduction of stainless steel and BPA-free water bottles, to replace plastic bottled water, and in-home water filtration systems gained popularity over having jugs of purified water delivered to your home.
What's So Bad About Tap Water Anyways?
Knowing the vast amounts of info that is out there, I've honestly dreaded the idea of trying to wade through it to present you with any sort of concise picture of the toxins that currently exist in our North American tap water. For one thing, each state or province, and even each county or individual municipality, has varying degrees of water safety, different types of toxins and chemicals that are present, and differing regulations on what is and isn't allowed. Blanket statements are very challenging to make.
Here's the situation in a nutshell: Dangerous chemicals from manufacturing and industrial waste, from air pollution, from sewage, from landfill seepage into the ground water sources, not to mention additions like chlorine and fluoride which are added to the water supply… much of it ends up in the water that comes out when we turn on the tap and pour ourselves a glass of water.
Though not every chemical that I list below is necessarily present in your personal drinking water, many of them may be. These are some of the most common toxins that are found when tap water is tested:
Toxic heavy metals (including arsenic, lead, mercury, cadmium, and more)
Fluoride (hotly debated, I know, but many believe it to be highly toxic, myself included)
Chlorine (intended to killing bacteria present in water, but it can cause serious cell damage and is considered carcinogenic, or cancer causing)
Chloramines (a replacement for chlorine, that actually produce nitrosamines once in the body, those dangerous chemicals that come from eating nitrates or nitrites, also carcinogenic)
Hexavalent Chromium (remember the movie Erin Brockovitch? This is the cancer-causing chemical that contaminated ground-water, exposing a small town to very high levels of toxicity)
Medical drugs including: Atrazine (a herbicide which causes decreases in fish populations and changes in animal behavior), Carbamazepine (a drug used to treat bi-polar disorder), Estrone (an oestrogen hormone that causes gender disturbances and deformities in fish), Meprobamate (a tranquilizer used in psychiatric treatment), Naproxen (a painkiller linked to increases in asthma incidence), Sulfamethoxazole (an antibiotic), just to name a few.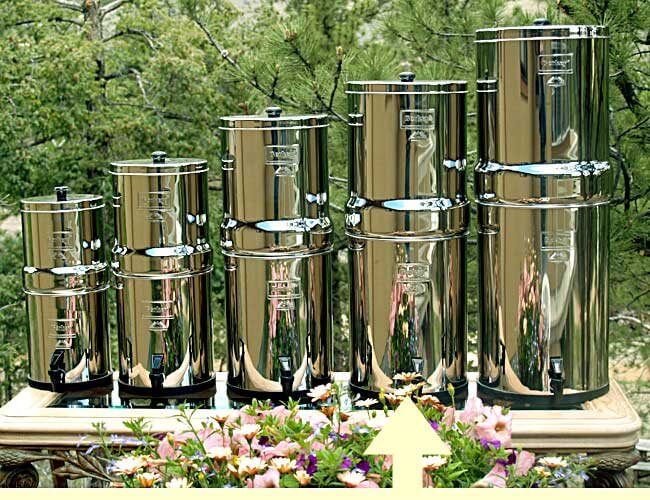 What the Berkey Filtration System Does
The basis of the Berkey filter system is that it uses activated charcoal (carbon) filters which work with gravity (no electricity required). They are considered to be far superior over most household filters, like the Brita, Pur, and other similar pitcher or tap filter systems.
This is a list of what the Berkey filters are able to remove:
Pathogenic Bacteria and Cysts (E. Coli, Klebsiella, Pseudomonas Aeruginosa, Giardia, Cryptosporidium, Raoltella Terrigena) – Reduced to > 99.9999%
Viruses (MS2 – Fr Coliphage) – Reduced to > 99.999%
Parasites – Reduced to > 99.9999%
Harmful or unwanted chemicals such as herbicides and pesticides
Chlorine – Removed to Below Detectable Limits
Detergents
Organic solvents
THM's (Trihalomethanes – Bromodichloromethane, Bromoform, Chloroform, Dibromochloromethane) – Removed to Below Detectable Limits
MTBE's (Methyl tert-Butyl Ehter) – Removed to Below Detectable Limits
Other VOC's – Removed to Below Detectable Limits
Cloudiness
Silt
Sediment
Radiologicals – Radon 222 – Removed to Below Detectable Limits
Nitrates & Nitrites
Heavy metals – Up to 95%
Iron
Foul tastes and odor
See the full filter information page here.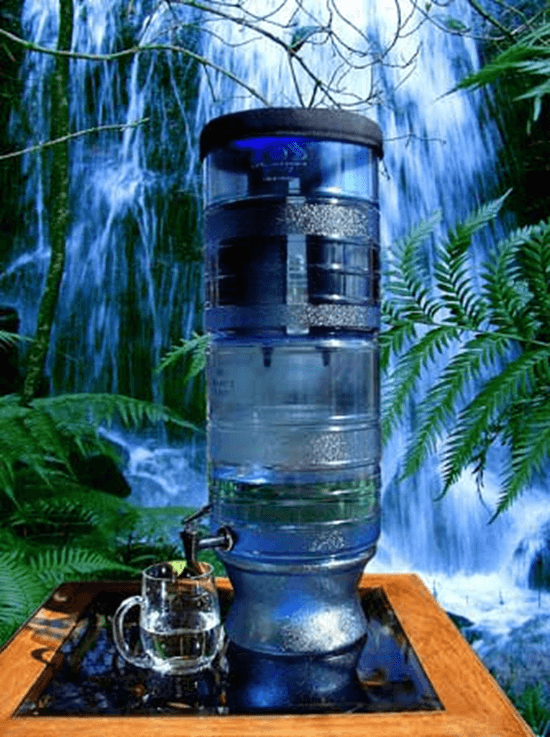 My Review of the Berkey Light
Our own family has been using the Berkey Light system for about 2 months now and we are quite happy with it. I had my eye on the Berkey for quite some time, as we had been using both the Pur and Brita filters previously, and I was quite unhappy with them both (because I didn't believe their filtration to be sufficient, and because the constant filter replacement was not economical, especially the Pur system).
Berkey Pros:
Clean taste. I wasn't so sure for the first couple of days as my taste buds adapted, but now I think it tastes wonderfully clean and many people who visit our home also comment on how nice it is.
Large holding capacity. We have the Berkey Light, which holds 2.75 gallons, plenty for our family of 5.
Relatively attractive. I wasn't initially keen on something so large on my counter at all times, but I quickly got used to it and like using it so much better than when I had the Pur system attached to my sink faucet, which drove me crazy and always got in the way.
Long-use filters. Though they're pricey at first (a set of 2 filters costs $99, and you use both at once), they also have a long life. A set of filters will handle 6000 gallons of water and last for literally years. When the filter speed slows down, you can remove them and clean them off to prolong their use.
Retains minerals. Some systems (like reverse osmosis) actually remove the minerals from the water, which actually leaves you more thirsty after drinking it and minerals are important for cellular function, among many other things (so many people resort to purchasing bottled mineral drops to add back in to their water). I really like that the Berkey doesn't strip the water of everything.
Easy to transport. Being made of a safe and durable plastic, the Berkey is very light (you know, once you dump out the water) can easily be taken on camping trips or used in any emergency situation.
Berkey Cons
Expensive upfront. The Berkey Light is the cheapest of the family size systems, at $209 (and the largest Berkey is $317). But, with long-lasting filters and quality filtration, I think it's a purchase worth making. It's difficult to put a price on safe drinking water.
Filtering speed. The speed at which the Berkey Light filters is supposedly 4.25 gallons per hour. It does filter quickly when we fill it to the very top of the filter tank, but unless it's at least half full, it slows down quite significantly. Some of the other Berkeys are supposed to be faster at filtering, ranging form 7 to 26 gallons per hour. We've found that the trick is to fill the tank up completely before we go to bed at night, and then we've always got plenty of water to last us through the day.
Size. It is bulky up on your counter, but then again, if it wasn't it wouldn't hold so much, and it sure does beat my Brita filter days of filling that silly pitcher up umpteen times each day and sitting there waiting for enough to pour a glass of water.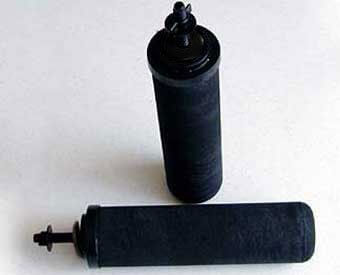 Learn More About the Berkey
To understand more about how the activated charcoal filters work, check out this article.
See the filters in action on this page, in several different videos and with some links to lab test results.
See how the different Berkey systems compare with each other, in functionality, cost, size and appearance.
Today's giveaway comes from Big Berkey Water Filters, an online Berkey retailer selling the entire line of Berkey systems, as well as replacement filters, replacement parts, accessories and other preparedness supplies. Most products have free ground shipping within the US (but Berkey's cannot be shipped to California).
I have one Berkey Light system complete with a 2-pack of filters (a $209 value) to giveaway!

To enter the giveaway, simply click on the link below to fill out a survey form. Rather than having to leave multiple comments for each entry option, you can just complete the one survey and you're done!

Giveaway has now ended.
This giveaway is sponsored by Saving Naturally, helping you live healthy while spending less.
Disclaimer: I did receive a Berkey filter for the purpose of review, but have not been compensated for writing about it nor was I obligated to make any statements about the Berkey except my own thoughts and opinions.