Living Simply Saturdays: Keeping the toy mess in check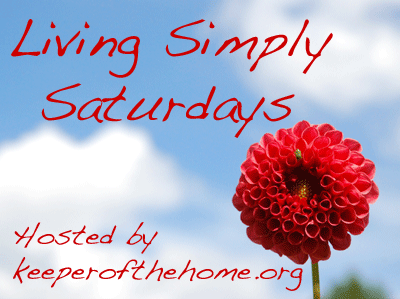 Lately it seems that no matter how clean the family room is when the day begins, by approximately 10:07am it has become a pig-sty.
It's not that we don't try to get it cleaned up often, but my biggest challenge is with a very creative 3 (almost 4) year old girl. She loves, loves, loves to do all sorts of imaginative play. She can turn anything into an instant tea party, a kitchen, a zoo, or a bedroom for her dollies and soon all of the precious things that have made their way into her creative play end up strewn all over the house.
I know what the major problem is. I do not have her cleaning up one activity entirely before allowing her to move on to the next. As a result, it doesn't take too many activities before the room is trashed and what could have been a 2 minute cleanup has now become a 20 minute ordeal.
When she was young, before Caden was born, I had all of her toys neatly organized in labeled ziploc bags. The bags belonged in two wooden baskets, which belonged on the bottom of a wooden bookshelf in our little condo. It was all so tidy and orderly. She was given one bag at a time, and when that one was cleaned up, she could have a new one. Ahh… I thought it was so easy back then. Before she could reach it all herself, open everything without asking for help, and come up with the idea to combine 5 different sets of toys into one grandiose imaginative play idea.
I'll admit, I gave her too much slack. I was so enthralled, watching her creativity develop that I began to regulate her toy use less, and just let her mix and match and make a big mess, as she developed these wonderful skills. Overall, I don't think it was a terrible thing. I think it's important for children to be able to play freely at different times during the day, and to have a variety of playthings (be they "real" toys, or other household objects that they are allowed to use for make-believe).
The concept of simplicity had to come into the picture for me, though, for two basic reasons. One, the family room (which is also our school room, the place I do my computer work, and also where we store many books and toys) was continually a mess, and it was becoming so difficult to stay focused on a task, because I was distracted by the clutter. Two, she is still young enough that although she is capable of cleaning small messes and helping to clean larger ones with direction from an adult, she was not capable of cleaning up the entire mess on her own and this would immobilize her and ultimately frustrate us both.
The solution?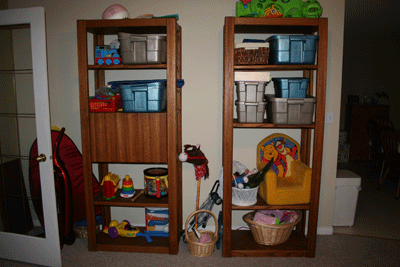 We received these great shelves a few months back, and they have definitely helped us to store and organize the kids toys to a larger degree. What I did yesterday, though, was a bit of tactic organization.
I moved all of the bins with lots of different pieces and components up to the two top shelves, which she cannot reach (and won't be able to for years). On the bottom shelf, I placed a few things that both children could access on their own (a few simple baby toys on the left, and some dolls and doll accessories on the right). Abbie and I discussed it, and she now understands that if she wishes to play with something in one of the upper bins that is perfectly fine, but she will need to ask me to get it down, and there will be no more bins coming down until the first one has been cleaned up and put back.
This serves a few purposes. Cleanup will be quicker and simpler for her, and I can retrain her to do it by herself, with less direction from me. Both children can still access some toys without my help, but they cannot make too much of a mess with these few simpler toys. Since we will not have half of the toys spread all over the room at any given time, I think that the kids will grow to appreciate the toys more, and really play with what they are using, instead of getting bored after a few minutes and moving on to the next item.
Problem solved. I hope. I'll let you know how it goes!
How have you simplified the use of toys and playthings in your house? What types of organization have worked to keep down the clutter and help your children make good use of what they have?
(On a quick side note- beginning next week, I'm going to start working my way through the book From Clutter to Clarity: Simplifying Life from the Inside Out, just addressing a chapter or aspect of the book each week. This is something that I'm mostly doing for myself, because I have so enjoyed reading the book and have found it so helpful that I want to really make an effort to put the things I am learning into practice. If you have the book, or are interested in it, I'd love to have you join me and follow along, letting me know how you are implementing these ideas into your life!)