Sourdough A to Z eBook: Win a Copy!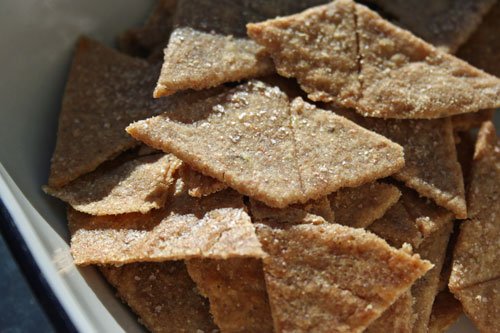 Sourdough is a champion traditional food (don't miss Stacey's post on sourdough next Friday). By slowly fermenting the grain during the souring process, it becomes easily digestible (sometimes even for those with allergies or particular grain sensitivities), it reduces phytates (for better mineral availability and absorption), it even lower the insulin response to consuming the carbohydrates.
Even better, sourdough baked goods are simpler than you might think to make and very frugal. There is no added yeast necessary (a beneficial thing, because store bought yeast contributes to systemic yeast issues in the body), and the overall result with sourdough is just good, wholesome, tasty and nutritious. It is quickly becoming my preferred way to prepare grains and make baked goods.
Last fall, I reviewed the Sourdough eCourse from GNOWFGLINS, experimenting and learning all of the varied ways that sourdough can be used. Far beyond basic bread, sourdough methods can be applied to breakfast foods (crepes, pancakes, muffins), crackers, pizza dough, biscuits, and even sweet treats like cinnamon rolls, cake, cookies and pie!
I absolutely loved the eCourse contents and especially the videos, but I know that the cost of such a course isn't a possibility for everyone. When Wardeh let me know that she had compiled an eBook with the same basic contents of the eCourse, I was thrilled.
No, you don't get access to the videos and some of the amazing tutorials or the member forums that come with the Sourdough eCourse, BUT you still get all of the printed teaching material, and all of the amazing recipes, with very detailed instructions. Another great addition to the eBook is tips and fresh ideas and adaptations that have been contributed by those who took the eCourse and participated in the forums.
The Sourdough A to Z eBook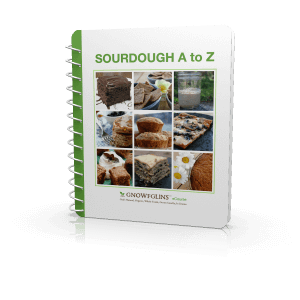 The Sourdough A to Z eBook sells for $20, which I think is a complete steal (unless you're a GNOWFGLINS eCourse member, and then it's even cheaper). The amount of information packed into this 150 page book is 100% worthwhile, and I have no hesitation in recommending it to you wholeheartedly.
This is honestly the best and most comprehensive resource on sourdough that I know of. With 5 different authors collaborating their knowledge and experience to write it, and 25 detailed lessons, it will answer all of your sourdough questions and have you preparing incredible foods for your family in no time. Though I rarely print out eBooks, this is one that I would consider printing out to have in a binder as an easily accessible resource and recipe book.
I know, it sounds like I'm being a bit over the top. I try not to gush about products, but it's hard not to when it is one that I personally feel is an incredible resource and great value.
Although I've been making sourdough breads on and off for years, I've been recently looking into the science of sourdough in a more in-depth way recently. Since our family has been struggling with remaining grain-free for a variety of reasons (although I still absolutely feel that GAPS is an excellent diet for healing the gut, reversing allergies and helping other disorders and disease as well), I'm looking for other ways to help improve my family's digestive systems and food sensitivities. Sourdough is promising in this regard, because it helps to pre-digest the grains (making them far easier on the gut than other methods of preparation), greatly reduces disaccharide content in the finished product (while most baked goods are very high in disaccharides), and can make gluten and grain proteins tolerable for many who usually cannot tolerate them.
What the book includes:
Starting a Starter, Caring for a Starter, and Gluten-Free Sourdough
Sourdough Routines: An Interview with Three Bloggers
Tortillas & Tortilla Chips
Cakes: Chocolate & Spice
No-Knead Sourdough Bread with Many Uses: Pita Bread, English Muffins, Cinnamon Rolls and more!
Spelt Sandwich Bread, Dinner Rolls, Hamburger Buns, and Swirl Bread
English Muffins 
& Sandwich Ideas
Skillet Pancakes and Waffles
Cinnamon Rolls
Crepes & Crepe Cakes
Basic Muffins & Variations
Crackers: Plain, Cheese, and Variations
Honey Whole Wheat Bread
Gingerbread
Pizza Crust & Pizza Pockets
Pasta
Pocket Bread and Middle Eastern Pizza
Cornbread & Corn Fritters
Donuts
Biscuits
Pot Pie
Basic Scones & Variations
Dehydrating/Preserving a Starter
Cookies
Impossible Pies — our no-wait, healthy variations on the Bisquick impossible pie!

Buy the book, get a bonus
Right now, until April 11th 2011, everyone who buys a copy of Sourdough A to Z will also receive a free thank you video of their choice, a $10 value!
Or try to win one!
Wardeh has graciously offered 5 copies of the Sourdough A to Z eBook to give away to my readers. Would you like to win one?
Here's how to enter to win (please leave a separate comment for each entry):
1. Tell me what intrigues you about sourdough and why you'd like to win (or which recipe you'd most like to learn to make).
2. Subscribe to Keeper of the Home by RSS feed or by email (and be entered to win our monthly email subscriber-only giveaways!).
3. Share about this giveaway through your blog or favorite social media (find us on Facebook and Twitter here).
Giveaway has now ended.
Disclosure: I'm a proud affiliate of the GNOWFGLINS eBooks and eCourses and I make a small commission on sales through my blog, which helps to keep this site going (so thank you for your support!). However, there is absolutely no obligation to go through my links, and even if you don't, I still definitely recommend that you look into this book. 🙂