A very full freezer, indeed
When I came home from my favorite natural meat store earlier this week, I was rather surprised to discover this as I struggled to put away the items I had bought: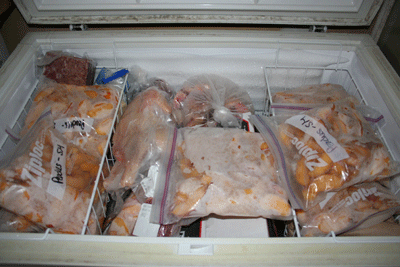 It's nearly full!
I know that I've been working hard to fill it all summer (mostly with fruit and some frozen garden veggies), plus there's the beef that we bought with some extra money in the spring, and I just added a bit of chicken and turkey to it to last us the next month or two. I probably shouldn't have been surprised, but I was.
Preserving so much food this summer has been a lot of work. More than any other summer, ever. There have been many days when I have wondered whether it was worth it, and this week was no exception as I canned 4 out of 7 days (I'll show a photo soon), not to mention freezing and dehydrating. Even though October has arrived, I know I'm not done yet. There's still many more tomatoes (I've only just had enough ripen for a first batch of canning), plenty of pumpkins, some more pickles, the rest of a large box of apples sitting in my dining room, as well as fall garden vegetables to either freeze, can or put in cold storage (peas, spinach, carrots, turnips, etc.).
I'll confess- when I first realized how full the freezer was, and that I had some major reorganizing work to do, I was tempted for a moment to grumble. I was already tired of all that I had done this week, and spending possibly hours reorganizing this freezer (plus the upstairs fridge one) didn't really sound all that appealing to me. Then these words that I had read earlier this week at Tammy's came back to me, as she reflected on a night of "surprise" canning when a neighbor gave a box of unexpected tomatoes:
One of the things I learned from my parents' example was not to
waste. When God said that He would provide all of our needs, He didn't
say that it would be done in the way we wanted, at the time that we
wanted. Being willing to work hard and sacrifice leisure time in order
to accept His blessings is something I still work on being disciplined
about.
Did I need the extra tomatoes right now? No, I didn't. But what if
next year's need was being supplied right now — and I refused it? How
can we throw away food today and yet expect tomorrow's needs to be
supplied?
The hard work this summer to garden and glean and pick berries and freeze fruit and can jam and all that other stuff has been worth it. We are now going into the winter with a well stocked freezer and pantry, and what better time could this come at? With the economic turmoil going on and food prices continually on the rise, how glad I am that I've spent so much time this spring and summer putting food away.
Going back to Tammy's quote, what I recognized in the split second after I considered grumbling was that we are so incredibly blessed. God has been very, very good to us and has provided for our needs so richly this year, as He has always done in the past. Sometimes it takes a lot of hard work and sacrifice, but that doesn't make it any less from His hand. I'm so grateful that He has given me the opportunity to ensure that I have plenty of nourishing foods to feed my family, as well as to use for hospitality to others.
How has God blessed your family and shown His provision to you? Have you also spent time this summer preserving foods while they were cheap and available (or perhaps from your own garden)? And any tips for me on organizing a very full freezer?