Family Friendly and Pregnancy-Safe Liquid Herbal Products: TriLight Health Review and $100 Giveaway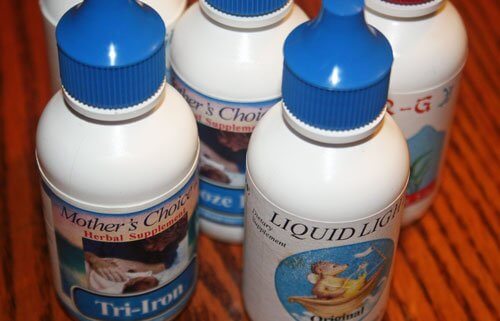 I'm a big believer in using herbs to naturally and gently treat many health concerns, as well as to nourish the body with additional nutrients.
The easiest form of herbs for most amateurs is usually dry herbs, made into simple teas, poultices, baths and that sort of thing. However, the most effective form of herbs is usually a tincture, which is a powerful liquid extract made from either a single herb or a combinations of herbs. Tinctures are absorbed better and faster, and tend to provide superior results.
Although it is possible to learn to make your own tinctures, it is a somewhat complicated process and I personally choose to purchase mine from reputable herbal companies instead. This month I was delighted to be asked to conduct a review of herbal tinctures from TriLight Health, who have been specializing in high-quality liquid herbal products for over 20 years.
What makes TriLight Health unique is that they offer a wide array of products that are safe for pregnancy, breastfeeding and children. Since this represents such a large portion of my readership, I and the other reviewers chose to focus on products that would appeal to moms in those seasons of life!

My Own Reviews

I tried several products, one as part of the review, and then others that I simply wanted for our family.

My review product. I have found it hard to be diligent with my pregnancy tea this 4th time around, as I am so much busier than I have ever been before. Having an herbal mineral supplement offers the same benefits in a convenient package. My midwife had wanted me on some minerals specifically for the pregnancy-related headaches I was frequently experiencing, as well as to possibly alleviate some muscle and joint soreness. I do think that it's helping, as both issues have decreased over the past month.

Tri-Iron

Intrigued by doing the review, I opted to try this instead of the Floradix Liquid Iron that I usually take. I feel great using this liquid iron, and feel that it works at least equally as well. My midwife (who is also a naturopathic doctor) looked at both the mineral and iron formulas and was happy with me taking both of them (they are also approved by Shonda Parker, a well know and respected midwife). I like that I can take a smaller amount than the Floradix, because it is more concentrated, and I personally like the flavor better. I've chosen to continue with both the Tri-Iron and the Herbal Minerals for the remainder of this pregnancy.

An herbal energy booster, but one that is actually pregnancy/nursing safe! My midwife agreed that it was safe, provided it wasn't being overused, so I only use it on days when I'm really dragging and need a boost. It doesn't give you that "I've-just-had-3-shots-of-espresso" kind of energy jolt, but in my experience, a general feeling of well-being, slightly increased energy, and more mental alertness.

Although I haven't had as many issues with sleep this pregnancy as with my last, I've still had the odd night where I felt I needed something gentle to help me sleep well. What I love about using a herbal sleep supplement, as opposed to something like melatonin, is that they both work to help me get to sleep, but the melatonin often causes me to wake up somewhere between 2-4 am. With the Snooze-EZ, I haven't experienced that. It doesn't make me as dramatically sleepy as melatonin, but it has really helped me on some nights when I was struggling to sleep.

I actually went for this because the write-up mentioned that it has been helpful for some children with eczema, which has been a particularly stubborn struggle for our youngest daughter. However, I confess to probably not using it faithfully enough to see any real results, and she also had a temporary allergic flare-up during the time she has been taking it, because I accidentally bought a probiotic that I thought was dairy-free and turned out to have dairy in it (oops). NR Glow is really meant more for boosting children's immunity, and I give it to all of my children on occasion now that the weather is cooler, and they all take it straight off the spoon and without issue, so I guess it must taste good!
From Alaina, a mom of 2 who is currently pregnant with her 3rd…
The product that I tried from Trilight is called Liquid Light Original Herbal Minerals. The product is pregancy safe and I am using it during my pregnancy. I have been using this product hoping that the extra vitamins and minerals that naturally occur in the herbs will help benefit my body and my baby while I am pregnant. I think that the product is a good one for me as a pregnant woman in particular because it is often difficult to eat as well as I want to during pregnancy. Therefore its nice to have a product as an extra boost of some vitamins and minerals.

I have found however that the product tastes quite sweet (although it contains no sugar or sweeteners which is a good thing) and so for me that was the only downside (Stephanie's note: The sweetness is because it is a glycerin-based tincture). However for some people this might be a plus. I do not normally eat sugar or sweeteners so perhaps it tastes extra sweet to me for that reason. The product recommends two ways of taking it- in water or straight. Taking it in water was therefore essential for my taste buds instead of the option of taking it straight. This solved most of the "too sweet" taste and allowed me to be able to take the product.

I think that I would consider purchasing this product because of the extra insurance it provides during pregnancy of the needed vitamins and minerals. Also, the other lines of products that Trilight offers look to be quite good l and I would consider looking into some of their other remedies as well.
From Stacy, of A Delightful Home and also one of the amazing writers here at Keeper of the Home…
Snooze-EZ can be taken for insomnia, general sleep issues, and also short-term periods of anxiety or restlessness. It contains Scullcap, German Chamomile, Passion Flower, Valerian, Oatstraw and Linden Flower. It is to be taken about 30 minutes before bedtime.

We found the taste of this tincture to be a little unpleasant, but certainly bearable. I used it undiluted and gave it to my daughter in a little water.

I personally found Snooze-EZ to work well. In fact, one evening after laying in bed with an anxious, racing mind, I got up and took some Snooze-EZ and was asleep within a few minutes. My only concern is that the recommended dosage is 1/2 a teaspoon to 150 lbs, so I have to do a little math to figure out the correct dosage for myself and my child.
From Kate, of Modern Alternative Mama and another one of our fabulous writers…
I tried the N R G formula to increase energy. I have a 2-month-old baby who is, of course, still waking up a couple times a night — and a toddler and preschooler who are very active. Extra rest isn't easy to come by! I hoped that this product would help my energy levels so that I could keep up with my older children and my responsibilities.

The product was sweet and very easy to take. It was a little strong, and I occasionally needed some water after, but it tasted good. My children were always begging for some too, although I didn't give it to them. The dose on the bottle was 1 tsp., twice a day, but noted that "heating may occur" and you might need to cut back. For this reason I decided to just take a tsp. in the mornings, and not repeat in the evening. The last thing I needed was extra energy at bedtime.

For a few days I felt it was helping, because I did have more energy. I stopped taking it for a couple days then started again, but didn't notice any difference. I can't honestly say if it helped. I realized too late that energy wasn't my real issue. I was mildly deficient in certain minerals that were causing minor problems for me (which I'll blog about in the next few weeks), and that wasn't helped by this formula. It may have been helped by a different formula, and I wish I'd tried the liquid light minerals instead. Oh well.

At this time, it's not a product I would buy, but that's largely because I think it is not something that *I* currently need. I strongly believe in herbal medicine, however, and like Trilight products, and would consider purchasing the formula that I think would benefit me more.
I chose to try Trilight's B-Dry bedwetting formula. I have struggled to find a good solution for my son who is a very heavy sleeper and a bed wetter. I was pleasantly surprised by their quick shipping and good service. I received my order in just a couple of days.

After using B-Dry for a few weeks now, we have noticed a decrease in my son's bedwetting. He still does it but not as much. In fact, my son reminds me to give him his B-Dry if I forget because he feels like it is helping him.

My only complaint is that my son finds the flavor of the syrup to be too spicy because it tastes like concentrated chai. But after we figured to dilute it with some water, he has been happily taking it. Overall, I have been happy with the product we tried and we will keep using it since we are seeing it work.
From Renee, a good real-life friend of mine, with 4 young children…
When Stephanie asked me to review an item from Trilight, I was thrilled! Almost immediately I decided that I would like to try the B-Dry formula for our 7 year old. After struggling with bed wetting since she was potty trained, I needed some extra help. We had tried conventional doctors, rounds of antibiotics, homeopathic tablets, other natural remedies, praying together about it, and all the normal suggestions of 'no water before bedtime' or 'wake them up before bed'. Nothing had worked and I was eager to try this remedy.

Trilight was very generous, giving us a large bottle to use. We faithfully used the B-Dry formula for over a month. The formula is in a sweet glycerin base that was easy for our daughter to swallow. Rarely missing a dose we waited a week, then two praying it would start working. But I am so sad to say that after 4 weeks it has not changed a thing. The daily bedwetting has not waned a bit. The website suggests using the product for up to 3 months until desired results are achieved, so we are contemplating whether or not to continue using this formula. We were thankful for the chance to try the product, and are still hoping for good results as we finish the bottle.
I have $100 worth of TriLight Health herbal products to give away!
Here's how to get entered (remember to leave a separate comment for each entry):
1. Visit the TriLight Health website and tell me which which product(s) you would choose if you won.
2. Subscribe to Keeper of the Home by RSS feed or by email (and be entered to win our monthly email subscriber-only giveaways!).
3. "Like" TriLight Health on Facebook.
4. Share about this giveaway through your blog or favorite social media (find us on Facebook and Twitter here).
**Note that TriLight Health is not actually able to sell in Canada at this point. For the sake of this one-time giveaway, Canadians are welcome to enter and win, but unless you had friends/family in the US, you wouldn't actually be able to purchase from them otherwise.**
Giveaway has now ended. Winners to be announced shortly!
Disclosure: This post was generously sponsored by TriLight Health. Each reviewer received one bottle of their choice of liquid herbal product. Each review is the genuine opinion of that particular mama, and none of the reviews were influenced by anyone else.