Sweet or Savory Roll Ups: Grain and Gluten Free
Roll ups using grain free crepes are a protein rich breakfast or lunch. This is an easy way to make a grain free peanutbutter and jelly 'sandwich' and are easier for little ones to eat because they are nice and soft. They also pack nicely in lunch boxes for meals on the go!
Fillings can be altered to be dairy free, or to incorporate a superfood such as salmon roe or liver for a special nutrition boost.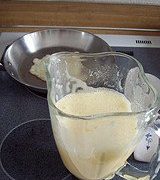 Print Recipe
Coconut Flour Crepes for Roll Ups (Gluten Free, Grain Free)
Ingredients
12

eggs

Yes, really, a dozen eggs

4

tablespoons

coconut flour

1/8

teaspoon

sea salt

6

teaspoons

refined coconut oil

to fry
Instructions
Crepe Directions:
Mix all ingredients well, making sure all clumps of coconut flour are broken up. I like to use my blender or food processor when I am cooking with coconut flour- the lumps can be difficult to get out when just using a whisk or spoon. Allow to sit for a few minutes so the coconut flour can absorb as much of the egg as it is going to.

In a skillet over medium-low heat melt 1 teaspoon of coconut oil, tilting pan to coat. Add about 2 tablespoons of batter and tilt to make a 6-inch circle. Cook until bubbles start to form and the middle of the pancake looks slightly cooked. Flip gently with a thin spatula and cook until the other side is golden; about 5 minutes on the first side, 2 on the second.
Start assembling roll ups as you cook the crepes.
Roll Up Directions:
Spread 2/3 of the crepe with filling; it will continue to squish up the crepe as it is rolled. Roll tightly and set on the seam so it doesn't unroll. Wrap in waxed paper or plastic wrap for lunch on the go. You can be creative with fillings as well, combining whatever is in the fridge just as if you were making a sandwich.

Sweet Filling:
1 cup berries, chopped
2 tablespoons dripped yogurt cheese per roll up or 2 tablespoons Almond butter
Savory Filling:
1/2 cup dripped yogurt cheese
1 bell pepper, chopped
1 clove garlic, minced
1/2 teaspoon sea salt
These roll ups are a part of my Grain Free Meal Plan. The Grain Free Meal Plan is a 3-meal-a-day 7-day-a-week meal plan to help your family eat a grain free diet!
Why would someone want to follow a grain free diet? We started following a grain free diet to help my daughter's developmental issues, some people avoid grains to help with digestive issues, and others feel that they eat a more nutrient-dense diet without using grains.
What do you think about avoiding grains? Have you done a grain free trial? Or are you enjoying soaked and sprouted whole grains in your house?