Butternut Garlic Squash Recipe
Good morning, all! I got this up a little later than usual, as I just couldn't finish it by a decent time last night. Ryan and I are trying hard to be more disciplined in going to bed early, and I needed his encouragment to leave this post, finished or not, and just go to bed!
Monday: Ginger-lime chicken, rice (cooked in broth), salad (using random vegetables that need to be used up before I go shopping)
Tuesday: Spicy Lentil Pot (great vegetarian recipe) with homemade chapatis (Indian flat bread), both from More-With-Less
Wednesday: Dinner at church event
Thursday: Soft tacos- sprouted corn tortillas, ground beef, lettuce, homemade salsa, sour cream and cheese
Friday: Breaded cod (Nourishing Traditions), Papas Chorreadas (also More with Less).
Saturday: Dinner with friends- Moose ribs in crock pot with homemade BBQ sauce (still using up the moose my step-Dad brought me last time he visited- so good!), Butternut Squash with 12 cloves of garlic (recipe below) and Italian Salad (Nourishing Traditions)
Sunday: Spud Special Soup with sausage (basically a creamy, comfort food of a soup) to be made in the crockpot- my new method of cooking for Sunday dinners, so that it can truly be a restful day for me.
All right, here are the recipes. These are two of my favorite veggie side dishes!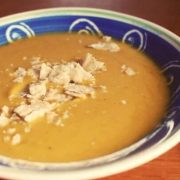 Print Recipe
Butternut Garlic Squash Recipe
Ingredients
3

Tbsp.

extra virgin olive oil

12

cloves

garlic

peeled

1/8

tsp.

freshly grated nutmeg

I use dried

3

cups

peeled

seeded butternut squash, cut into 1/2 inch cubes

Sea salt and freshly ground pepper

2

Tbsp.

chopped fresh parsely

4

Tbsp.

freshly grated parmesan cheese
Instructions
Preheat oven to 400 F.

In a 9x13 baking dish, combine oil, garlic and squash. Toss well and season to taste. Cover and cook for 10 minutes.

Remove the cover and cook for 10-15 minutes longer until the squash is golden brown on the bottom.

Add the parsley and stir gently. Sprinkle with the cheese and return to the oven and bake for 10 minutes longer to brown the cheese.
I love butternut squash, how about you?