Kid DIY Craft Ideas for the Home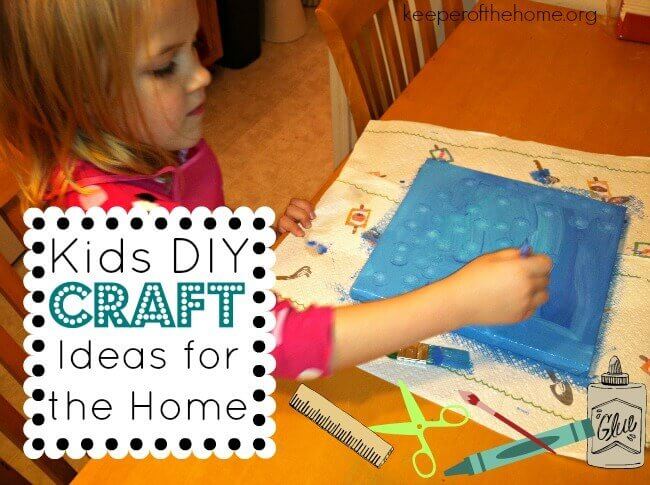 By Rachel, Contributing Writer 
When you have young children, it's fun to have them help with decorating the house. And, no, I don't mean coloring the walls with crayons–but getting them involved with crafts.
My kids, 5 and 6, love making things, whether it's with Legos, creating story books with white paper and pencils or coloring. And they also love when I make the time to make crafts with them.
Countless times we have made Christmas or Mother's Day gifts. Crafts are my go-to gifts for grandparents and great- grandparents! Not only are these ideas great for gifts, but you can also adorn your home with them.
I'd like to share with you some DIY craft ideas for your home!
All of these ideas are reminders of God's Word. In Deuteronomy, we learn to put these reminders up in our homes.
"Love the Lord your God with all your heart and with all your soul and with all your strength. These commandments that I give you today are to be on your hearts. Impress them on your children. Talk about them when you sit at home and when you walk along the road, when you lie down and when you get up. Tie them as symbols on your hands and bind them on your foreheads. Write them on the doorframes of your houses and on your gates." Deuteronomy 6:5-9
Trust Wall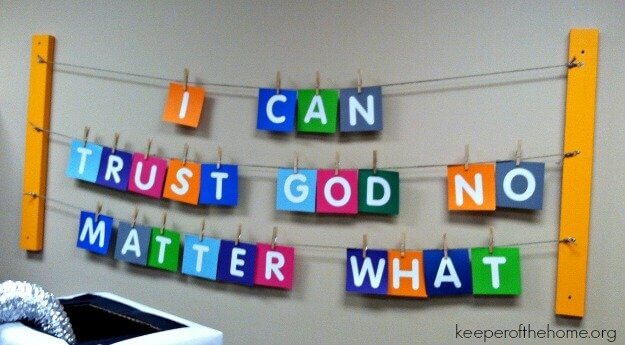 This one I call the Trust Wall arrangement. This is a great way to put up your favorite scriptures, sayings or even encouraging words in your home. This is actually hanging in a room at our church, but I think it could work in anyone's home with colors they like.
Here's what you need:
furring strip wood
hanging kit for wire and hooks to use of your choice
acrylic paint & sponge or paint brush
clothespins
paper for letters
4 nails & hammer
Gather your supplies. Paint your wood with the acrylic paint (color of your choice), and set aside to dry. Once dry, nail your 2 pieces of wood about 24-36 inches apart evenly on the wall. Next use the hanging wire and hooks to make 3 rows, spaced evenly depending on the size you chose. Print out letters, create your own with your kiddos or buy letter cut outs to create your saying. Use the clothes pins to hold letters.
Inspiration Wall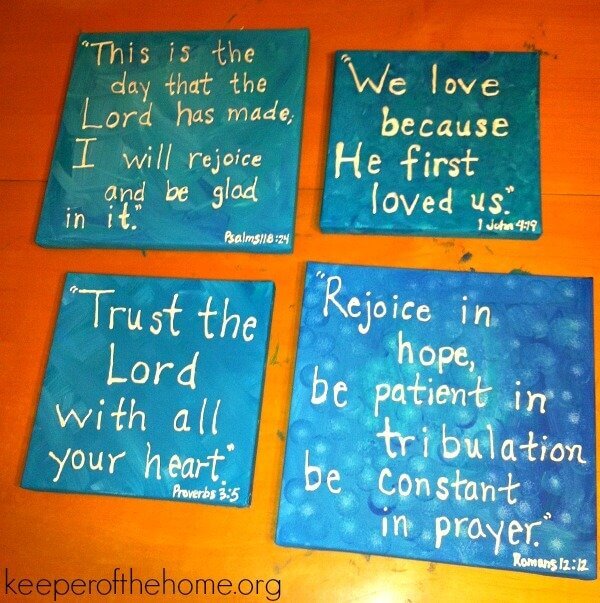 This next idea is a great gift idea or inspirational wall art idea as well. We actually made these for my grandparents for Christmas. My kids loved being involved. You can find the directions here.
Teach Me Wall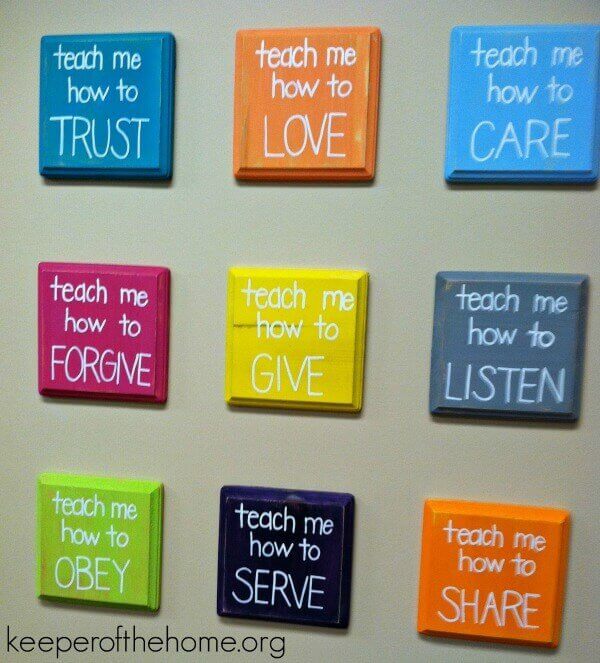 Another idea I call the Teach Me Wall is wonderful for kids. This would be great in a school or play room in your home. Again, encouraging words posted throughout your home encourages the behavior whether it's a reminder for us moms or to teach our kids.
Here's what you need:
4″ square wood plaques (you can find these at Hobby Lobby)
acrylic paints & painting tool
paint marker
removable hanging strips
Choose the acrylic paint colors you like and paint each wood plaque. To get the thin, see-through look, water down the paint. Otherwise, paint as many coats as it takes to get your desired look.
Wait until each piece of wood is dry and  then use the paint marker to write the sayings. Then arrange the wood plaques in the shape you would like use, put hanging strips on the back of the wood plaques and affix to the wall.
Jesus Wall
Lastly is the Jesus Wall arrangement. Instead of "Jesus," you could also compose your child's name or an inspirational word, like: inspire, blessed, dream, etc.
Here's what you need:
wooden letters, painted if desired
fabric of your choice
double-sided adhesive
scissors
various embroidery hoops sizes
nails and removable hanging strips
Paint your letters. Use these directions to make the fabric hoops. Arrange on the wall, hang with nails and hanging strips.
I hope these ideas inspire you to get crafting with your kids and post encouraging words in your home.
Do you like to make crafts with your kids? How do you put encouraging reminders up in your home?