5 Easy Ways to Brighten up Your Home…with Plants!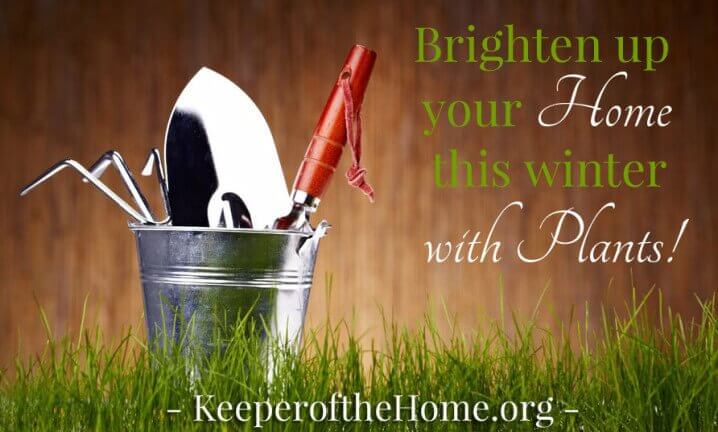 By Jami Balmet, Contributing Writer
In these rainy cold months of being stuck indoors all the time, I start to get in a slump. I get the winter blues and long for the days of bright flowers and sweet springtime sunshine.
But until then, I've found that with just a few plants (and some intentional planning) I can drastically brighten up and improve my home and my mood!

If you have never gardened before, then it can feel overwhelming and intimidating to start. As you begin digging into it, it might not feel like it's worth it.
But with just a few simple steps, you can purify your air, grow your own herbs, produce a vegetable and fruit garden and even have some wintertime flowers. It doesn't take very much time at all!
You don't have to have a lot of land or fancy equipment. All you need is a window sill, a few pots, a packet of seeds, and you can grow your own garden right inside your home or on your patio!
If you feel really lost and don't know where to start, check out my step by step guide with everything you need to know on container and patio gardening (see below for a special coupon code)!
1. Purify the Air
While trying to create a toxic-free lifestyle for our family, it can be easy to overlook one important thing, the air quality in our own home. Simple things like installing new carpet or flooring, painting, having exposed and chipped old paint, doing home renovations, cleaning products, and even simple things like glue can leave your home riddled with toxins that we breathe in day in and day out.
"The U.S. Environmental Protection Agency (EPA) currently ranks indoor air pollution as one of the top five threats to public health." How to Grow Fresh Air, page 8.
But there is an easy and simple solution! "In research designed to create a breathable environment for a NASA lunar habitat, noted scientist Dr. B.C. Wolverton discovered that houseplants are the best filters of common pollutants such as ammonia, formaldehyde, and benzene" How to Grow Fresh Air. There are many common houseplants that can help remove toxins and purify your air just by having them around your house! Here are just a few of the best to have around.
Areca Palm – Works as an effective humidifier as well as purifies the air of  xylene and toluene.
Lady Palm – Known to be some of the easiest plants to grow, it purifies the air of ammonia.
Bamboo Palm – Excellent at purifying the air of chemicals as well as great for raising humidity. 
Rubber Plant – Increases the humidity of the room as well as purifies the air.
Deacaena "Janet Craig" – Cleans the air of gases that are released from lacquers, varnishes, and sealers.
English Ivy – Wonderful at absorbing formaldehyde, which is one of the worst indoor toxin offenders.
Dwarf Date Palm – A hardy plant that will do well in low levels of light and is excellent as removing xylene.
Ficus "Alii" – An easy to grow ficus that removes many types of toxins and chemicals.
Boston Fern – Helps to remove formaldehyde and can even help remove heavy metals from the air.
Peace Lily – Purifies the air from common toxins that are emitted by electronics and household cleaners.
2. Grow Your Own Herbs
Herbs are simple and easy to grow and look after and you can use them every day! You don't have to wait months for your herbs to grow, and you can harvest from them year round.
I keep my small collection of herbs right above my sink in the window. That way when I'm cooking, it's easy to snip off a few leaves and throw fresh and organic herbs right into the skillet or crock pot! Easy, simple and delicious.
Tip: Most herbs do the best when you frequently prune them. So make sure you get in a habit of constantly using them in your cooking.
A few of the easiest and most profitable herbs to grow are:
Thyme – A hardy herb that is excellent to use either fresh or dried. I love it in all my Italian dishes (like pizza sauce)!
Oregano – Best time to harvest is right before it blooms. A terrific herb to dry before cooking with.
Rosemary – Rosemary is wonderful to use fresh, fried, or even freeze it for later. You can snip of pieces any time of the year.
Basil – I use Basil in all kinds of dishes – Mexican, Italian, ect. Be careful when harvesting as it's easy to bruise or damage the leaves.
Parsley – You are able to harvest Parsley almost immediately. Simply snip off some pieces and throw it in your dish!
Mint – Mint is the newest herb I've been experimenting with growing. You can grow either peppermint or spearmint, both have their own unique uses, but I'm partial to spearmint.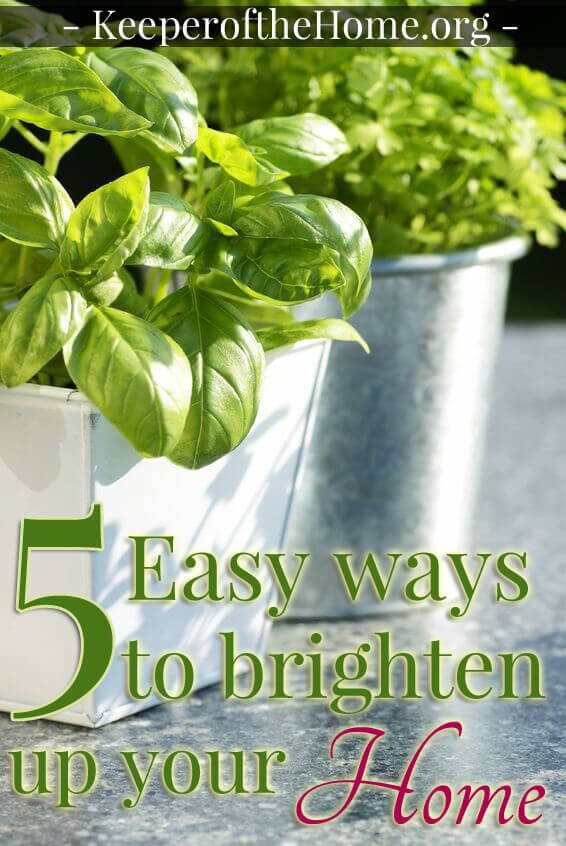 3) Add a splash of color to brighten your day!
Many of us can tend to get the blues during the cold and rainy months of winter. I start to long the fresh and colorful days of spring and summer. So do yourself a favor this year and add some colorful potted plants and flowers on your patio and around your house to brighten up your day.
Nothing says good morning on a cold winter's day like a pot of pink pansies in your kitchen! Here are a few varieties that tend to go well during the colder months, but don't forget to consult your local nursery on what grows best in your area!
Pansies – Tend to do good during the winter, just check to make sure you are in the right zone.
Chrysanthemums – are a very hardy plant and can go in most cooler climates.
Calendula – works great Fall through early Spring. You can even use the petals in cooking or dry the flowers and use it in home remedies.
Ornamental Kale – comes in a variety of colors and is very hardy against the cold.
English Primrose – The only variety of primrose to bloom during the winter.
Stock – A beautiful way to add a burst of color! In really cold climates, make sure to have indoors near a sunny window.
Violas – A close cousin to the Pansy, but make sure they don't get too much direct sunlight come Summer!
4) Get your winter veggies!
An important part of beating the winter blues is making sure that you are eating plenty of fresh fruits and vegetables! Unfortunately, these are harder (and more expensive) to come by in the cool months. But there are some excellent vegetables that you can grow even in the cool winter. Here are just a few:
Carrots – Carrots grow fairly well all year round and they get even sweeter during colder temperatures!
Lettuce – Depending on the variety of lettuce, you can harvest it all during the winter months.
Radishes – These beauties grow very quickly (you can harvest in as little as a month) and they do fantastic in containers.
Spinach – While spinach doesn't do well in freezing temperatures, if you have more of a mild winter then it may do great!
Broccoli – Can be grown year round but like carrots, it's sweeter in the cooler months.
Winter Squash – As the name implies, Winter squash do well in the Fall and Winter and have many different varieties.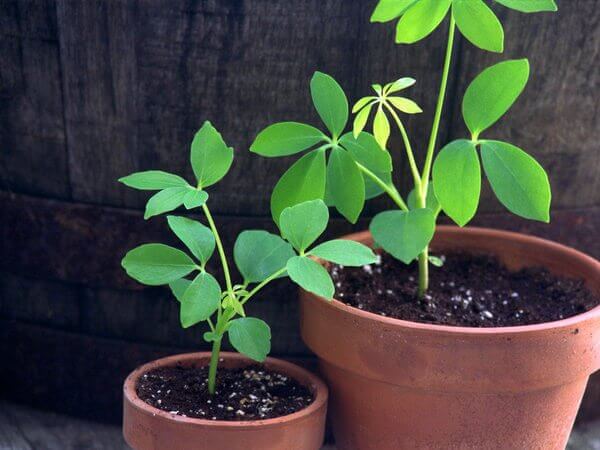 5) Start your spring and summer garden.
Nothing will get you cheered up like starting your seeds for spring and summer. It's one of my favorite parts of the year as I plan and envision what my summer garden will look like (and I drool over all the yummy plants I'm starting).
With just a few dollars, you can start seeds indoors (usually late February – May) and then transfer those seeds to outdoor potted plants on your patio (or plant them in a full garden). Here in California I can start our seeds in March, which gives me plenty of time to start planning my summer garden!
Pssst: If you want to start a patio garden (or just learn how to start a few herbs in your kitchen) then I'm excited to offer my step by step guide on container gardening on sale for just $5! This beginner's guide to container gardening covers:

How to pick which seeds to grow
When to start your seeds
Starting from young plants
Carting for your vegetables
The best plants to grow indoors and in small spaces
How to garden organically and more!

To get Apartment Gardening for just $5, use coupon code KOTH at checkout! This sale is good for 1 week only (February 17th – 23rd). Don't miss out on the ultimate guide to get started gardening! To find out more, CLICK HERE.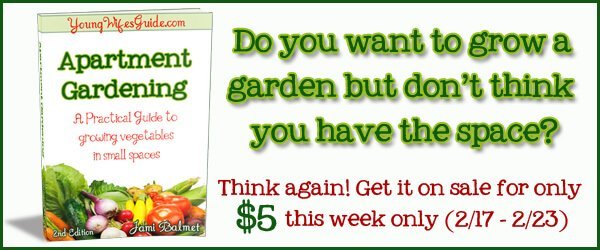 Disclosure: I have included affiliate links in this post.