Keeper of the Home's Pocket Diaper Review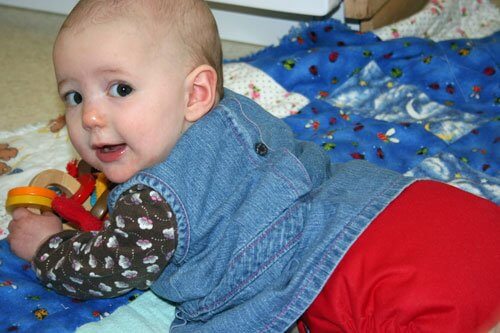 Why pocket diapers?
For over 4 years, I used fitted diapers with covers, and I was happy with them. Yes, they could be a bit bulky but I didn't have any major issues. They were simple to use and cost effective to buy.
Then I discovered pocket diapers. I have been a bit like a kid in a candy store. I'm in love. Here's why:
Pocket diapers are more trim and fitted.
They come in so many adorable colors and designs.
In my experience, they have kept my babies drier and more free of diaper rash
They can be stuffed with various sizes and styles of inserts and doublers, making them very versatile for different situations (day or night, nap or car ride, light or heavy wetter).
They're super simple for Dads and sitters to use.
There are many adjustable one-size options available, good for use from newborn up to potty training.
They have considerably cut down on the space that I need to store my diapering supplies, as I use mostly one-sized diapers now, rather than having so many different sizes from my fitted and covers days.
Yes, they're a bit pricier than some options. But the ease, simplicity and flexibility they offer, and the comfort for my babies (all with sensitive skin), makes them so worthwhile for me. I have transitioned over and will probably never go back. My only exception to this is the very early newborn weeks, when prefolds and covers just make sense.
Cost comparisons:
I am not comparing based on price, because within the realm of pocket diapers, I have found the prices to be very similar. The pocket diapers that I am reviewing all go for about $17-19 on average (US prices), depending which store you buy them from. Occasionally I will find something on sale for around $14-16. It is best to buy them in bulk, in package deals of 3, 6 or 12 at a time for the greatest discounts.
It's really about searching for the right deal, for the particular diaper that you're interested in. I have found great deals on almost every diaper at one time or another.
How I reviewed the diapers:
I thought it best to create a simple chart that would compare each diaper on the same elements. Here's an explanation of what I was considering as I reviewed each diaper: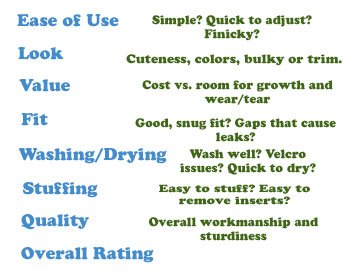 Diapers are rated on a scaled of 1 to 5, with 1 being terrible and 5 being amazing. And honestly, none of them were terrible. I would stop using them if they were. Some were simply better than others, and the fact is, there are lots of other great diapers out there that I haven't yet had an opportunity to try.
I've chosen some of the most popular and well known pocket diapers on the market, including mostly one-sized and a few perfect size (S,M,L) diapers. These are all diapers that I personally use, week in and week out, on my sweet girlie pictured above and some have also been tried out on my 2 1/2 year old son.
BumGenius 3.0 One-Size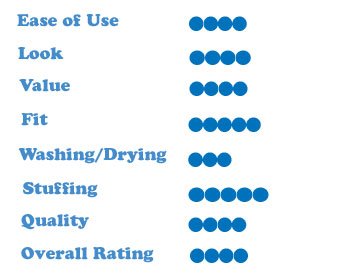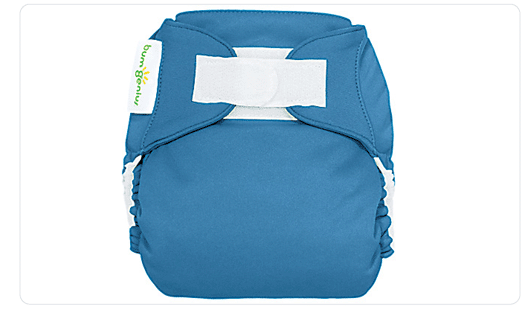 BumGenius was the first pocket diaper that I fell in love with. It started to fit my newborn within about a month of her birth, and right from the start gave a great fit due to it's velcro closures. They fit very well around the legs, with no leaking. And the colors are bold and adorable.
After much wear, the inner and outer fabric on my BumGenius diapers looks and feels great. Very little pilling. The elastic is still going strong.
I wish I could say the same for the velcro. It may give a great fit, but it is this diapers worst feature. The front velcro strip is getting quite pilly. The side velcro fasteners are showing a lot of wear and I have to clean them off frequently. They will need to be replaced before the next baby, but thankfully BumGenius supplies replacement velcro tabs for free if you call and ask for them.
My one major complaint is that they don't get big enough to necessarily fit all the way through potty training. For some smaller kids, they'd be fine. For a real chunky monkey, probably not so much. At 7 months and probably 18-20 lbs, Johanna is almost in the largest setting (although that setting will fit her for a long time- my little guy did wear them briefly after he turned 2).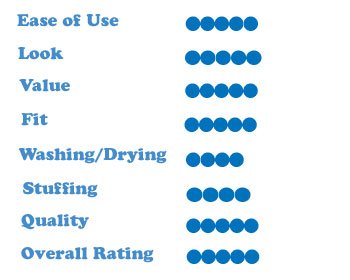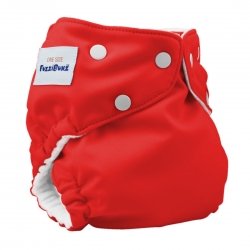 I wasn't sure that I could love another diaper as much as I initially loved my BumGenius, but I was wrong. The new Fuzzi Bunz one-size is hands down my current favorite diaper.
It uses a unique cinching system with the leg elastics that allows you to change the size from the inside, rather than using a snap system on the front of the diaper (like most pockets). This ultimately means a less bulky, funny shaped one-size- hooray! It also keeps the legs fitting snugly, no matter what size your baby is.
I haven't had my Fuzzi Bunz One-Size for as long as some of my others, but so far they are holding up pretty well. I do notice that Fuzzi Bunz inner fabrics tend to pill in general, but this doesn't really affect their use. They take slightly longer to dry than some of my other pockets (I air-dry mine).
Best of all, they are quite large and should definitely last well into toddlerhood for most children. Truly a one-size fits all. I'm a happy mama.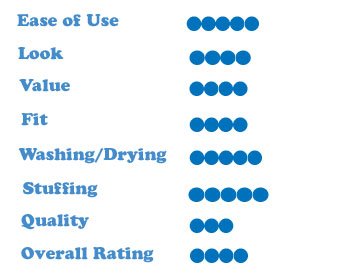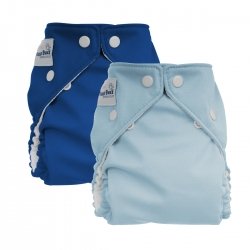 These are the predecessor of the Fuzzi Bunz One-Size. They come in x-small, small, medium, and large. They fit VERY generously. The small is supposed to fit a 7 lb baby, but it took my daughter several months to be able to fit it well enough to prevent leaks, and in fact, my petite 2 year old could actually fit into it. At 7 months (and somewhat chubby) my daughter is still easily in the small, and is just beginning to fit the medium on it's smaller settings.
That said, with the correct sized diaper, they still give a great and leakproof fit. Due to their "perfect size", they are slightly less bulky than the one-size option, though I don't feel the difference is very significant.
I find these ones a little easier to stuff than a lot of the one-sized pockets, and easier to dump the inserts into the diaper pail without having to reach in and grab them (usually a good shake will do the job). They are also one of my fastest drying. But, they have seemed to stain/wear the most on the inside, and I am even seeing a bit of strain on the PUL (outer layer) of 2 of mine (this is after about 6 months of continuous use).
*Thanks to Just Bumming Around for all the Fuzzi Bunz diapers to review!
Happy Heiny's  One-Size Snap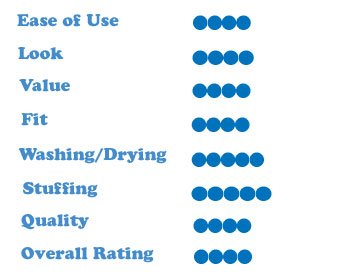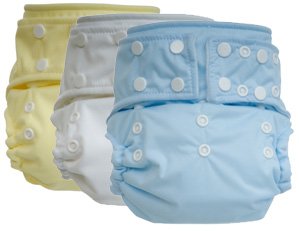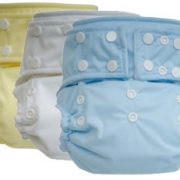 These also come in a velcro version, but I got these when I was really curious to try some snap-only diapers and see if I liked them better, as I was getting frustrated with the velcro while washing.
This is another one with lots of room to grow. These shouldn't have any problem accommodating most toddlers. Only problem is that they don't offer a great fit on newborns or young babies. They have plenty of snaps (more than any other), so in theory you should be able to achieve a good fit.
I just found that there was too bulk around the waist and though they technically "fit", it wasn't until she got to be about 12-13 lbs that I felt they started to fit more comfortably (and now that she's bigger, they fit really well and are becoming one of my favorites- who knew?).
Also easy to stuff and wash, and fairly quick drying. High quality, these wear well and are a good pick.
Wahmies One Size with Snaps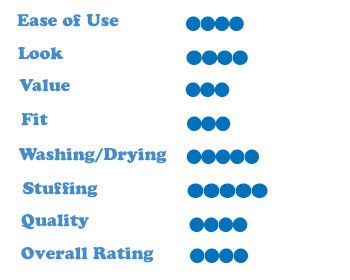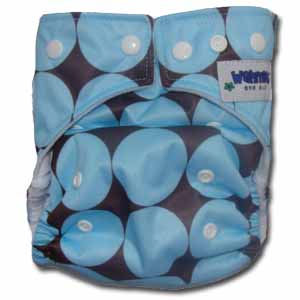 One of my favorite aspects of this diaper is it's velour lining. It is so soft and usually feels quite dry to the touch when I change Johanna out of it. I'm not sure if it's just a fortunate diaper that has never seen a lot of #2, but it is as clean and snow white as the day I got it still!
These have great fitting leg elastics, though I do worry that they might get slightly tight as she gets really big. There isn't a ton of room to grow, which is my major complaint with this one (and the reason for the low Value rating). I really like it, but I can't see her fitting into it past 2 years old (but I could be wrong).
Unlike many other diapers, this one only has one row of snaps along the front. This isn't a really big deal, but I find that two rows offers a more snug fit and less bunching in the front. The snap version of Wahmies (which is what I have- I haven't tried their hook closure style) has some elastic near the belly button and by the top of the bum as well, I presume to improve fit and comfort. To me, it doesn't make much of a difference, but maybe it would have if I got it when Johanna was a newborn?
These do wash and dry very well, and they offer a nice, trim fit and seem to be quite well-made.
Rocky Mountain One-Size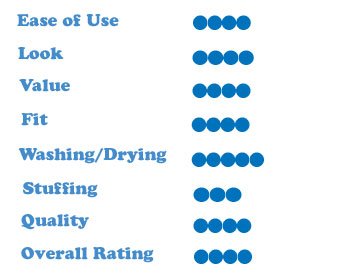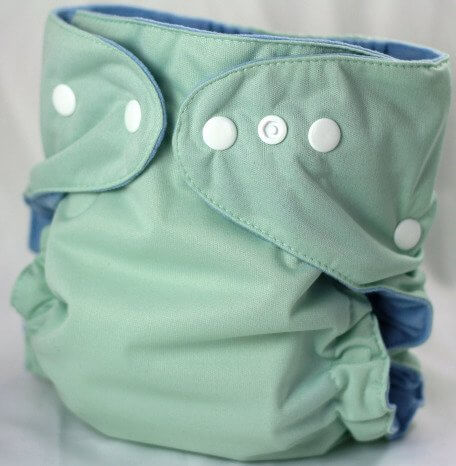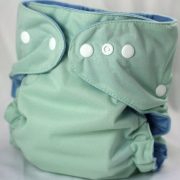 I remember being so surprised when I pulled this one out of it's package and saw that the inside was blue! Every other pocket diaper I own is white on the inside. Although the color choices are limited, I like that there are different color options for the inner layer, and this will help to keep it nice looking over time while white inner layers get somewhat stained.
Another neat feature is that the inner layer is a type of suedecloth. It is very soft, keeps baby quite dry, and seems to wear better than others. It also dries quite quickly and washes well.
Similar to the Fuzzi Bunz One-Size, these diapers have inner elastic systems that tighten the legs. Rather than a button system like FB, Rocky Mountain uses a snap system that works quite well. These diapers definitely get a good fit around the legs and avoid leaks. But, like the Wahmies, they have only one set of snaps across the front, so they can also bunch a bit from time to time, which is why I couldn't give a 5 for fit.
Lastly, although these are nice and roomy for a growing baby, they sure do have a narrow opening for stuffing inserts! Definitely a little bit harder to stuff and sometimes (yuck), I have to manually pull the wet insert out rather than simply shake it out.
DryBees Sized Pockets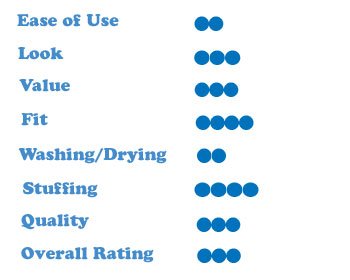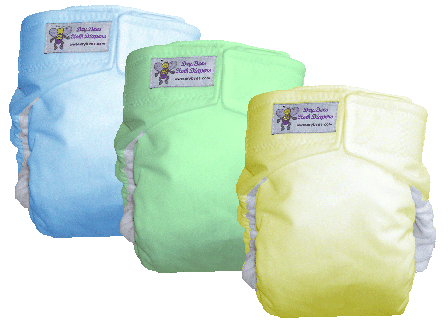 I used the size small when Johanna was a newborn. It was great to have a pocket diaper that really, truly fit her when she was so small.
Unfortunately, there were a few things about these diapers that just weren't too great. I had issues with the velcro top curling down a bit, and sometimes the velcro would rub on her tummy (not so nice). I had to really pay attention to how I put them on to try to minimize the chances of this happening.
My other issue was in washing them. The velcro tabs are supposed to stay in place while washing, but without fail, they would come open and attach themselves onto other diapers in the load.
I did speak to a company representative about the issues, and though they couldn't replace my diapers (because I knowingly bought them from a clearance site without a warranty), she did say that these issues don't usually happen, so perhaps these seconds (as in, not perfect diapers, hence the deep discount) that I got just had particular issues with their velcro.
Otherwise, they were great to use, as far as easy stuffing and cleaning, quick drying, and nice fit around the legs on a little baby.
DryBees Fleece Night Times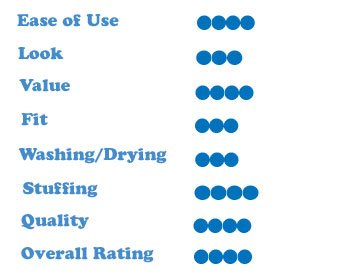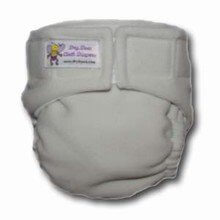 After speaking with the DryBees rep, I decided to take a chance on reviewing their fleece night diaper, to see if I was any fonder of it. The answer is definitely, it's been much better!
I haven't had  any velcro issues as far as rubbing on the belly or curling down (though the sides still sometimes open in the wash). They seem much more comfortable for her.
This diaper is unique in that it is fleece, and does not have a waterproof PUL outer layer. I didn't know what to think of this, but surprisingly have found that it really does make a great nighttime diaper! It's nice and soft, with really sturdy and well-reinforced leg elastics, to prevent nighttime leaks. The only leaking I have had is if she's been up nursing many times during the night, and she probably would have leaked in any pocket diaper on those occasions.
This diaper can be a bit bulky, so I choose to use it only for nighttime. These are also fitted, not one-sized. As with the other Dry Bees diapers, they fit just as their fitting chart says that they will.
*Thanks to Cloth Diaper Company for the Dry Bees Fleece Night Time, Wahmies, and Rocky Mountain Diapers to review!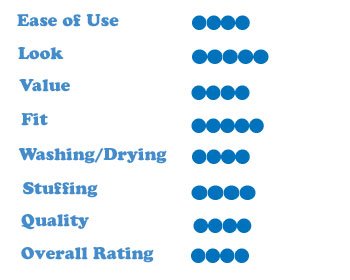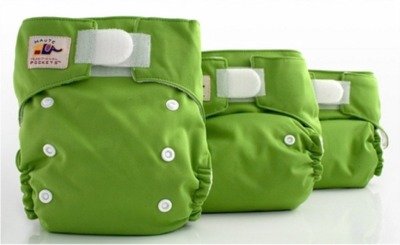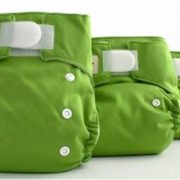 I felt that out of all the diapers with velcro, these ones had the highest quality velcro. It seemed to withstand washing well, and have the strongest grip. The front strip has stayed in great condition, while my BumGenius has gotten more frayed and pilled.
One feature that I liked in these diapers was the shape of the front of the diaper. Others have a more rectangular shape in the front, and the Haute Pocket has a nice curve to it. It also has inserts that are not just long, but also have a wider curve on one end to sit exactly into these front curves. I'm not exactly sure why, but I like it and feel that it gives a bit better front coverage.
These really do fit nicely. Very trim elastic around the legs, and the velcro gives such a perfect, snug fit in the front. Although the ones I have are hot pink, I did use them on my son (shhh, he never needs to know these details of his infancy) when he was over two, and they still worked really nicely on him.
I did have a problem with the PUL on mine, that neither I nor the customer service reps could understand. It unfortunately made them not as waterproof, relegating my once beloved Haute Pockets to being used as mere backup diapers. Customer service would have happily replaced them for me, but they were a gift and I had no receipt. Alas. I will most likely get more in the future (with a receipt, this time!), to give them another go. And maybe not in hot pink. 🙂
I'm sure many of you have your own opinions and thoughts about many of these pocket diapers, and perhaps other brands. Feel free to chime in and let us know what you think!