Italian Sausage and White Bean Soup
This simple recipe for Italian sausage and white bean soup is incredibly flavorful and easy to make. It's savory, satisfying, AND delicious!
By Kelly, Contributing Writer
A big bowl of hearty homemade soup on a cool winter evening is such a comforting and satisfying meal. That's why at this time of year, I enjoy creating delicious new soup and stew recipes and including them in my weekly meal plans.
This easy Italian Sausage and White Bean Soup is chock full of healthy ingredients that are rich in savory flavors! The combination of slightly sweet and spicy Italian sausage paired with mild white beans and peppery greens creates an incredibly delicious and satisfying meal the whole family will love!
You can use any greens you prefer such as kale, mustard or collard. My personal favorite is Swiss chard. Its mild flavor makes it the perfect green for picky eaters, since chard doesn't have the slightly bitter aftertaste typical of other healthy greens. And best of all, it's a great way to Supercharge Your Nutrition.
Of course, the secret to incredibly flavorful and healthy soup is homemade bone broth. Not only is homemade broth far superior in flavor to any boxed or canned stock on the market, it's much more nutritious too!
In fact, homemade bone broth is considered a super food. The cooking process breaks down bones and connective tissues – including proteins, minerals and fat – that help to heal the body in various ways. One of the greatest benefits is how bone broth promotes digestive health through healing the gut, as well as reducing inflammation and boosting the immune system.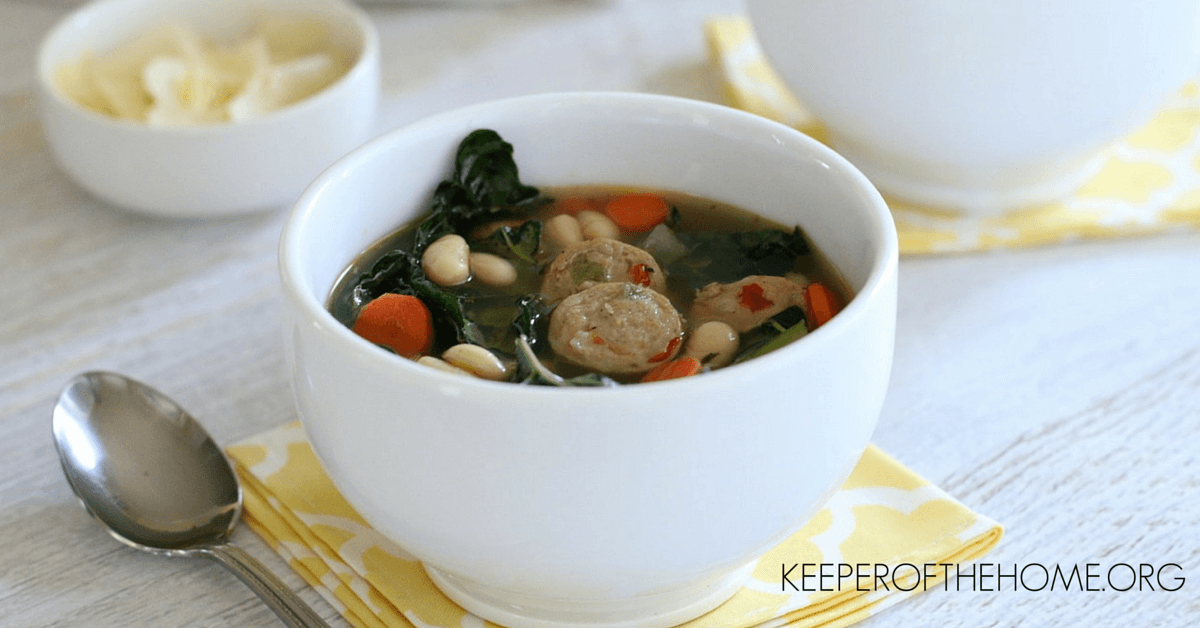 This incredibly flavorful Italian-style soup is truly "Mmm, Mmm, Good!" Plus, it's so easy to make. So if you're a soup lover too, this simple recipe is certain to be a newfound favorite! It's savory, satisfying and delicious! Enjoy!
Italian Sausage and White Bean Soup
Makes 6-8 servings
Ingredients
12oz. mild sweet Italian sausage links
2 Tbsp olive oil
4 garlic cloves, thinly sliced
1 cup diced yellow onion
1 cup diced carrots
6 cups homemade chicken stock
3 cups of soaked & cooked white beans (or two 15oz. cans, drained & rinsed)
1 tsp sea salt
1/4 tsp dried Italian seasoning
1/8 tsp freshly ground black pepper
4 cups of tightly packed chopped greens of your choice
1 1/2 Tbsp fresh lemon juice
Optional: Parmesan for topping soup
Instructions
Slice the sausage links into 1/4-inch rounds. In a large stockpot over medium-high heat, add the olive oil and the sliced sausage links. Sauté until sausage rounds are lightly browned on both sides (about 2-3 minutes). Then add the garlic, onion and carrots. Sauté until veggies are semi-tender (about 4-5 minutes).
Add the chicken stock, beans, Italian seasoning, salt and pepper. Bring soup to a boil, then reduce heat and simmer covered for 8-10 minutes, until veggies reach desired tenderness.
Then, stir in the chopped greens and lemon juice. Allow soup to continue to simmer until greens wilt (about 5 minutes). Ladle soup into bowls and top with shaved Parmesan, if desired. Enjoy!
What are your favorite soups to make?
Note from Ann: We love a warm soup or stew, they are a staple in our house especially when its cold and dreary outside! Usually we make soups full of potatoes and other root veggies. I love the use of greens in this Italian soup. I find greens like chard to be intimidating, probably because I don't use them often enough 😉 but Kelly has a link to a great post on chard if you have never tried it before, check out Supercharge Your Nutrition and find out how easy it is to add some to your next meal! Thanks Kelly!!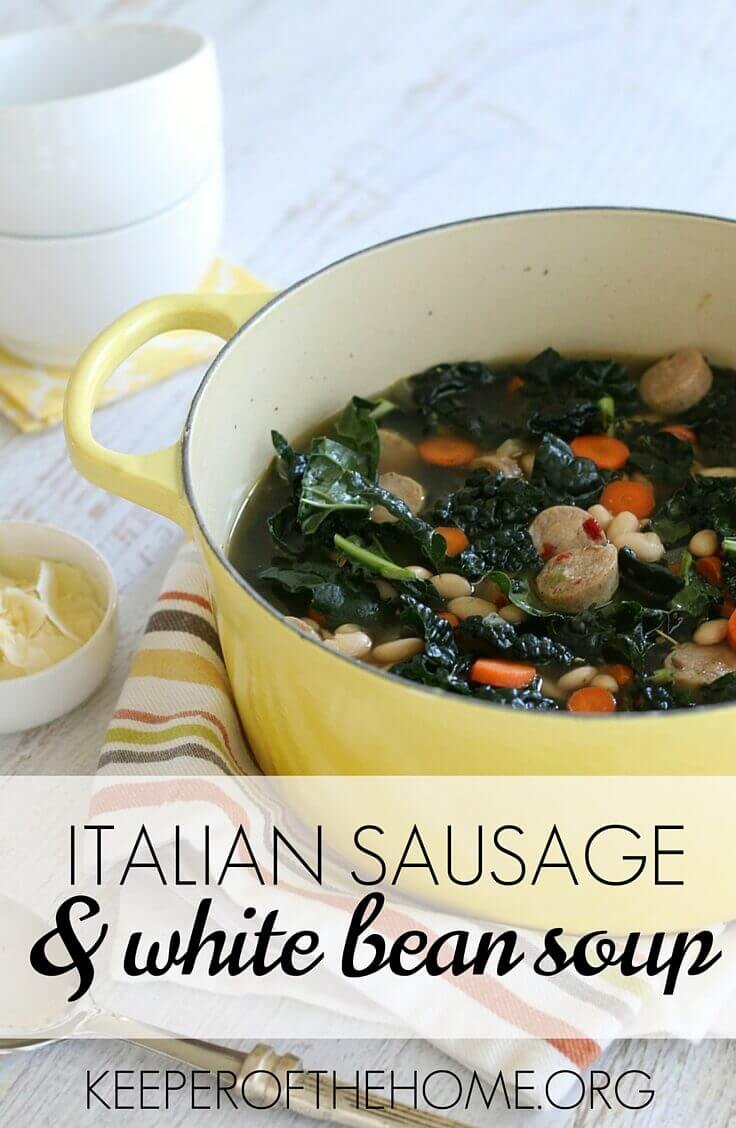 Disclosure: This post contains affiliate links. When you buy through our links, we earn a small commission, which helps to keep this site going so that we can continue to offer free and useful content, so thanks!