DIY Friday: Healthy Shepherd's Pie Recipe
This healthy shepherd's pie is easy and a fun way to celebrate St. Patrick's Day.
By Ann Timm
A couple of years ago I wanted the kids to learn about St. Patrick's Day. They know everyone wears green in order to not get pinched at school, but what else did they know?
As I've probably said before, I love history, so teaching it to my kids is important. As it turns out, they did not know much about this Irish Celebration.
Today, St. Patrick's Day is celebrated across the world. It began as a feast celebrating the foremost patron saint in Ireland and commemorating the arrival of Christianity.
As the story goes, Patrick was raised in Britain and kidnapped at the age of sixteen by the Irish and enslaved for six years. After escaping, he made his way home and became a priest, eventually going back to Ireland as a missionary.
Want to learn more about St. Patrick's Day? Here's a good source.
The color green and the shamrock played an important role in his evangelism as he used the three leaf sprig of shamrock to explain the Holy Trinity. In our house, we have a little fun with the color green, I have been known to put green food coloring in the toilet!
One way to bring history and traditions home is through food. I was surprised at how much my kiddos loved shepherd's pie. I substituted beef for the lamb when they were younger and made it a bit healthier, but they got the idea!
Here is the recipe I use for a family of 8 or for the enjoyment of leftovers!
Healthy Shepherd's Pie
Preheat oven to 400.
Ingredients:
3 lbs potatoes, I like red and I always leave the skin on
1/2 C milk or cream
salt and pepper to taste
butter
one egg yolk
one large onion
several carrots
1-2 cloves garlic depending on taste
1/2 cup peas and sometimes corn for the kids
rosemary and thyme 1-2 teaspoons each
3 lbs ground lamb (traditional) or beef 
2 Tbs tomatoe paste
2 cups chicken or beef broth
2 teaspoons worchestershire sauce
2-4 T olive oil
Directions:
Cut potatoes into small 1 inch pieces, place in pot and cover with water. Bring to a boil, then uncover and reduce heat to a simmer. Cook until potatoes are soft all the way through, 15-20 minutes. Strain water from potatoes and add milk and butter, mixing thoroughly. Add the egg yolk and salt and pepper to taste, then set potatoes aside.
In sauce pan saute onion and carrots in olive oil until soft and slightly brown. Add in lamb or beef and salt and pepper until meat is browned.
Add the garlic, tomato paste, broth, Worcestershire, rosemary, thyme, and stir. Bring to a boil, then reduce the heat to low, cover and simmer until the sauce is thickened.
Add peas and corn to meat mixture then pour into a casserole dish. I usually use a 9X13 and then another smaller casserole dish. Pour the potatoe mixture over top of each dish covering the meat mixture well. Place casserole dishes on or over a pan to catch drips and bake in oven for 30 min or until potatoes are slightly brown. Remove and allow to cool before serving.
Sometimes I sneak other veggies in when the kids aren't looking and add some wine to the broth while cooking on the stove for taste.
Happy St. Patrick's Day and don't forget to wear green!
What's your favorite St. Patrick's Day DIY?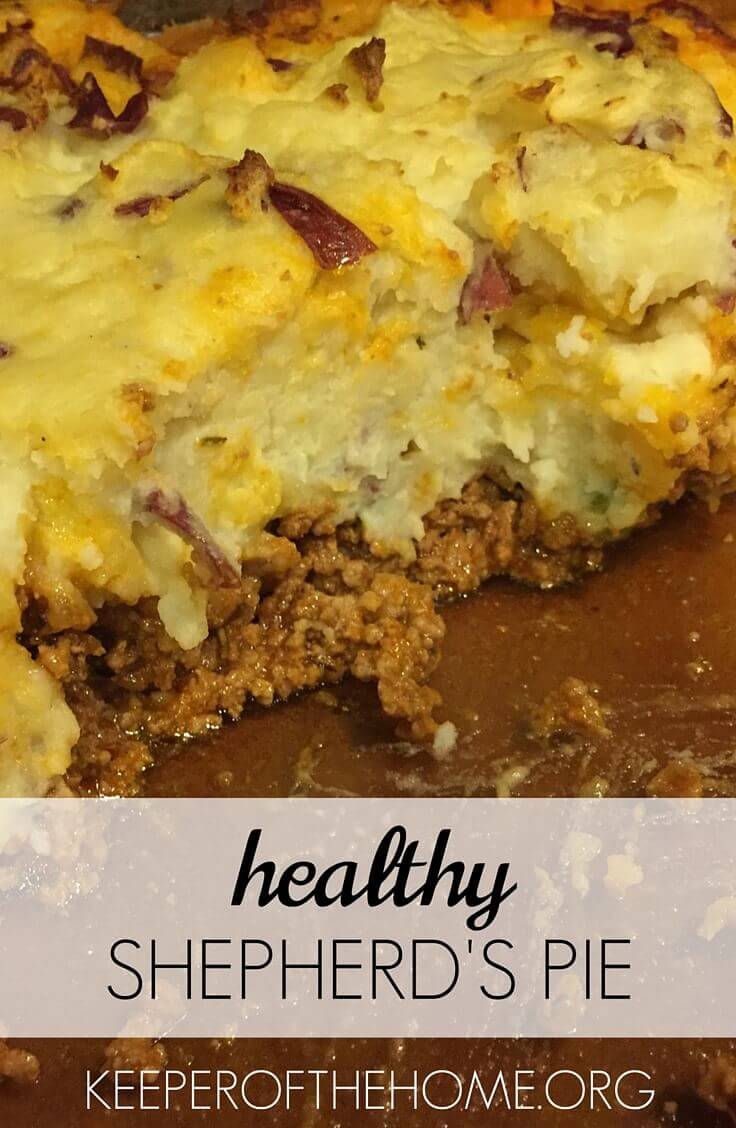 Disclosure: This post contains affiliate links. When you buy through our links, we earn a small commission, which helps to keep this site going so that we can continue to offer free and useful content, so thanks!