5 Tips for Saving Money on Natural Skincare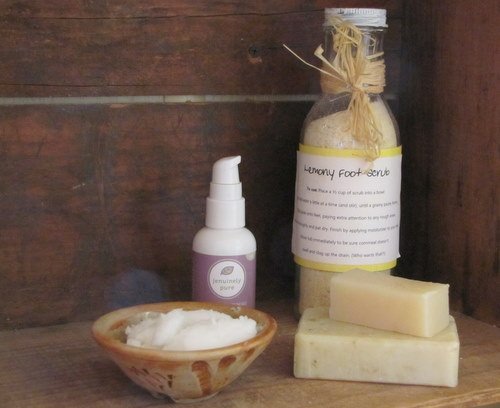 Written by Stacy Karen, Contributing Writer
As we learn more about how our skin absorbs the products we slather on, it's only natural that we desire to use safe alternatives as part of our regular skin care routine.
If you've taken a peek at some of the organic/natural skin care products on the market, you already know how expensive they can be. When we are seeking to do what is best for our health and the health of our family, this can be really frustrating.
Thankfully there are a number of ways to take good care of our skin without busting the budget.
1. Use Less than Recommended
Most products overestimate the amount needed. Try using one squirt of cleanser instead of two.
This takes a little experimentation and will vary depending on the particular type of product being used. For example, I can easily get away with one pump of my cleanser (which recommends two), but need the full amount of moisturizer.
Only wash your face with cleanser in the evening. Splash with water in the morning.
Don't feel bad about doing this! It is actually a great way to avoid over-washing. Washing your face  too often will result in skin being out of balance (too dry or too oily).
If using liquid cleanser, make it go further by filling an old foaming soap dispenser 3/4 of the way with water and the rest with cleanser, tighten lid and shake to blend. Use a few pumps of cleanser when needed.
2. Use bars instead of liquid soap or moisturizer
Liquid products are easy to waste; squirt out a little too much and there's no turning back (the only choices are to use it up or wash it off). On the other hand, bars of soap or lotion are difficult to over use.
A good bar of soap usually costs less than liquid soap or cleanser and will last much longer.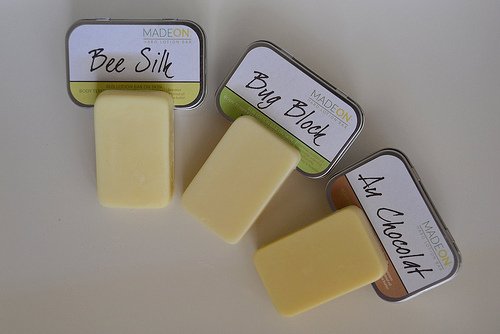 Image from HardLotion.com
Hard lotion bars have the same advantage; they last well, are simple to make and inexpensive to buy. Lotion bars may cost more than a bottle of lotion, but this is off-set by the fact that they last longer.
3. Use Multitasking Products
Products that have more than one function are usually money savers (and sanity savers). Using one item instead of two, simplifies your skin care routine and helps keep clutter in check.
Some examples of multitasking products:
4. Make Your Own
Making your own products doesn't have to be complicated or expensive. In fact, it doesn't have to involve any "making" at all.
Scoop some coconut oil in a jar and you've got an excellent moisturizer for face and body, sprinkle baking soda on a damp toothbrush and you've created an all-natural lip-scuff (just rub onto damp lips and wash off with warm water).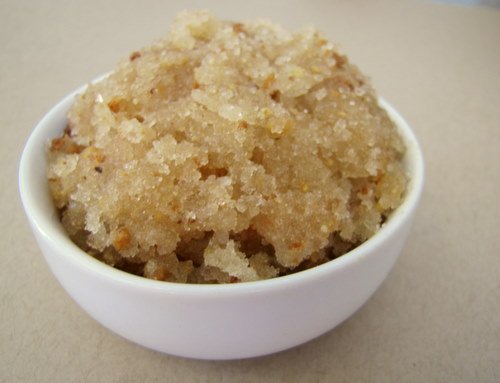 Here are a few simple alternatives to store-bought products:
Facial Cleanser: Honey is wonderful for your skin and makes an excellent cleanser. Used alone it won't remove all the dirt and gunk, but it will provide lots of skin-enhancing benefits. Find out how and when to wash your face with honey at Crunchy Betty. (You really should try it. It's amazing.)
To remove make-up using honey follow these instructions (also at Crunchy Betty). Honey can also be used as a hair treatment, among other things.
Another effective facial cleanser is oil. The oil cleansing method is simple and frugal. Surprisingly it doesn't leave skin oily and often eliminates the need for moisturizer. Be sure to watch Stephanie's video in which she demonstrates how to clean your skin using this method.
Astringent/Toner: Witch Hazel tightens skin and removes excess dirt or oil. Apply a a small amount (about a teaspoon) with a cotton ball.
To make a scented astringent, add 5 to 10 drops of pure essential oil to 1/2 cup of witch hazel. Lavender and sweet orange essential oil are good choices.
Diluted apple cider vinegar also makes a great toner. To make: mix one cup of distilled water with 1/8 cup of apple cider vinegar. Add up to 5 drops of essential oil, if desired.
Moisturizer for face : Coconut oil and jojoba oil both hydrate and nourish skin. Coconut oil  is the least expensive option and has the added bonus of being useful for cooking too.
Moisturizer for body: Coconut, olive, or safflower oil. Best used right after a shower, apply these oils all over for some serious moisturizing.
Exfoliator for face: Mix baking soda, corn meal or finely ground oatmeal or sunflowers seeds with a little water to make a paste. Using circular motions, apply to face, avoiding the eye area. Allow to sit for  a few minutes before washing off with warm water.
Exfoliator for body: Sugar or salt remove dead skin cells very effectively. Before learning to make my own scrubs, I purchased a favorite from time to time at $20 a jar! A homemade version can be made for less than $3.
To make a basic body scrub, mix one cup of sugar or salt with 1/4 to 1/2 cup of oil (start with 1/4 cup and increase until  desired consistency is reached).
For further details (and over 30 scrub recipes), see my new ebook: Simple Scrubs to Make and Give. A comprehensive guide to making your own all-natural scrubs for face and body. Use Coupon Code KeeperHome to get 20% off until 1/13.

*Stephanie's note: Stacy's book is amazing! Who knew how many different types of scrubs that you could make out of simple and frugal ingredients?
 5. Shop Online
Search for coupons
If purchasing skin care products online, always search for coupons first. This is a great habit to get into with all online shopping. I'm amazed at how often there are coupons available for things I intend to buy.
Follow your favorite brands on facebook and sign up for their newsletter
Many companies provide coupons to those who like their facebook page. Mineral Fusion is one good example. (Like their Facebook page and get a $3-off coupon)
Email newsletters are another way to stay up-to-date on any sales. When possible, stock up on products you use at sale prices.
Shop through Ebates
Another habit that has served me well over the years is beginning my online shopping at ebates.com. Many companies provide cash back for purchases made through their site, some up to 30% (most are 10% and under). Pair shopping through ebates with a coupon code to save even more.
Shop at Vitacost.com (start at Ebates)
Vitacost has some of the best prices on well-known skin care products as well as reasonable shipping fees.
Many name-brand, all natural products are available, as are the basic ingredients listed above in the make your own section (i.e. coconut oil, jojoba oil, honey, baking soda). Go through Ebates to get extra cash back.
If you've never shopped through Vitacost before, you can also get a $10 coupon just for signing up, to put towards anything you like! The coupon will arrive in your email inbox, usually within about 10-20 minutes of signing up, and then you simply use the code that you're given as you checkout with your order.
Sign-up for Groupon and Eversave
From time to time Groupon, Eversave and Jasmere have deals for online stores or local companies that carry natural skincare products. On these occasions you maybe able to save 50% or more.
Bonus tip: Stay Well-Hydrated and Eat Good Food

Drinking enough water will help skin stay in good condition as will eating good food (including healthy fats) and avoiding junk. What we put in our bodies is just as important as what we put on our bodies.
Eating well and drinking enough water doesn't eliminate every skin condition or issue, but it certainly gives your body the best chance to fix any problems that may arise.
Do you have any tips for saving money on natural skincare?
Disclosure: This post includes affiliate and referral links.