With my garden in full swing, we've been eating from it as much as we can! These days, I'm a bit worried that our skin is going to start to turn a pale shade of green, since that's what is available in the garden!
For the past month or so, we have been eating a whole lot of green lettuce (multiple varieties, plus just a teeny bit of red leaf lettuce mixed in), green spinach, green herbs (basil, dill, cilantro), greeny-blue kale, green onions, and most recently, oodles of green snow and shelling peas! One guess at what's ready to harvest next… green broccoli!
(Actually, there have been a few purple/white turnips mixed in there, lots of red radishes, plus the beets and carrots are nearly ready, so we'll get some more color in pretty quickly! 🙂
Here's one of our favorite staple meals these days: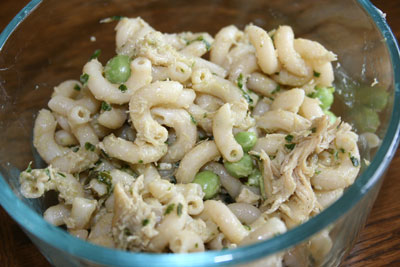 Pasta with peas, or some variation of it. Sometimes it's cold with olive oil, a splash of apple cider vinegar, bits of sausage, raw snap peas and red peppers, plus some feta cheese. Other times, like today at lunch, it's hot with shelling peas, chicken and some sort of sauce (today was leftover pesto with garden fresh spinach and basil, the other day was a creamy Alfredo-style sauce made with cashews).
The wonderful thing about eating seasonally is that when you're eating absolutely fresh-from-the-garden (or farmers or produce market) foods, they taste incredible. The way they are truly meant to taste. I can't get enough of my garden peas, and quite frankly, that's a good thing because they're coming out our ears! Peas, peas, and more peas!
The beauty of it, though, is that when we're thoroughly sick of peas and greens and radishes, we'll start munching on carrots and broccoli and cauliflower. When we don't want to see another piece of broccoli, we'll move on to zucchini and cucumbers and garlic, and then tomatoes and peppers, and after that squash and potatoes and corn. Throughout the winter, we'll eat what we preserved (supplemented with veggies from our produce market, of course- I don't grow enough to feed us completely). By next spring, guess what I'll be just salivating for???
Peas and fresh greens!
It's a perfect cycle, ordained by a perfect Creator.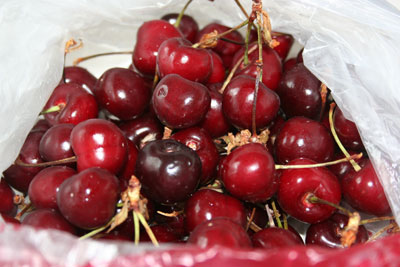 (This works with fruit, too! Rhubarb first, then strawberries, and now
our first bag of fresh, local cherries! I'm in heaven, and the fruit
season has barely begun! Think these will taste good in this coconut milk ice cream?)
Have you been discovering the joys of seasonal eating? What does it look like for you?