DIY Starbucks Passion Tea Lemonade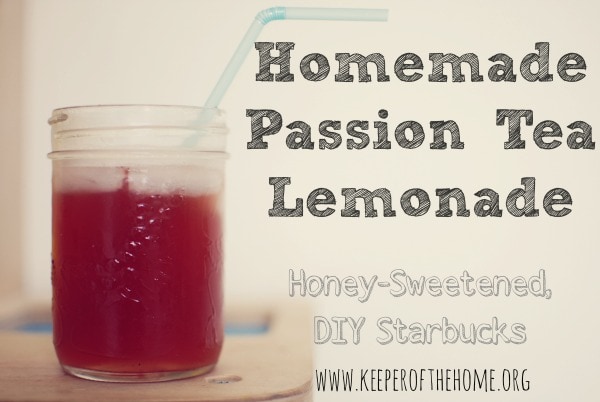 By Beth Ricci, Contributing Writer
I don't know about you, but my desire for not-so-healthy treats goes crazy in the summertime. With so many social gatherings, there's opportunity galore to indulge. Ice cream, picnics, birthday cakes aplenty (in my family, at least!), and more! Last summer when I began loving coffee, I developed an (unfortunate?) love for Starbucks as well.
When I am exercising self-control, I order a plain classic cappuccino. When I decide to treat myself, I get a sweetened latte or a cold lemonade. Then I discovered their Passion Tea Lemonade. I love it. The perfect mix of fruity, tart, and sweet. Mmmm, I can taste it right now…
I love to be innovative in the kitchen, "healthifying" recipes and making them taste amazing with all healthy ingredients. For a long time I was paralyzed in my endeavours when I couldn't make something "perfectly" healthy. One tiny less-than-stellar ingredient and my ambitions were crushed. OK, maybe not quite that dramatic, but you get my drift.
Recently I wrote about how food is not a moral issue. I strongly believe that our culture needs a solid lesson in separating our healthy eating habits from our moral worth. Eating healthy does not make me a better person, and sometimes we all need to chill out just a little.
It's easy to get caught up in the hype. I realized that healthy eating is important, but we don't always need to be militant about it. That's when I came up with this DIY Passion Tea Lemonade. You see, the Tazo brand of Passion tea contains "natural flavours" and one or two other less-than-perfect ingredients.
And yet, when I make my own lemonade, and I make my own simple syrup with a healthier sweetener, and I put the whole thing together at home for pennies… it suddenly seems like a perfectly reasonable compromise that I am willing to make. If you're anything like me in that regard, then you might just love this recipe.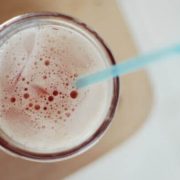 Print Recipe
DIY Starbucks Passion Tea Lemonade
Ingredients
Tazo Passion Tea bags

You can buy the Tazo tea bags at Starbucks, but they are also often found at grocery stores or Target for cheaper

Honey or other sweetener

Lemonade

Check out this recipe from Red & Honey for Homemade Honey-Sweetened Lemonade

Water & Ice
Instructions
To make the Passion Tea concentrate:
Steep 5 tea bags in boiling water. You'll need to use a large container for this, as it will be a large amount of water. I used an extra-large pyrex measuring cup.

Steep them for at least 10 minutes. I left mine in several hours because it was the dinnertime and bedtime craze, and they got forgotten. No big deal, it was just super concentrated. I use a little less and water it down.

Take the tea bags out and store the concentrate in the fridge.
To make the simple syrup:
Basically you are using a 2:1 sweetener to water ratio. Ie. 2 cups of water and 1 cup of honey (or sweetener of choice). I used half honey and half coconut palm sugar. Most types of sweetener will do fine. You could probably even use stevia in this recipe - just skip the simple syrup bit and add the liquid right to your drink. (I don't know for sure, though, so if you try it - let me know in the comments!)

Bring to a boil in a pot over the heat, and slowly simmer to reduce. Simmer and stir frequently for about five minutes, then remove from heat to cool. This mixture can be stored in the fridge for quite a while, but probably won't last long if you love this lemonade like I do!
And finally, to make the Passion Tea Lemonade:
Fill your cup about a third full of Passion Tea concentrate (I like to use a mason jar, and you'll see why in a minute).

Add a small amount of simple syrup (maybe start with 1/4 cup and add from there, to taste), and twice as much lemonade (Try the

honey-sweetened lemonade

recipe on my site, or buy it pre-made).

Fill with ice. Taste test.

Add water if the flavour is too strong, and add additional simple syrup if desired. I like mine on the tart side, so I end up with a very small amount of tea concentrate, and lots of lemonade, then water and ice, with a small bit of simple syrup. It's very versatile, according to taste, so taste test as you go!

In Starbucks they use a fancy shaker thingie to shake it up and give a bit of foam. I use a mason jar with a lid on it to achieve the exact same thing! Stick a straw in it, sit back in the sunshine and sip slowly. Happy summer, friends!
What's your favourite summertime indulgence? Do you have a DIY version? What do you order at Starbucks?