Curbing Consumption with a Clothing Fast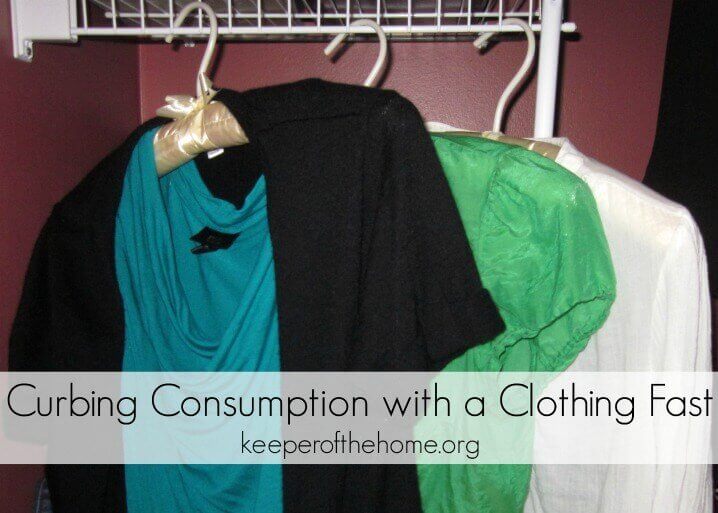 Ever considered a clothing fast? You won't want to miss Hilary's story!
Guest Post by Hilary Kimes Bernstein
Until New Year's Day 2013, retail therapy was one of my favorite pastimes.
If I was bored, I loved to window shop. If I was frustrated, I loved to window shop. If I was feeling depressed, I loved to window shop. If I had a rough day with my infant and toddler, I loved to window shop. (Notice a pattern?)
Typically my window shopping would lead to bargain shopping. If I happened to find a deal when I was out and about, I had a very hard time passing it up. As a result, I didn't exercise self control when it came to shopping.
Granted, I never spent large amounts of money because I found great bargains. But all of the little amounts of money and possessions added up; a shirt here and a kitchen gadget there led to a home that was utterly filled with stuff.
It took a major move and the majority of our belongings being boxed away in storage for two years to open my eyes to my shopping tendencies.
As I moved box after box of our possessions into our new home, I realized how I had needlessly and thoughtlessly frittered away the money God had entrusted to my family on a bunch of rubbish. Sure, it was cute. And sure, it was affordable.
But it had absolutely no eternal value.
I knew I desperately needed to change. I wanted to be a good steward, and I had to reign in my spending habits, but I had no idea how to take any baby steps to curb my spending. So I stopped cold turkey.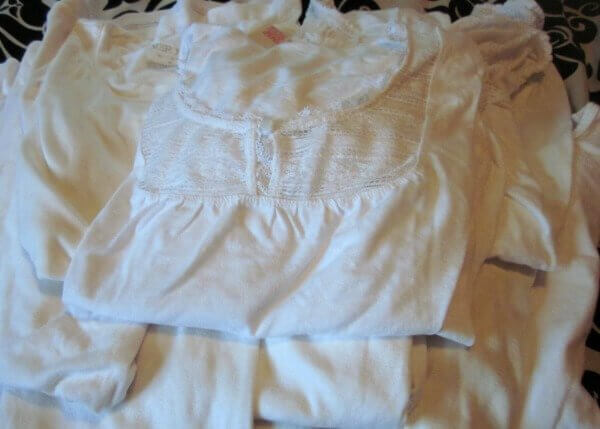 Because I was a little scared of the outcome, I decided to wait to make it a New Year's resolution. And, on New Year's Day, I challenged myself to take three months and not buy any clothes for myself.
My typical weaknesses were thrift stores and clearance racks, so as a way to prevent temptation, I simply stopped going to stores – with the exception of the grocery store. Even then, I tried to cut back my grocery trips to once every three weeks because I quickly noticed my tendency to overspend on food deals.
When I was tempted to go shopping, I found something else to do. As a result, I saved gas money, got more accomplished at home, and cut out a lot of unnecessary spending.
Once the first three months were over, I knew I needed three more – my desire to shop without purpose still was strong. In this second three-month stint, I realized exactly what a hold shopping had on me. Instead of facing my problems or running to the Lord, I turned to retail outlets instead.
Did I miss having new clothes?
During the first six months of my fast, I didn't even miss an influx of new wardrobe pieces; I  just missed the thrill of a good deal.
Because of my home's modestly sized closets, I keep a season's worth of clothing in my closet. I store the rest of my clothes – sorted by season – in big plastic totes in our basement. Since I'm changing up most of my outfits every three months, it's hard to get bored with my wardrobe.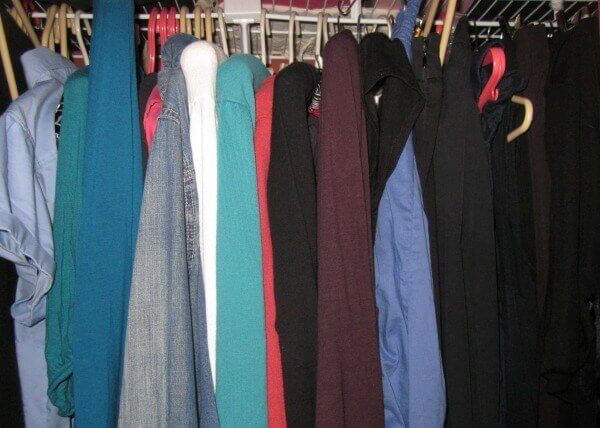 In the spring, when stores typically are filled with fresh colors and summer fashions, I did hold a clothing swap with a couple of my friends. Through that, I was able to freshen up my wardrobe while trading clothes I didn't want anymore.
With the exception of the clothing swap, I didn't bring any new clothes into our home – yet I still was able to find clothes I didn't want and donate them. Even after keeping my same clothes and purging unwanted outfits, my closet and storage bins still are very full.
A nationwide epidemic
I'm not alone with my shopping habits. The shopping patterns of Americans contribute to debt and a lot of waste. Nationwide, 11.1 million tons of clothing are added to landfills every year – according to the National Resources Defense Council, the average American annually contributes 68 pounds of clothing to that total.
USA Today has reported that some communities have actually instituted the curbside pickup of textiles, so you can recycle your used clothing right along with your paper, plastic, and aluminum cans.
Remember, just because you can get a good deal, it doesn't mean you should.
If you'd like to reduce the amount of clothing you purge, recycle your used clothes. This is easily done – pass them along to a friend or family member, participate in a clothing swap, or donate your clothes to collection sites like Goodwill. When you do buy clothing, look for well-made, timeless pieces, and buy used clothing from a thrift shop.

Where do I go from here?
Now that I've surpassed the nine-month mark in my clothing fast, I'm confident I can make twelve months.
At six months, I thought I'd end my fast – I was on vacation and stopped at a Goodwill with a phenomenal selection. There was only one major problem: when I was faced with racks and racks of clothing that looked like they would be perfect matches, I couldn't bring myself to buy anything. All of my desire to shop was gone.
I couldn't believe I finally broke the grip of shopping. Within a few weeks I did find an amazing deal on some wardrobe staples – 99 cents for a brand-new, name brand black T-shirt and white T-shirt – that I knew I would frequently wear. I spent the $1.98 and haven't bought anything since that time – even in the back-to-school shopping push.
Finally I feel like I can make rational clothing decisions. I know what I need, what I don't need, and I know that I don't have to worry about going shopping unless I truly do need to make a purchase.
I'm thankful for the money saved – but more importantly I'm thankful I spent the better part of this year correcting my frame of mind.
Are you in control of your shopping habits, or do they control you? How have you managed the size and cost of your wardrobe? Have you ever considered a clothing fast?