Risotto with White Fish and Orange
This is one of my family's favorite meals, especially my children. It's packed full of nutrients with the homemade fish stock I use as a base and has the extra benefit of a wonderful, flaky fish that is often palatable for even those picky eaters. I most often use halibut or cod for my fish of choice, but any white fish, with a mild flavor will do.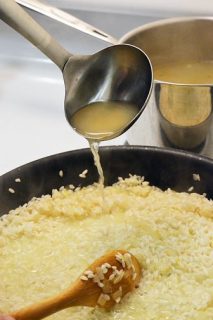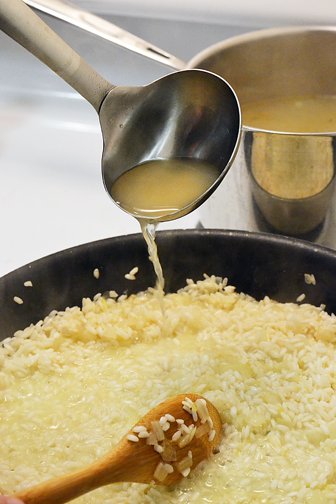 Fresh risotto is easy to make, but does require you to stand near the stove stirring the rice for about 25-30 minutes. Have your side dish prepared before hand or have something that you can easily throw together at the end, because risotto is best to eat as soon as it's been made.
The simplest side and a nice compliment is a fresh salad. The fresh vegetable go well with the thick, creamy, richness of the risotto.
Like any number of wonderful dishes, risotto can take a little practice to perfect and achieve a superb creaminess with a rice that is still a bit al dente. However, in the end you'll still always have a dish that everyone can enjoy even if not perfect (of course isn't perfect a personal preference in the end) and each time you make it you can learn to perfect it to your families liking.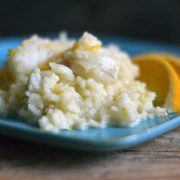 Print Recipe
Risotto with White Fish and Orange
Ingredients
5-6

cups

homemade fish stock

1/2

cup

finely diced white onion

2

cups

Arborio rice

Juice and zest from 2 organic oranges

room temperature

Unrefined sea salt

1

lb

white fish of choice sliced into 1" chunks

4

tbsp.

organic butter

1/2

cup

fresh grated parmigiano-reggiano cheese

Optional: extra parmigiano-reggiano cheese

orange zest and slices of orange for garnish
Instructions
Bring broth to a very slow simmer on a burner close to where you'll be cooking the risotto. It's important for your stock to stay hot through the whole cooking process.

In a deep, large pan or pot heat oil. Add diced onion and saute over medium heat until soft and translucent. Do not brown onion. Add the Arborio rice and while stirring constantly "cook" rice for 1-2 minutes until it begins to become translucent on the edges and is well coated in the oil. If necessary, you can add a bit more oil to the pan if it seems too dry.

Add the juice and zest from the two oranges, stirring constantly. When most of the liquid has simmered off, add a ladle full of the hot stock. Stir the rice until the liquid is gone and then add another scoop of stock. The method of adding a small amount of stock, stirring and letting the rice absorb the stock before adding more is the essential steps that makes risotto what it is. Any other method of cooking the rice would essential leave you with a steamed end product and nothing close to the creamy consistency a true risotto will have. Be sure to scrape the bottom of the pan so the rice doesn't stick and always keep the pan hot. On my stove, medium heat is great. It keeps the risotto at a simmer, but isn't so hot that it burns.

Continue to add a ladle full of the stock at a time. After about 20 minutes, your rice should begin to soften, but still be hard enough that it needs a bit more cooking. Give the rice a quick taste test and add salt if needed. There should be no more than about 5 - 10 minutes left before the rice will be done. Add your chunks of fish and another ladle full of stock. Gently stir the fish into the risotto, while still scraping the bottom of the pan to keep rice from sticking. Be gentle with the fish! You aren't trying to break it apart, but lightly cook it in the steam and heat of the rice. Because fish can be rather fragile, it will break apart some, that's fine, you just don't need to encourage it to do so. Continue to add the rest of the stock one ladle full at a time (if you run our of stock you can use hot water instead).

When the rice is about 1-2 minutes from being done, it should be creamy and still very slightly al dente, add butter and parmigiano-reggiano cheese. Stir gently until butter has melted and the cheese is fully incorporated.

Remove from heat and taste. Add more salt if necessary. Serve immediately on a platter or more family style and the way we most often do it, directly from the pan. I like to add a couple of fresh orange slices to the plate and sprinkle a little more orange zest on top too!
Enjoy!