11 Ways to Use Stale Bread
As 2011 comes to an end, we're sharing helpful lists to help you save money, stay healthy, get organized, creatively repurpose, frugally gift-give, intentionally celebrate and more in our "11 Things for 2011" series throughout these holiday months.
If there is one thing that I truly disdain, it's waste in my kitchen. I firmly believe that one of the most effective ways to learn to save money on your grocery bill is to buy less food because you're wasting less of it.
Did you know that:
"At home, the average American family throws away 14 percent of their food, Jones said. In terms of money, that's almost $600 every year in meats, fruit, vegetables and grain products. The best ways to cut the losses is for families to honestly examine what they actually eat, draw up menus and freeze leftovers so they spoil before you can eat them, Jones says'. quoted from The Nourishing Gourmet
I think we've all had times when the end of a loaf of bread begins to dry out before we have an opportunity to use it. Particularly those crust pieces, if you have family members (as I do) who prefer them less than the other slices.
Always on the lookout for more ways to maximize our food purchases and avoid waste, I've come up with a list of 11 ways to creatively use stale bread.
1. Bread crumbs
I keep a bag in my freezer at all times, where I chuck each loaf remnant or dry slice of bread. At these add up, I remove the bag from the freezer, let it thaw slightly.
I find it fast and easy to whir these pieces into fine bread crumbs, with the use of either my food processor, or my coffee grinder (best for smaller amounts). Then they can be used immediately, or re-bagged and store in the freezer until you want them, for making things like meatloaf, meatballs or fish cakes.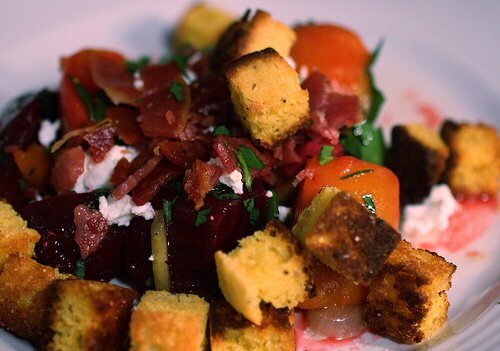 2. Croutons
Store-bought croutons are ridiculously expensive, and if you're cautious about the grains and oils that you serve your family, you probably don't want to each them anyways.
Here is a simple and delicious homemade crouton recipe.
3. Bread pudding
What better way to use up stale bread than to turn it into a comforting, warm dessert? Here's a tasty Bread Pudding recipe for doing just that.
4. Stuffing
It always feels counter-intuitive to me that I have to leave perfectly fresh bread sitting out overnight in order to have it dry enough for making stuffing or dressing. If you always have a loaf that is drying out, why not take advantage?
This is a recipe that I enjoy making for special family dinners (but with whole grain, not white, bread and butter instead of margarine).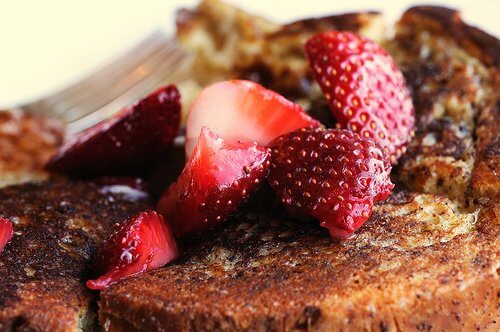 5. French toast
The key to good french toast is to ensure that the bread is thoroughly drenched in the egg/milk dip. Fresh bread will do this somewhat, but drier bread soaks up liquids with greater ease. Next time that loaf on the counter is starting to show its age, make this protein-rich and scrumptious breakfast that is one of our family's favorites.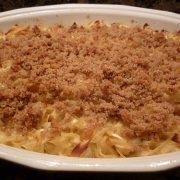 Print Recipe
Perfect French Toast Recipe
Instructions
Add ingredients to a wide bowl (important to make the dipping process easier). Preheat a frying pan to medium heat, while melting your choice of oil (butter tastes best, and

coconut oil

is also nice).

Whisk until well mixed, then dip pieces of bread until thoroughly coated, first on one side, then flipped over and dipped on the second side. Lift the soaking bread straight onto the hot pan.

Cook until egg mixture is lightly browned, then flip and repeat. If you want to boost the protein content, cut bread into halves or thirds, so that each piece gets even more egg/milk coating.
6. Garlic bread
Put your oven on to broil, while you slather dry bread with butter and freshly minced or crushed garlic. If you're like my husband, you might also like to add cheese, but it tastes great either way.
Stick slices on a cookie tray and pop under the broiler for about 5 minutes, until crispy and lightly browned. Serve with soup, stew, pasta or a large salad for a complete meal.
7. Casserole or pasta topping
Coarsely (or finely, depends on your preference) chop stale bread in a food processor. Lightly saute in a pan with some butter or olive oil, a bit of salt and pepper, and herbs of choice. Sprinkle on top of your favorite casserole or pasta dish, add a light sprinkle of shredded cheese if you like, then pop it in under the broiler for 5-10 minutes until perfectly browned and slightly crispy.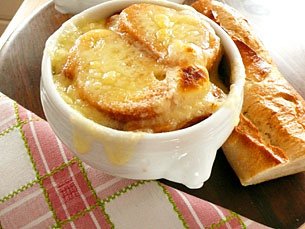 8. Italian Bread Soup or French Onion Soup
Ingenius women throughout history have come up with recipes that made use of their old bread, and one such delicious option is to make a soup that uses bread for a thick, hearty base.
Try this recipe for Italian Bread Soup (Riboletta), or this one for a rich French Onion Soup.
9. Open-faced sandwiches
Lay bread out, top with roasted or grilled veggies, thinly sliced meats, cheese, pesto or anything else that appeals. Warm up under the broiler, or even on the top level of the BBQ in the summer, for delightfully warm, toasty sandwiches.
10. Bread salad
This is a new idea to me, but it stuck out when I was brainstorming ideas for this post. Here is a recipe that looks fresh and delicious.
11. Make it fresh again
After all of these options for using bread in its already stale state, perhaps what you really desire most is for it to be fresh again!
This article shows you how to put some life back into that tired loaf, to make your options for using it even more endless.
How do you use bread gone stale? Share your best tips or recipes with us!