Maple Glazed Pumpkin Donuts (Grain-Free, Dairy-Free)
By Kelly Smith, Contributing Writer
Mmm, pumpkin donuts! The aroma of sweet pumpkin pie spices filling the air with subtle maple syrup undertones is enough to wake even the sleepiest sleepy heads in our home. Combine these irresistible fall treats with a side of crispy bacon sizzling in a pan and I can guarantee you there will be a stampede making its way to the breakfast table!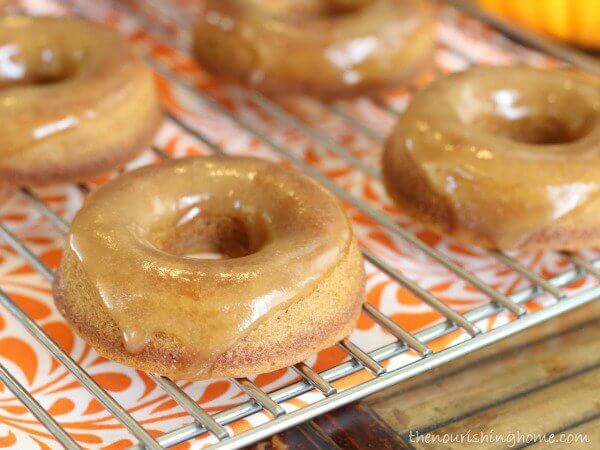 While it's not every day that we enjoy donuts for breakfast, there's no reason to feel guilty about enjoying these treats on occasion since they are made using pure whole food ingredients.
In fact, this scrumptious recipe is a newfound fall favorite tradition in our home. They're so good, I've included them on this year's Thanksgiving Holiday Menu! Since Thanksgiving Day is all about being grateful to God for His abundant blessings, these tasty little pumpkin donuts will certainly be a delicious prelude to a day filled with lots to be thankful for!
I love it when we can create wonderful family traditions centered on healthier foods with thanksgiving to God! And should these donuts grace your table this wonderful holiday season, I hope they bring a big smile to your family's faces too!
Happy Thanksgiving to you and yours!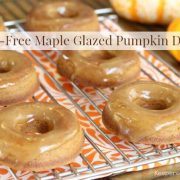 Print Recipe
Maple Glazed Pumpkin Donuts (Grain-Free, Dairy-Free)
Ingredients
Maple Glaze Ingredients
2

tablespoons

pure maple syrup

1

tablespoon

coconut butter

1

tablespoon

palm shortening

or butter, if not dairy-free

1/4

teaspoon

pure vanilla extract
Instructions
Preheat oven to 350°F. Generously grease a 6-cavity donut pan with palm shortening or coconut oil; set aside.

In a small bowl, stir together the blanched almond flour, spices, baking soda and salt; set aside.

In a large mixing bowl, whisk together the egg, egg white, coconut milk, pumpkin puree, maple syrup, melted coconut oil, vanilla and coconut flour until well combined.

Add the dry ingredients to the wet and use a spoon to thoroughly combine. Then, carefully spoon the donut batter into the prepared donut pan until just shy of the fill line. Use your finger or back of the spoon to even out the top of the batter.

Bake for 16-18 minutes, until donut springs back when touched.

While donuts are baking, in a small saucepan, whisk together the Maple Glaze ingredients over low heat until melted and well combined. Remove saucepan from heat; set aside to cool while donuts are baking.

When donuts are finished baking, remove from oven and allow them to cool in the pan for 1 to 2 minutes. Then turn out onto a clean dish towel (or countertop) and transfer to a wire rack to finish cooling.

Once donuts are cool to touch, dip top of each donut into the maple glaze and turn in a circular motion to allow excess glaze to run off. Then place on a wire rack to allow glaze to set – if you can wait that long! YUM!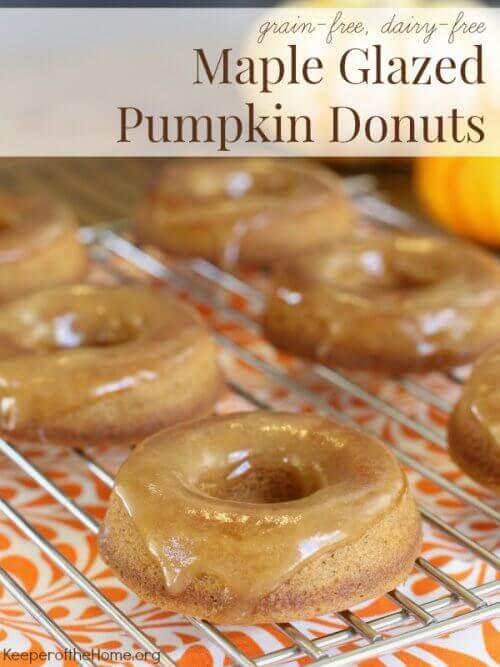 Looking for even more delightful pumpkin recipes? Then, be sure to check out our delicious post, "Celebrate Fall with 35 Favorite GF Pumpkin Recipes."
What are some of your favorite fall traditions?
Disclosure: This post contains affiliate links. When you buy through our links, we earn a small commission, which helps to keep this site going so that we can continue to offer free and useful content, so thanks!
This post is sponsored by Plan To Eat. If you know you need to make strides towards regular meal planning and you're looking for a tool to make it easier, I highly recommend you check out Plan To Eat's virtual tour. Sign up for a free 30-day trial to see how it works and then take advantage of their Black Friday sale at the end of November to get 50% off your subscription! Plan To Eat was born from a desire to eat real food — great food — prepared at home, together as a family. Plan to Eat is an online menu planner that uses your recipes, scheduled for the days you want them, automatically generating your grocery list, organized the way you like to shop. Eat well. Eat together.