Real Food Recipe Roundup: January
It's time to share a few favorite recipes and recent finds with you once again! Here are some that we are either really enjoying these days, or that I'm dying to have again once we're finished with our grain/sugar/starch free diet (the Maker's Diet):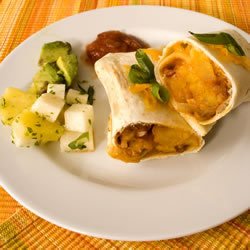 Addictive Sweet Potato Burritos
With the odd combination of sweet potato and black beans, I would have not guessed just how good these would be, but they really are amazing and addictive! We like to eat them with sour cream/creme fraiche and fresh guacamole, and I make them using my homemade soaked tortillas. They're also a great meal to triple and then you can eat one meal, while freezing two. To serve the frozen meals, I just allow the burritos to thaw for several hours, then put them in the oven at 350 until they're warm again. They turn out just a teeny bit crisper than when made fresh, but they still taste great and make such a nice, simple meal on a busy day.
I'm always looking for new ways to serve cabbage to my family and this recipe has turned out to be a real winner. The first time I ever made it, my husband was on a yeast-free diet so I couldn't use bread dough. Instead I made them with a soaked biscuit dough and we liked it so much that I have never bothered with bread dough at all, though someday I might try it that way. I like to make a big batch of these as well, as they make a wonderful food to pull just 1 or 2 from the freezer when my husband needs a lunch to go, or a whole bag to reheat for a dinner. I serve these with sour cream/creme fraiche (I keep saying both because we use either/or depending on what we have at the moment) and grainy or dijon mustard. The kids like them with ketchup instead of the mustard.
Red, White and Blue Cupcakes (aka gluten/grain free muffins!)
Currently, our family is on the Maker's Diet, so I'm actually drooling a bit as I write about the first two recipes with tortillas and biscuit crust! We're grain free/sugar free/starch free while on Stage 1 and Stage 2. I found this recipe on The Nourishing Gourmet for a muffin made using coconut flour instead. Now I cheated and just ground up unsweetened shredded dried coconut in my blender to make a "flour". I also made almond flour (by grinding soaked/dehydrated almonds) and I used the two "flours" to make an all-purpose mix. I substituted my flour mix for the coconut flour in this recipe and used stevia instead of the honey, and then all blueberries because they're sweeter than raspberries. They turned out pretty well and feel like a real treat to us since all other muffins are off limits. My only complaint is that they're too soft because of all the eggs in them, but that's what you get with completely grain free muffins, I suppose. They actually get nicer left out on the counter (because they dry out a little), or so I think anyways. My one recommendation is to double this recipe, at minimum, because it makes less than a dozen and they're quite small. I like bigger muffins, so I triple this to make 18 decent sized muffins.
Another use for coconut/almond flour: I used my flour mix, added some melted butter and 1/2 tsp salt to make a crust for quiche. I just mixed it up and pushed it into the pan and baked it for 10 min. at 350, then baked my quiche as usual. It was a bit crumbly but a wonderfully tasty substitute!
;
Fermented Salsa (Nourishing Traditions)
No, it's not an online recipe, but I figure probably half of my readers have Nourishing Traditions. 🙂 I had a goal last year of introducing our family to more lacto-fermented foods and so I tried this just before the New Year to get one more new recipe in. We already love salsa so this wasn't much of a stretch, but I wondered if we would like it with a fermented taste to it. The recipe is similar to my own, so it seemed very familiar, but it did have just a bit of a more sour sort of kick to it. It was totally enjoyable, though, even to Ryan (the ultimate test). He didn't like it so much after a week in the fridge, however, as he felt that it got more sour as it went on. My one major suggestion is to hold off on the salt and lemon (or only put some of it in) until you taste it. The first time I made it with sweet, flavorful tomatoes. The second time the tomatoes were really bland (score one for eating seasonally only- out of season food is just not the same). Without the sweetness of the tomatoes, the salt/lemon became overpowering and I had to do some major adjustments. With good tomatoes this recipe is wonderful, though!
Peppermint Pattie Coconut Bark
This was my incredibly yummy, decadent indulgence all Christmas season long! This whips up in just over 5 minutes and freezes within about 20 and gets eaten almost as quickly. It's a wonderful way to get more coconut oil in your diet if you're not sure what to use it for. I've also tried this with stevia instead of sweetener and my hubby didn't like the taste, but I thought it did the trick. Perhaps when you're craving sweets and can't have them, even a not-quite-as-good imitation will do? Just make it the regular way and you won't be disappointed!
This is an unbelievably easy dessert to make! It takes 5 minutes to whip up the batter in the blender, then pour it over the berries and bake. Done. One recipe isn't enough, so I always double it at least. Nice with a dollop of whipped cream for dessert, but also nice sans whip cream for breakfast. On our grain free regimen, this has been a nice change of pace for breakfast fare. One tip: don't ever bake it with a lid on. It will be gooey and will sink. Ask me how I know.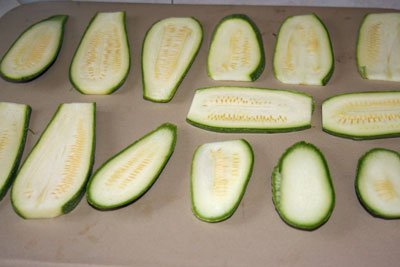 Zucchini or Summer Squash "Pizzas"
My newest creation. I had been craving pizza during this grain free diet and wanted to see if I could find a way to make it without a grain crust. Since zucchini works in pasta-free lasagna, I figured it just might do the trick as a base for making pizza, too. I used these cute little gray summer squash (like a short, gray-green version of a zucchini) and sliced them so they were about 1/4 inch thick. I layered on tomato sauce, meat and cheese as usual then baked then at 350 for 5 min. The short cooking time is key, because my husband took seconds that had been sitting on the hot baking stone I used and he said it had become a bit too soft to eat easily and wasn't quite as nice. So just enough time to warm them and melt the cheese, to keep the "crust" nice and firm. Very tasty and easy!
What real food recipes have you been enjoying lately? Please share them with us!