Home Remedies Carnival: Share Your Resources for Staying Healthy Naturally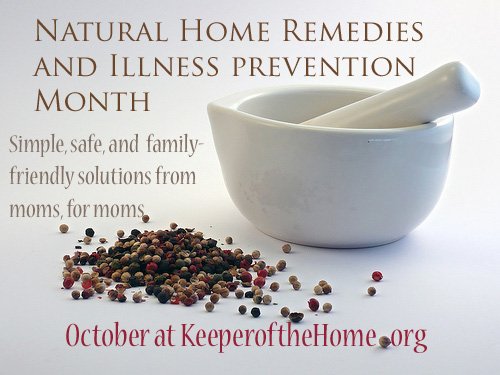 After spending an entire month focused mainly on natural home remedies, herbs, homeopathics, real food prevention and more, I still feel like we've only scratched the surface.
Though most of it isn't complex (in fact, often home remedies are very quick, simple and inexpensive) it does take some reading, research and trial and error to find the right remedies that suit the needs of your family.
Being able to glean from other women and moms, and learn their favorite and tried-and-true remedies helps to take much of the work and experimenting out of it. My goal this month has been to build up a library of home remedy and stay-healthy resources: quick and simple posts that you can return to again and again!
Two Posts for You to Bookmark
1. Resources and Links for Natural Home Remedies and Illness Prevention
This post includes every single home remedy, herbal, DIY treatment, and sickness prevention type of post that exists here at Keeper of the Home. Organized by categories (Herbs, Pregnancy/Breastfeeding/Babies, Colds/Flus, etc.) it is a simple place to try to find what you're looking for.
2. This carnival!
Since I and my contributing writers cannot possibly cover every remedy or topic, I'm opening it up to everyone else to share their practical wisdom and ideas with the rest of us!
How to enter the carnival:
Take any and every remedy or staying healthy post on your blog, and simply link it up here. It can be old or new, basic or detailed. Chances are, it will be useful to someone out there!
At the end of your post, link back to this page to help promote the carnival, which will ultimately result in more traffic for everyone. For example, "This post is part of the Home Remedies Carnival at Keeper of the Home".
Please link to your post directly, rather than to your blog homepage (links to homepages will be deleted). Leave a brief but informative description of the post you are sharing, such as "Natural Medicine Kit Essential: People's Paste @ Frugal Granola".
That's it! I can't wait to learn from all of you and to my own repertoire of natural remedies and ideas to keep my family healthy this year!