Freezer Cooking for the Busy Mom (Two Hours and Ten Meals? Yes, Please)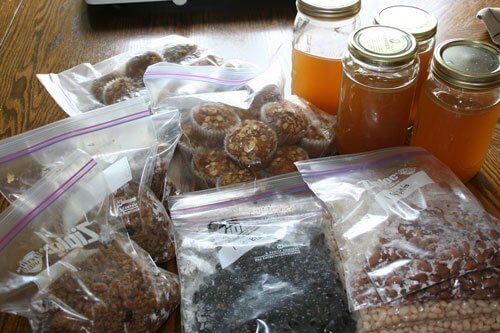 A common sentiment when it comes to eating real, whole, from-scratch foods is that (while we know they're good for us) they can be time consuming to prepare.
It's a real deterrent for a lot of people who want to eat better, but feel they just don't have the time and energy to do it.
I totally get that. As I shared in my "day in the life" post this week, my life is often busy, and at times, it's downright hectic.
There are many ways to turns real food ideals into dinner on the table, and one of them that I have turned to frequently in the past is freezer cooking.
Now, before some of you groan, you should know that the idea of freezer cooking is making a resurgence. Just try searching for "freezer meal" on Pinterest. I dare you.
My friend Jessica, of Life as Mom and Good, Cheap Eats, has this to say about the renaissance of freezer cooking:
Some folks might thumb their nose at "cook and freeze" meals. Perhaps they've had bad experiences; maybe they're haunted by a memory or two of Mom's Mystery Meat Casserole. How- ever, those are relics of the past! I am a self-proclaimed food snob, yet after finding and developing recipes that really work for my family, I've found bulk cooking to be a happy compromise between a busy life, a tight budget, and a desire for good, home-cooked food…

We live in an age of instant gratification. While hard work is still important, ours is a fast-paced society. But good home cooking still has a place in it. Through careful planning and making use of modern technologies, I'm now able to prepare 20 to 30 breakfasts, lunches, or dinners in a matter of hours.

Donna Reed, it's time to meet Jane Jetson. While we may not have machines producing food to order the way the Jetsons did, we can have tasty, healthy meals at the ready without an inordinate amount of work.

Taken from Not Your Mother's Make-Ahead and Freezer Cookbook
Her own experience of adapting the traditional once-a-month freezer cooking style into something more manageable (and better tasting) helped her to put nutritious and tasty meals on the table for her family of eight.

Just in time (guess what I'll be doing this week?)
For me, this cookbook review couldn't have come at a better time. Only last week I was searching through Pinterest for freezer cooking inspiration, knowing that to keep putting decent meals on the table right now, I needed a plan to lighten my cooking load.
My search for inspiration ended when Jessica's book landed in my inbox (I'm still awaiting my hard copy in the mail). It was exactly what I needed!
What particularly drew me to her book was:
She loves to eat fresh foods and plenty of produce. She has crafted her style of make-ahead meals so that they reduce most of the hands-on prep, but still allow her to incorporate plenty of fresh ingredients. It might mean marinated meats, pre-made sauces or seasoning mixes, or meal elements (pre-cooked meats, beans, etc.) that can be made into a variety of different meals, depending on your mood or what you have on hand.
She has created plans that range in time commitment from 2 hours or less (with a 10 meal takeaway), 3-4 hours (18+ meals), or up to 1 day (25+ meals). While I can rarely commit a full day to cooking, I could definitely find time to cook for 3-4 hours once in a while (weekends?) or 2 hours or less frequently (one afternoon every two weeks?).
She shares techniques for maximizing your time spent in the kitchen, even if you're not doing one of the actual cooking plans or spending more than an hour. Try making one extra meal while you cook dinner, or pulling together a couple easy recipes if you have a spare hour, doubling dinner a couple nights per week, or even just putting a meal in the crockpot to simmer all day so that you have something extra to freezer at the end of the day.
Pre-made plans to get you started
One super-smart aspect of how Jessica has arranged her plans (and what she suggests that you do as you learn to stock your freezer) is to focus on one protein type at a time. Whether it's beef, poultry, or meatless, or even breakfast meals to make morning smoother, you can pick just one area to focus on which only serves to streamline your process and make your time use more efficient.
I've already decided that since I just purchased 50 lbs of beef last weekend, I'll be doing the Beef Plan- 2 hours (or less) this week. It comes with a shopping list, supply list, and an action plan, as well as (of course) all the necessary recipes. Having done plenty of freezer cooking over the last 5 years, I can tell that these plans are realistic and feasible to complete within a couple hours.
I'll probably swap out one or two of the recipes for different ones from the book, just based on the cuts of meat that I have on hand, but since the plan is already laid out for me, making the substitutions will be a snap.
I only wish I had already been able to try and review a few of the recipes from this book, but I will tell you that I've tried several recipes from her blog Good, Cheap Eats and they haven't failed me yet. Especially her Shredded Beef Filling. Amazing. Every time I make it with a large roast, I wind up with extra packages of tasty, seasoned, shredded beef to put in the freezer and then pull out when I need a fast and simple dinner option.
How to get your copy
The official release of Not Your Mother's Make-Ahead and Freezer Cookbook is October 9th, but it's available for pre-order already on Amazon.
I was impressed to see how affordable it it is, too! Only $11.32 for over 200 recipes and a ton of helpful tips and techniques to teach you how to really do this freezer cooking thing and do it well. This would make a fantastic cookbook for any moms of your Christmas list this year.
Do you make freezer meals? What techniques do you employ to make the best meals in the shortest amount of time?