A Day in the Life: Stephanie (Home Business and Homeschooling with Children Ages 7, 5, 3 and baby)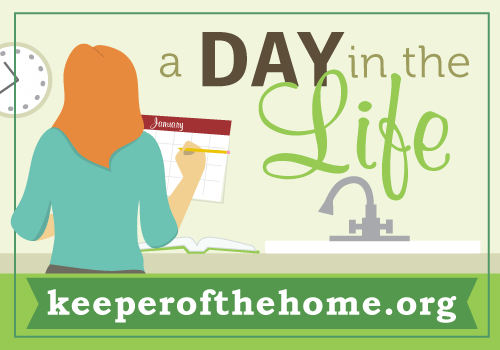 My days are full to overflowing.
As if being a mom to four little ones didn't keep me busy enough, our household also stays buzzing with:
homeschooling
our family business, Resound School of Music (the office is based out of our garage)
our other family business, this blog that you happen to be reading 🙂
gardening and preserving, as well as cooking plenty of real foods
Tonight my husband and I made a video montage of our children to send to the grandparents, and watching these precious moments made us tear up with the joy and blessing that it is to raise this family together. Busy as our lives may be (and as you read this, you'll see that they are indeed busy), they are also rich and full and sweet. 
Being the Type-A person that I am, I recorded a "day in our life" with great detail. I could have glossed over some parts of the day, or shared more of my ideal schedule (rather than reality), but when I planned this series, the point was to share our real, everyday lives with you. So here's a glimpse into mine…
12:05 am Kepler, my 7 mth old baby, wakes to be nursed.
4:56 am Someone wants his milkies, again.
5:10 am  Just as I'm almost asleep again, the 3 year old comes in. "I'm cold. I need a wanket". Walking her back to her room, I see her blanket kicked off the bed and lying in disarray on the floor. I tuck her in again nice and warm, then trudge back to bed.
6:13 am The baby is crying, yet again. Seriously? In my semi-conscious stupor, I let him cry for about 5-10 minutes, hoping he'll settle himself. He doesn't. I get him up, change his diaper, then pull him into bed with me and nurse as I try desperately to go back to sleep and ignore the song birds outside my window.
He falls asleep in my bed at 6:50, just as my alarm sounds. Sigh… I sneak out of bed, and head to our music studio downstairs. Briefly contemplating the 30 Day Shred, I opt instead for a moderate 20 min. workout from Lindsey Brin's Post-Natal Boot Camp (who am I kidding? They both kick my butt these days.)
Halfway through my workout, my husband brings Kepler to me, wide-awake and babbling. He lies on the ground and watches me brutalize my thigh and calf muscles, oblivious to my pain.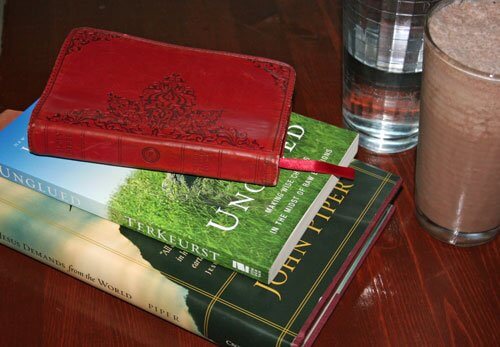 7:30 am  It's now my favorite time of the morning. I sit in the quiet living room with my post-workout drink (raw milk blended with a bit of cocoa, stevia, frozen bananas, chia seeds and green powder). Bible open, I begin to soak in the words of John 1, spend some time in prayer, and read a (short) chapter of John Piper's book What Jesus Demands of the World (and wished I had time for Unglued).
7:55 am For some rare reason, a couple of the kids are sleeping in, so I wake the sleepyheads and get them started on their morning routine. We've only been back to our school-year routine for just over a week, so we're still rusty, but it basically goes like this: wake, get dressed, put away jammies, brush hair and teeth, make bed, tidy bedroom.
8:30 am My husband and I enjoy a nice conversation while we get ready for the day. Both of us have been so busy lately, quality time is hard to find. I generally make it to the kitchen by 8:10 to start breakfast and unload the dishwasher, but the time spent with Ryan was worth a slightly late start.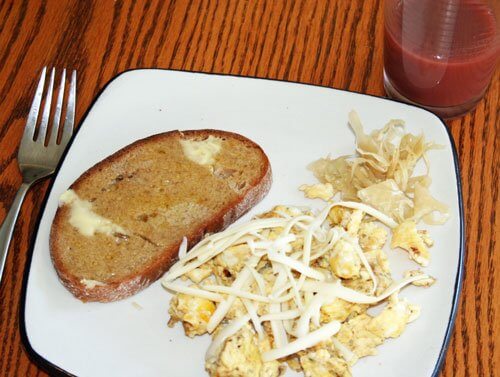 8:55 am We sit down to enjoy a breakfast of scrambled eggs, sourdough toast with pastured butter, sauerkraut (I love the raw stuff from Pickled Planet), and a bit of a Happy Planet smoothie I got 50% off at the grocery store last night. We eat our fill, then clean the kitchen.
9:30 am Morning chores done, we start our school day half an hour late. Johanna (3 yrs) has a shirt that has mysteriously become wet, so she goes half naked while I toss it in the dryer. The 5 and 7 year old are arguing over whether each of them has been a little bit or a lot rude. I interrupt it all in a cheery voice and announce devotions on the couch.
We are going through Long Story Short, so we learn about Abram, then study a character trait in Get Wisdom (today was Obedience… mommy might have purposefully landed on that page :), and everyone takes a turn praying.
We split up. Abbie (7 1/2) takes the computer to do Teaching Textbooks 3 math (I am in LOVE with this program!), then Bob Jones Science 3. I take Caden (5) and Johanna to practice their numbers and phonics, read a BOB book, then a book on bugs. The cockroaches in the book give me the heebie-jeebies as I remember the ones that shared our Japanese apartment with us so many years ago. We finish with a page in Caden's Math-U-See Primer, and then Get Ready for the Code phonics.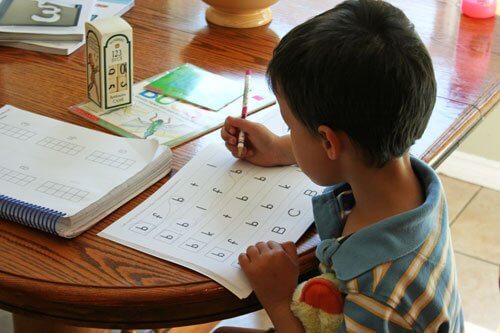 10:29 am Kindergarten is done. Recess time! The kids grab a piece of fruit and run outside. I open the computer to put today's Keeper of the Home post on Facebook, then close it and make a cup of coffee, before starting a load of laundry and sitting to nurse the baby who is now up from his morning nap.
10:49 am Baby is fed and changed. Abbie does her phonics. I sit down at the table with her to do focused work on her language arts (grammar, narration/dictations, writing). Then on to world geography and some mapwork.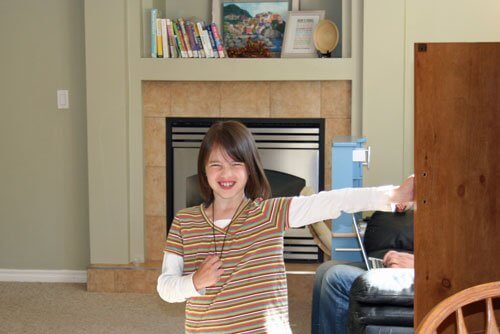 11:43 am Caden comes downstairs with rocks in hand to tell me that he's doing an "earth experiment" because "earth is the rock that we live on". He's terribly serious and way too cute.
I'm trying to quickly cut and lay out cherry tomatoes from the garden on dehydrator trays, while Abbie completes her copywork. Johanna asks me to help her take a picture of the baby jumping in the Jolly Jumper. She's momentarily heartbroken that she can't get him to say "cheese".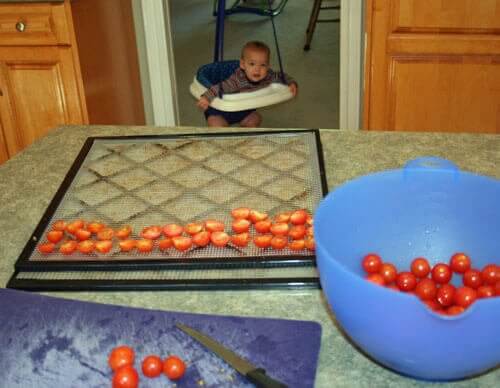 12:03 pm I wrap up homeschool a little early and get everyone eating their lunch of green-yogurt and homemade granola. The green comes from liquid chlorphyll that they like to mix in with a bit of stevia. My kids are weird, I know.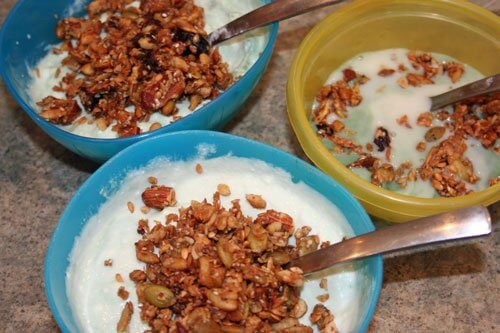 12:06 pm Johanna spills her bowl of grass-hued almond milk and granola everywhere. For once, I am grateful for a stone floor that is easy to wipe. She gets stripped (I'm having deja vu- haven't we done this already today?), I switch over the laundry, and start a small load of her soiled clothes and the kitchen towels before they become permanently green.
12:28 pm I'm attempting to leave for the passport office with the two boys in tow (I don't typically run errands on school days if I can help it, but our passports really need to be renewed). Or not. As I try to leave, tears and chaos and "Mommy, can I have some chicken?" ensue.
12:35 pm Ok, we're actually out the door this time.
1:05 pm Arrive at the passport office.
1:50 pm We're out! I'm duly impressed at how fast it went.
2:20 pm We check in with my husband (who is watching the girls while he works from home) to confirm that we have enough time for Caden to get a haircut with a coupon I have that is expiring in two days.
2:48 pm Arrive at the post-office to pick up a package for Daddy. Except that it got sent to the wrong office, and I have a tired baby and a hungry little boy so we're going home empty-handed for now.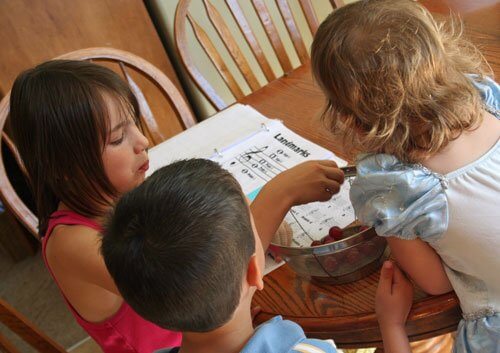 3:03 pm Back home. Abbie's practicing her piano and Daddy promised her a Little House on the Prairie video when she finishes. I change Kepler's diaper so he can go down for his afternoon nap.
3:16 pm He's crying in the room above my hubby's music studio, which is interfering with his recording session. Baby needs to move. I set up a playpen in our master bedroom and hope I can convince Kep and Johanna to sleep in the same room today.
3:42 pm Work on laundry.
4:14 pm Sit down to the computer when the doorbell rings. Someone is looking for the music school, and dropped in without an appointment. Grrr… I force a smile, welcome them in, and apologize for my messy living room as I frantically tidy it while they sit down.
This is one of the frustrations of everyday life with a home business. Ryan finally escapes what he was in the middle of to take this unexpected meeting, and I escape back to the kitchen to chop up sweet potatoes, melt beef tallow to coat them, and get them into the oven to become french fries.
4:35 pm Back on the computer. I order a replacement stroller wheel for our broken one, check for urgent Keeper of the Home emails, then do some online research.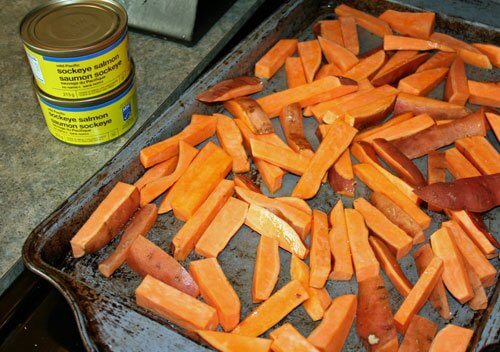 5:10 pm Start making salmon cakes.
5:31 pm Fish cakes are frying, the fries are almost done. The baby is crying, and two of my kids have told me that they have upset stomachs (so I dole out spoonfuls of liquid clay). Two children have also complained of hunger. (If you do the math, you'll realize that one child said they were both hungry AND sick… hmmm, interesting.) I'm getting frazzled and tell the 7 year old to turn on a JellyTelly video, and so our television quota for the day rises above what I prefer.
I forgo the idea of picking fresh garden green beans and sauteeing them, in favor of walking out to snip and then slice up a cucumber instead. A little less gourmet, but it's technically still a green vegetable. That counts, right?
The baby would like to be nursed, but I can't stop right now, so I pop him in the sling to tide him over. I check in the office to see if Ryan can miraculously come eat dinner with us. No such luck. He had to go meet a customer. We'll dine alone.
5:49 pm Dinner is served.
6:20 pm After dinner cleanup, I go into the office (our converted garage, just off the laundry room) to help our music school office assistant for a few minutes.
6:30 pm From the office, I hear the toddler. She's loud, but it sounds like she's just playing.
6:33 pm She's even louder now. Go out to check. I find out the upset tummy turned into a lovely bathroom mess and soiled clothes (her third clothing change of the day). Clean her and the bathroom up. I manage to resist just taking a hose to both.
6:39 pm Get 5 and 7 year olds back to their cleaning and vacuuming tasks, which have apparently been abandoned while mommy was distracted. Start bringing laundry upstairs to finish folding and put away (along with a clean load that's been sitting in a basket since the weekend).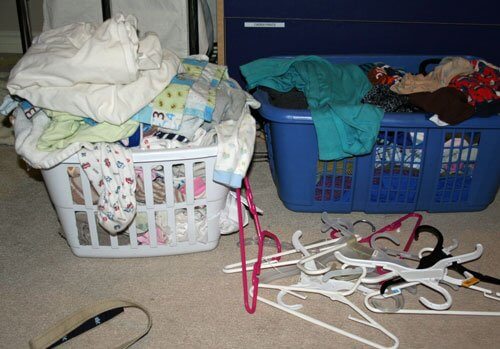 6:49 pm Ryan walks in the door, hungry. Stop laundry to dress the still-naked toddler, then go reheat a plate of dinner for him. Put my energies towards finally getting the laundry finished, wrangling up all four kids and moving them towards bedtime.
7:57 pm Three little ones are in bed and the fourth will be soon. Now I spend a couple hours writing and doing blog work, while Ryan works on his laptop beside me. I am oh-so-tired and reading a book and then going to bed early sounds lovely, but sometimes, this is the reality of being small business owners. Some nights, we manage to take a break earlier and spend the evening together. Right now is a particularly busy season for us.
As I was writing this up, I thought I had picked such an unusually busy day to record for my "day in the life". And it was a long, busy day, but only slightly more than usual. Our lives are very full right now and that's ok.
If I focus on the good (and not the hectic or exhausting) aspects of life, and rely on the grace and strength that God pours out in abundance, then there is so much beauty in the midst of it all.
Quite moments with the Lord in the morning, a hot cup of coffee, giggling at my kids antics, short but sweet conversations with my husband, sharing this online community with all of you, stepping outside in the glorious fall sun to pick veggies from my garden. I can't imagine life any other way.
What are the types of things that make your days full but sweet?