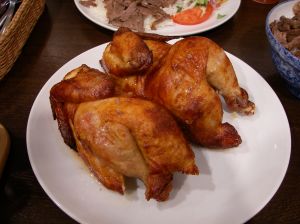 When you're on a tight grocery budget, just how far can you stretch one little chicken?
I decided to track exactly what I did with a my last free-range chicken, because I wanted to know the ultimate value derived from it.
I started with a box of Whole Chicken Fryers, from Shelton Natural Poultry. They were recently on sale (I pretty much buy them only when they go on sale), so I purchased:
10 lb box (3 chickens)= $20.60 (regular price $24.25)
So, 1 chicken (approx. 3+ pounds), cost $6.87 (it was regular $8.09, but we'll go by the sale price because that's the whole point of being a savvy shopper).
Here's the breakdown of how I used it.
1) First, I put it in my crockpot on low one day, to cook all of the meat. This also pulled some of the gelatin out of the bones at the same time, most of which I kept which the bones for making broth. After it was cooked, I carefully separated all of the meat from the bones (and other "stuff"), and put it all in a big bowl. Then I put one cup portions into small baggies, put those into a larger ziploc bag, and put it all in the freezer.
2) Next, I added the bone (and the gelatin left in the crockpot) to a large stock pot, and made a delicious and nourishing bone broth for soup, sauces, cooking grains, etc.
3) The particular whole chickens that I buy come with the giblets (translation- the guts), which have been removed, then tucked back inside for me to use or discard as I please. Because I know the value of liver, when it's available from a good, clean source (not the regular grocery store), I carefully cleaned and cooked it, then added it to a batch of chicken baby food for my little guy. Liver is just brimming full of Vitamin A, B (including folic acid), iron, and other trace elements.
This is what my single chicken looked like in the end:
5 cups of frozen, cooked chicken, which was used to make these three meals
1 large batch of Black Bean Wraps (dinner for 4, plus lunch leftovers for 2)

1 pot of Busy Day Mexican Soup (dinner for 3, and lunch for myself and daughter for a couple days)

1 recipe of Chicken Divan (for 4, with lunch leftovers for 2)
5 litres (quarts) of homemade chicken bone broth
Liver added to a batch of baby food
Not bad for $6.87, hey?
Do you generally use whole chickens, or pre-packaged parts (breasts, legs, etc.)? What do you find to be the cheapest ways to buy chicken? If you buy whole like me, how do you make good use of your chicken?
Find more frugal ideas at Frugal Friday!