Sometimes I think I take things too literally.
I'm pretty sure that when Laura mentioned she had put holes in the bottom of her potato planting garbage can by going to town with a pitchfork, she wasn't actually suggesting that as the best method for getting the job done! Nonetheless…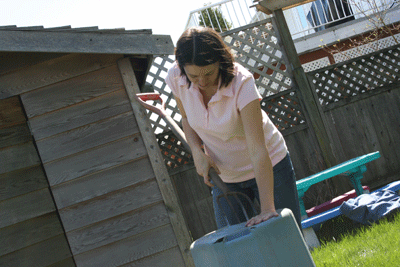 …here I am. Having way too much fun with a pitchfork.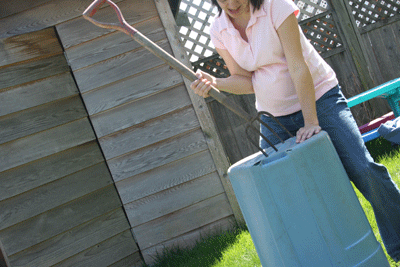 Crazy pregnant lady!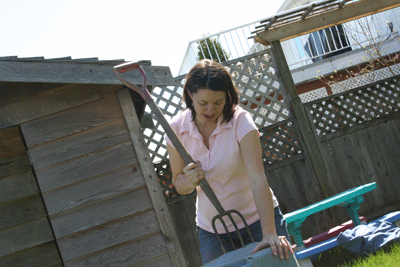 Hey, it got the job done and I didn't even have to go find my hubby's drill! My kids got a kick out of watching me. I got some exercise. It's all good! 🙂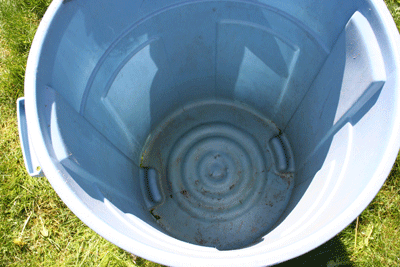 The end result. You can't actually see the holes very well, but they're in there. I didn't put too many holes, actually, because if you look closely on the sides you might (or then again, might not) be able to see that there are already significant cracks that will help with the drainage.
By the way, this garbage can was scored off of Freecycle last week. I had previously had an old garbage can in mind, leftover from a previous downstairs tenant, but I think my landlord must have taken it to the dump. Suddenly, I had beautiful seed potatoes ready to go and no can (plus, no desire to fork out $15-20 to buy one). I put up a wanted add for an old can, lid or no lid, and was rewarded with this "beauty". Free is good, and recycling useful stuff that other people don't want is even better!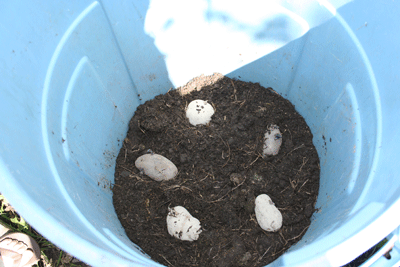 Now we've added about a foot of soil and compost, and our seed potatoes. It's difficult to tell, but three of them are a yellow potato, and two of them are blue-purple potatoes. The varieties I chose are:
Sieglinde
Russian Blue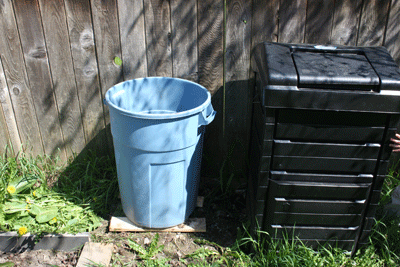 We covered these up with a few more inches of compost and soil, and stuck it in a nice sunny place, right beside the garden.
As an aside, if you live in the Fraser Valley, BC, and are looking for somewhere local to buy heirloom seeds and a great variety of starter seedlings and plants (including a few heirlooms and more interesting varieties than many other garden centers), try checking out Arts Nursery. That's where I picked up my unique seed potatoes. I was so pleased to find their West Coast heirloom seed selection to fill in any gaps I have this summer, without having to do another seed order by mail.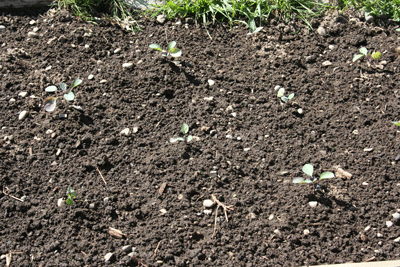 While we were out planting potatoes, we took stock of the rest of the garden. The cauliflower seedlings that I put out last week are quite happy (they're a bit tough to see, but up close, they're perky and green).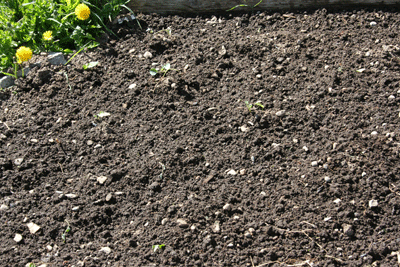 The broccoli… not so much. What broccoli, you ask? The ones that have apparently already completely died on me, after nearly two months of babying them from seed. The nerve.
Seeing as I still had over half of the seed potatoes I bought leftover from the garbage can method, I decided to leave in place the few broccoli that still had a fighting chance, and replace the rest with potatoes. It'll actually be a fun experiment, to see which produces more, the ones in the garden or in the can. Any guesses?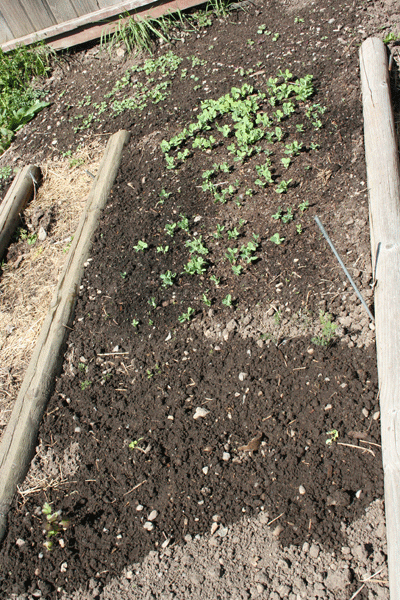 One last image of my happy little pea sprouts, that ended up incredibly unevenly spaced. This year I digressed from my usual Square Foot Gardening-style spacing (precise, grid like planting), and decided to try broadcasting my seeds in wide rows (ie: closing my eyes and hoping the seed lands where it's supposed to, or something to that extent). I really, truly did try to spread the seed out evenly over the whole area. Apparently the seeds on the edges are in mutiny. They're longing for a return to the olden days. Sorry little guys.
All that's left for my spring garden planting is sweet corn, cucumbers and zucchini! Whohoo! Then there are a few more herbs inside, as well as my lovely little tomato plants, one pepper plant, and a couple of Sugar Baby watermelon seedlings. I anticipate I'll get all of these ones out in another month or so.
That's my garden update. How are your gardens doing (or your garden planning and preparation, if you're still waiting for the last of the snow to melt away)?