21 Days to a More Disciplined Life (plus 100 free copies!)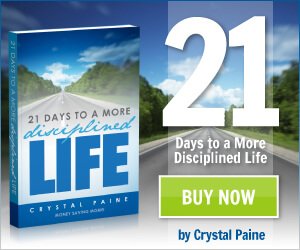 I'm the queen of making lofty goals that never come to fruition.
Being a particularly ambitious and driven person, I tend to shoot for the starts. I write up fancy plans, reorganize my schedule, print up pretty calendars and goal charts and dive right in. None of this is bad; in fact, being goal oriented and aiming high is a good thing!
The problem is that my exuberance often exceeds my capability to follow through. Time and again, my lofty plans fall flat. Over the last while, I've been slowly learning to take my goals and plans one intentional step at a time, so that they actually become a reality and not just a dream.
This is hard for a couple reasons: 1) I have to pick just one thing and work on it at a time (ignoring my huge list of things I want to work on), and 2) I have to recognize that I am part of the problem in the first place.
Recently, I was reading through Crystal Paine's new ebook, 21 Days to a More Disciplined Life, and this jumped out at me:
But here's the reality: A bad system is not the problem. My circumstances are not the problem. I am the problem. Oh sure, every time I start to get a good routine going, life throws a curveball. There are job losses, babies born, illnesses, moves, and never-ending projects that must be completed or that I want to complete. But ultimately, whether or not I live a disciplined life depends solely upon me and the choices I make on a daily basis. Believe me, those are tough words to swallow. My life isn't disciplined, and it's my fault. And I could wallow in frustration over my shortcomings and failures. But instead, I want to let that frustration motivate me. I am the problem, but I am also the solution.
If I'm being honest, aside from my desire to just rush and implement all of my goals and plans with the flick of my pretty little pastel-colored daily planner, there's one issue that supersedes all other challenges I have with accomplishing my goals…
Discipline
.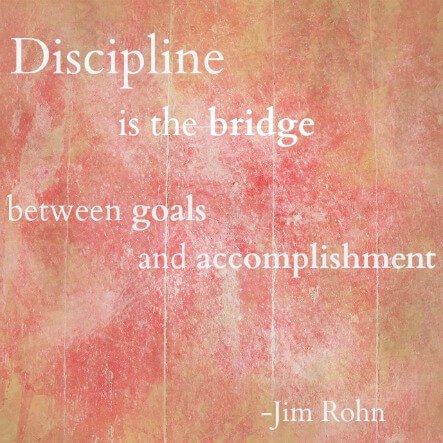 I need to be told (probably over and over again) that "I am the problem, but I am also the solution". If I could paint this on a 2×4 and just give myself a whack every day or so, I think that might be helpful.
Though I'd like to blame my failings on the wrong system, goals that are too difficult, or other life circumstances (like my children, my husband, my lack of sleep, my personality, the size of my house, the limits of my budget, etc.), none of those things are the problem. I am. I am the problem. (Say it with me now).
21 Days to a More Disciplined Life
What I loved, no, not jut loved but needed to hear in this ebook was the reminder that I (and I alone) have the power to change things in my life and achieve my goals. When I choose to make the tough decisions, to pull myself out of bed at the sound of the alarm and prop open my weary eyelids, or to stick to a schedule I've made even when I'd rather let myself by distracted by something more fun that what I know I should be doing, it's that discipline that makes all the difference.
These past few months, I have really struggled with going to bed too late, and then not being able to get up early in the morning and start my day well. My excuses have included everything under the sun that I could come up with (my heavy work load, a teething baby, wanting to spend time with my husband, having a hard time winding down at night) but none of them are true.
The real, gut-honest reason I can't seem to get to bed on time and wake up when I want to is because I haven't been disciplined about it. And it needs to change.
For me, this ebook came at the perfect time. I'm making myself a 21 day plan to establish a better morning wake-up time, based on Crystal's suggestions, and then I'll read along with the book, one short chapter per day, for encouragement and help to stick with my goals. Why 21 days? Because that's how long it takes for something to become a habit. Forcing myself to push hard at this one goal for 21 days will get me well on the road to making it a habit in my life.
I know I'm not alone. I think most of us struggle with lacking discipline in some areas of our lives, whether it's with our personal habits, how we maintain our home, what we eat, how much we exercise, our times with the Lord, making it to appointments on time, or even remembering birthdays (major ouch area for me)… you name it, it probably requires discipline!
I found this little checklist is on Crystal's website, suggesting who this ebookmight be for. Sound like you?
You have trouble following through.
You get overwhelmed by huge projects.
You start strong, but your passion fizzles out.
You are super-disciplined in a few areas of your life, but you have one or two pet areas that you just can't get under control.
You check out 10 different books on discipline and organization from the library, but return all of them late.
Guilty. as. charged. I need this book. The library fines are killing me. Can I get an amen?
Would you like to get a copy of the ebook?
The free copies are all gone- sorry! But you can still get your own copy for just $4.99!
I have 100 free copies of 21 Days to a More Disciplined Life to give away! The ebook usually sell for $4.99, but the first 100 people to comment will receive a PDF copy of the book (it will be sent by email, within 2-3 days).
For those who miss out on the free copies (which will go fast, no doubt), the ebook is just $4.99 and available for Kindle as well. If you're struggling with self-discipline, as I am, why don't you join me in making some slow but steady progress towards achieving goals and making new habits?
Do you find it hard to be disciplined? What is one good habit that you would really like to develop (or one bad habit that you want to get rid of)?
Texture background for quote comes from Friendbrook Meadows
Disclosure: This post includes my affiliate links.