A Day in the Life of Andrea: My Daughter Leaves for College in One Week!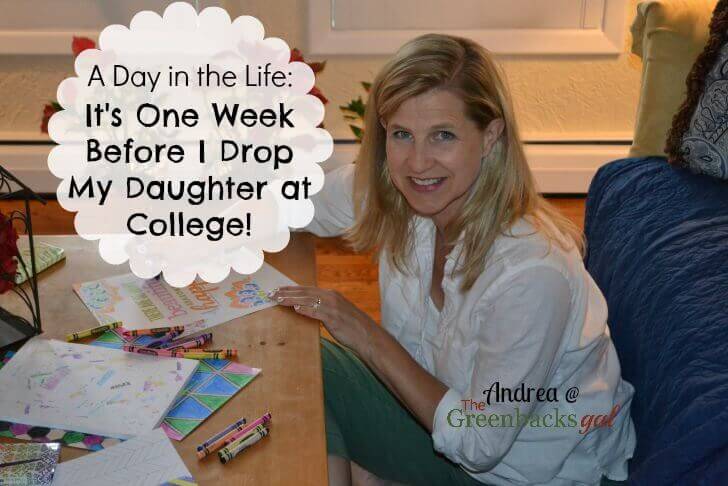 By Andrea Green, Contributing Writer
This day in the life took place one week before I leave to take my 18-year-old to college. Of all the contributors here on Keeper of the Home, I think I have the oldest kiddos. So I've tried to pack this post with tips I've learned about parenting and homemaking when you have older children.
5:42 a.m. wake-up:
Usually I am a morning person and I would pop right out of bed. But today I am dragging. It was a miserable night of sleep. Here's why:
At 12:19 a.m. I received a text from my 18-year-old daughter, Payton, saying she was on her way home. I was not worried about her. She has a great group of friends with whom she gets together at least once a month to play board games.
However, thanks to her text, I'm awake, so I lie in bed and wait for her to get in and kiss me goodnight.
After she kisses me and heads to her room, I can't fall back asleep. My mind is a loop of thoughts about this new stage of our life.
At 1:30 a.m. I finally make my way to the kitchen for a glass of water. My daughter's bedroom is off the kitchen, and I notice her light is still on and I can hear that she is still up.
Can I just tell you how much I wanted to knock on her door and ask her why she wasn't asleep?

But I don't.
In one week she will be on her own. Staying up unreasonably late is her decision. In one week she will be at college and I won't even know she is up.
Letting go is not easy.

Back to my 5:42 a.m. wake-up:
I slog to the couch with a cup of coffee to watch the sunrise.
This is MY TIME. The house is quiet. I pray and meditate as I watch the sunrise.
Typically, I spend 30 minutes in quiet time before I bring out my phone.
I'll admit I am addicted to checking my social media first thing in the morning.
I don't just check in on my friends, I also use it to check up on my girl's friends and classmates.
Here's Parenting Tip #1:
Did you know you can create a private list on Twitter? On this list, you can add people without having to follow them.
Why is this useful? You can get all kinds of information about your kiddo's classmates from their Twitter stream. And when you add them to a private list – without following them – they don't know you are watching what they do.
After I look through Facebook, Twitter, and Instagram, I admit I read the Skimm.
I was introduced to the Skimm by one of my besties, and now I'm sharing it with you.
I don't have time to read the paper and I've given up on watching the news (it makes me hysterical), but I do like being informed. So I read the Skimm. Yes, it has a little sass that at times I find annoying, but I do appreciate that a quick read brings me up to date on world events.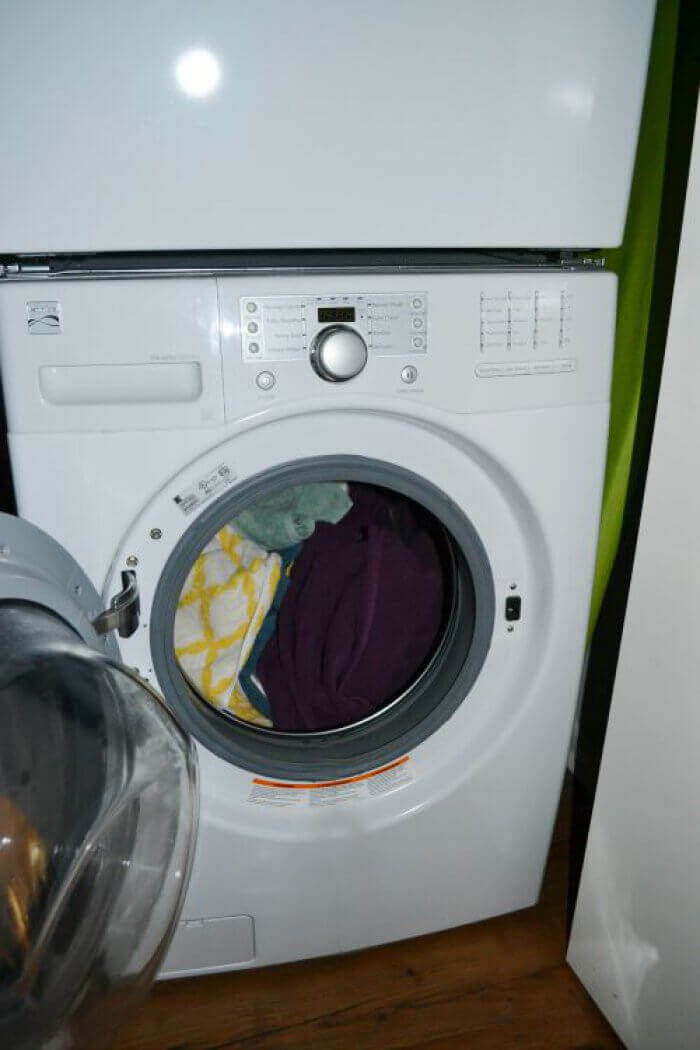 6:30 a.m.
Here's Parenting Tip #2:
Start every day by tackling a load of laundry. First thing! Keeping on top of the laundry makes my whole family dynamic run smoother.
I have days I wash certain things. Wednesday is towel day. I start my load of laundry before I do anything else.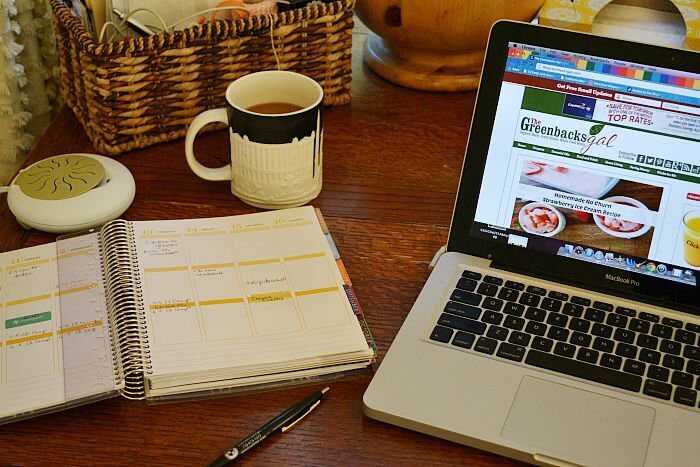 6:45 am:
I'm trying very hard to limit my online time to the early morning hours when I am not sacrificing family time.
I deal with any issues on my site and consult my planner.
Here's Parenting Tip #3:
Invest in a planner. Organizing your day helps the entire household run smoother.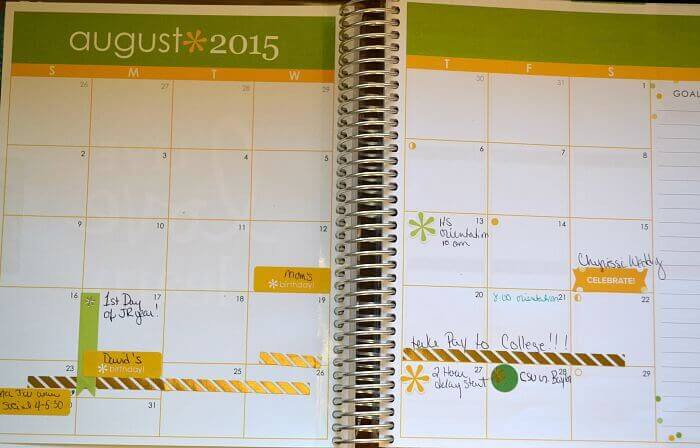 Use the calendar view to plan what I call the "tomorrow." These are the big events that will be happening during the month.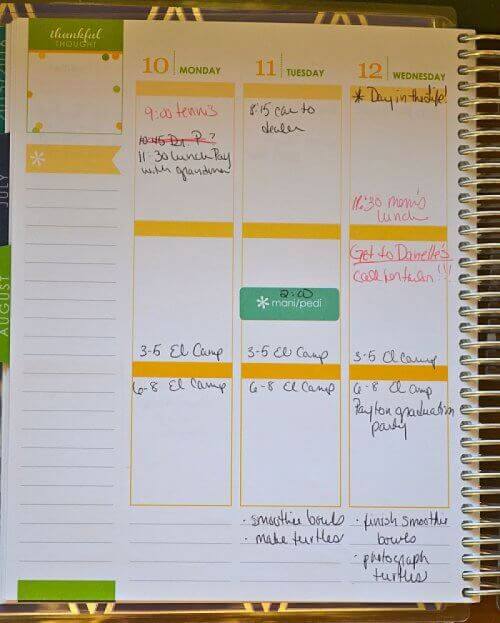 Then, use the daily view to keep track of your daily schedule and to make your to-do list.
I can't imagine trying to keep track of everything and everyone without my planner.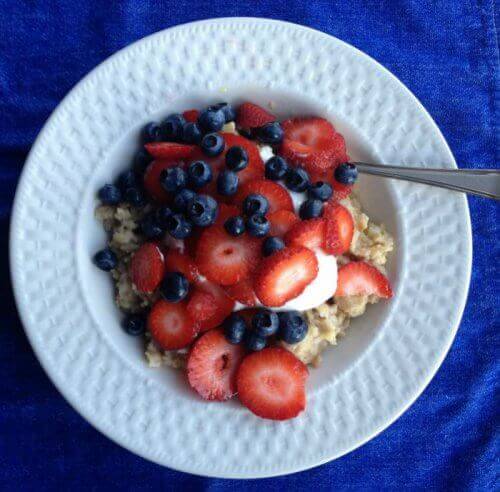 7:30 a.m.
Neither of my girls are awake when I throw the towels into the dryer then make the Bowl of Freedom, one of the recipes from  how to make oatmeal taste good.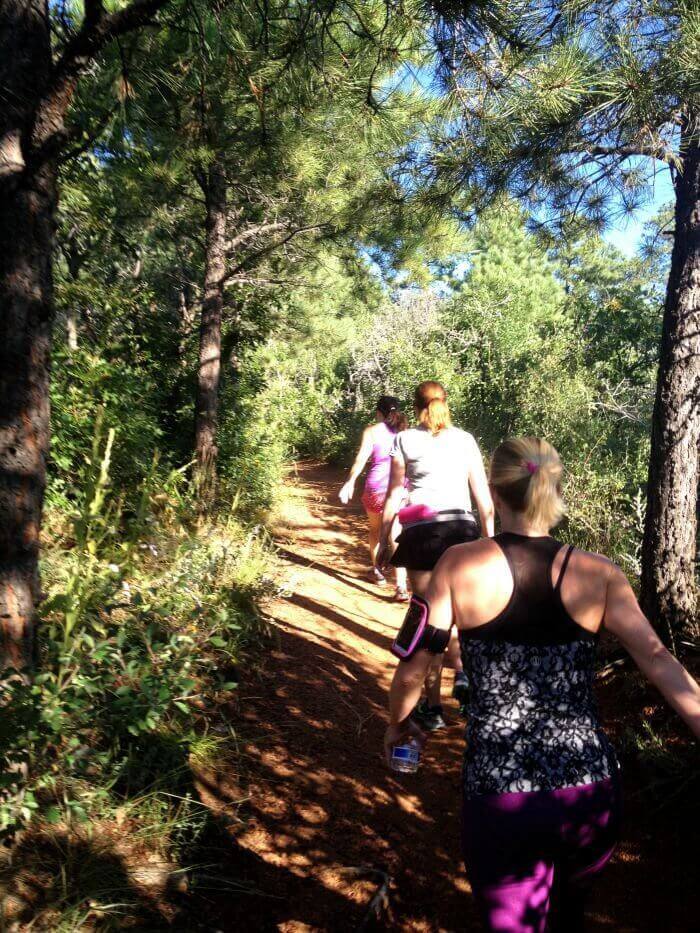 8:00 a.m.:
I meet some of my best friends on the trail for a hike.
This is how I know I am going to be okay after my daughter leaves. I've got great friends who will drop everything and hit the trail with me when I send them a text that says, "I need endorphins!"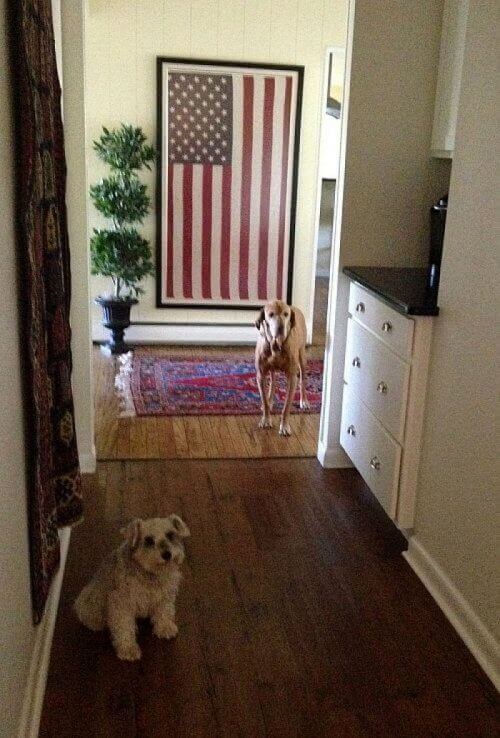 9:15 a.m.:
I'm back at the house. My daughters are up and the dogs expect to be taken around the block.
But first, I get the towels out of the dryer and replace them in the bathrooms.
BOOM! I've got one chore off my list and it's not even 9:30.
The girls accompany the dogs and I around the block before we all need showers.
We have one of those houses where we can only shower one at a time or else there isn't enough hot water. I save my shower for last because I still believe in hydrotherapy.
Parenting Tip #4:
Squeeze in time for the things that make you happy.
While I get ready in the mornings, I've taken to listening to podcasts. Right now I'm loving Sorta Awesome but would love your recommendations for great podcasts to add to my playlist.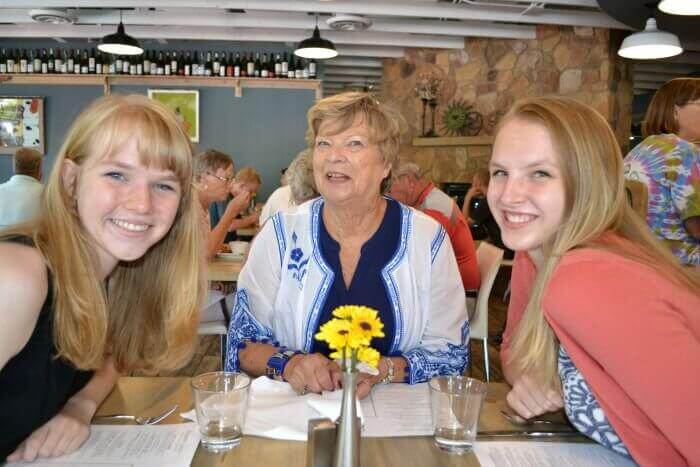 11:30 a.m.:
It's my mom's birthday! My girls and I take her to lunch.
For her gift, I bought her the book Still Life by Louise Penny. When I was growing up, I read all my mom's Agatha Christie books. This author writes the same types of mysteries. If you are looking for your next read, I can't recommend these books enough!
After lunch, my mom wants to shop. I take her to Chico's.
3:30 p.m.:
I drop my mom off and my youngest daughter heads to volleyball two-a-days while my oldest daughter and I swing by to get a few more miscellaneous items off her college dorm checklist.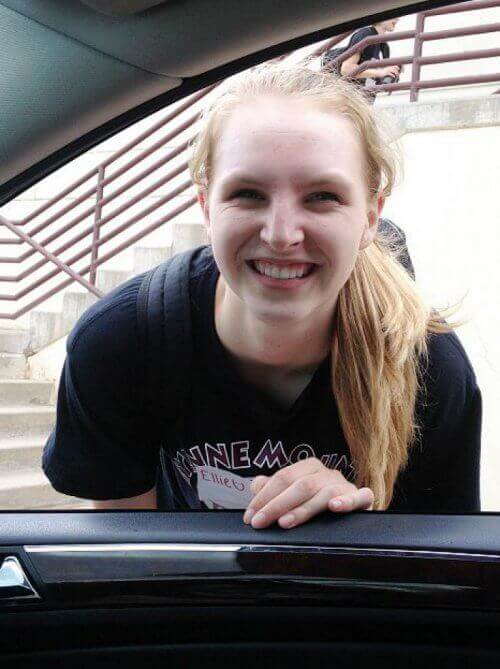 5:30 p.m.:
Parenting Tip #5:
Make contact with your older children whenever you can!
Once your kids start driving, you inevitably end up with less contact with them.
During my daughter's break from volleyball practice, I dropped her a sandwich for dinner. She could have packed one. But that 30 seconds I spent with her told me sooooo much! I knew who she was eating with, and I knew she was happy and having a good time. I could say hi to her friends.
It was a very quick moment. But I felt like I reinforced my love and care for her. In 30 seconds.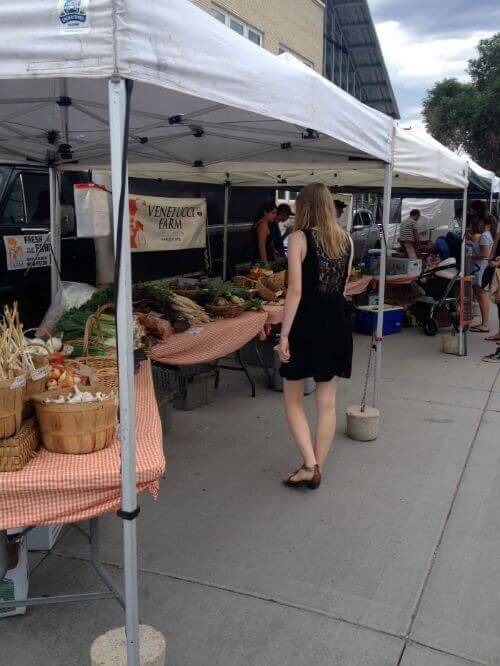 5:45 p.m.:
Payton and I make a quick stop at the Farmer's Market for peaches and corn for dinner.
7:00 p.m.:
I'm actually spending the evening alone. Payton leaves right after taking this picture. Ellie will be at volleyball until 8:45. My husband is traveling.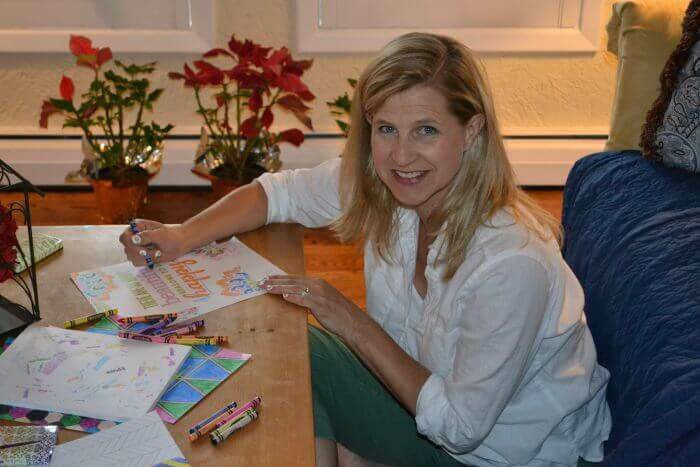 I spend the evening with a coloring page for grown ups.
I can honestly say I thought the days of having crayons and coloring books were over! I'm taking a daughter to college!!!! Who knew at 45  I'd be the one making the coloring mess?!?!?
If you're a parent of teens — or adults — what parenting and homemaking wisdom can you share?
Disclosure: This post contains affiliate links. When you buy through our links, we earn a small commission, which helps to keep this site going so that we can continue to offer free and useful content, so thanks!