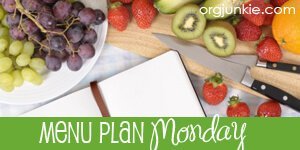 I had already prepared my menu plan last Thursday, but yesterday I realized I would have to rearrange it a bit. We went to an heirloom/organic seed event at a local garden, and I spent what little grocery money I had left for the month getting seeds! I'm thrilled about the seeds, but had to make some quick changes to make my menu work without going shopping until the weekend (the start of the next budget).
Monday: Roast chicken with millet and asparagus (I wasn't planning to cook a whole chicken this week, but I'm all out of broth and have no bones in the freezer, so I decided to go for it).
Tuesday: Big Spicy Meatballs (substituting moose for beef/pork, and goat's cheese for parmesan, and no cheese topping, and egg replacer for eggs- sheesh!), with Garlic Pasta (using brown rice pasta- a minor cheat, but I had to be creative without going shopping!), and a green salad
Wednesday: No dinner- at a church event
Thursday: Thai chicken stir fry (moved from last week- it got switched to
Saturday, and then we were in the city and ended up eating there
instead of coming home to make dinner, so now it's been switched again!)
Friday: Dill Pot Roast (using moose, and hat tip to Org Junkie for the recipe), with carrots, corn and quinoa (instead of rice, as in the recipe), and I will make a gravy instead of the sour cream sauce (no dairy).
Saturday: Probably at a friend's house for dinner, but if not I'll make Quesadillas (sprouted corn tortillas), using black beans, peppers and feta (for me) or cheddar (for hubby and daughter). If we do go out for dinner, we'll eat this for dinner on Sunday.
Sunday: Lunch with friends- Scotch Broth (recipe below), homemade buns and green salad (plus fruit crumble for dessert??).
Dinner- either Quesadillas, or leftovers or sandwiches. Sunday are supposed to be my easy day!
Scotch Broth (from the cookbook Ethnic Cuisine)
One of my recent, favorite soup recipes. It is so comforting and flavorful, plus it's made with seasonal root veggies- just a perfect winter soup! This is my slight variation of this recipe (it originally calls for neck of lamb, which I've never used).
Scotch Broth Recipe
Ingredients
1

lb/ 700 g lamb

I've used ground, and this week I will use chopped lamb that I froze after cooking a large leg of lamb a few weeks ago. I've also substituted ground turkey and it was very good!

6 3/4

cups

water

I used half broth

scant 1/3 cup pearl barley

any barley works fine, in my experience

2

onions

chopped

1

garlic clove

minced

3

small turnips

finely diced (I've also substituted some parsnip)

3

carrots

thinly sliced

2

celery stocks

diced

2

leeks

sliced (this week, I've got green onions)

salt and pepper

2

Tbsp.

chopped fresh parsley
Instructions
Prepare meat (cut into small pieces), put into a pot, cover with the water, and bring to a boil, skimming off any scum that rises to surface.

Add barley, then reduce heat and simmer gently, covered, for 1 hour.

Add veggies, and season well with salt and pepper. Continue to cook for an additional hour.

Remove from heat and add parsley before serving.
Very hearty and delicious!