Gardening Season Has Officially Begun!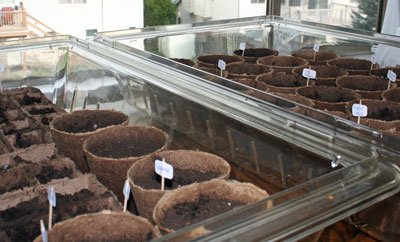 Just a couple of weeks behind schedule, all of my garden seedlings have been planted! It doesn't look like much, but yesterday morning I planted 7 heirloom tomato varieties, Purple Beauty peppers, 3 winter squashes (Sugar Pie Pumpkin, Butternut, Delicata) Sugar Baby watermelons, Far North melons, Couer de Boeuf des Vertus cabbag, Green Sprouting broccoli, Purple of Sicily cauliflower and too many herbs to name.
Spring snuck up on us all this year and my outdoor garden is actually ready for planting my frost-hardy and early spring veggies already! I can hardly believe it, but I'm eager to get out there and start getting all of my direct-seed crops into the ground. I'm dreaming of snap peas and baby lettuce and fresh radishes…
Speaking of gardening season, you can find me over at Simple Organic today, talking about 5 Gardening Basics for Beginners. You might also want to take a look at some of the other recent gardening posts by the wonderful ladies of Simple Organic, including Gardening 101: Three Options for Creating New Vegetable Gardens,  and Starting a Garden With Repurposed Materials.
How are your garden preparations going? What do you have in store for your garden thing year?