Clean Eating Chana Dal Stew with Winter Greens (aka The Most Delicious Frugal Meal You've Ever Made)
This chana dal stew with winter greens is a simple stew that's also easy, delicious, and frugal – even your kids will love it! 
By Kresha Faber, Contributing Writer
So, it's winter.
Winter in January, more specifically.
The sparkling lights and joyful buoyancy of the holidays have passed, yet in the Northern Hemisphere, the nights are still long and the temperatures still require extra layers to head outside.
Despite sometimes feeling like the doldrums of the cold season, however, January offers great opportunity for good food. (Don't believe me? Check out these 31 Delicious Things to Cook in January.)
It's not celebratory food, such as in December, per se, and it's not food that centers around the abundance of the harvest like we enjoy in August, but in January, we get to revel in foods that warm the soul, that feature hearty winter crops, and we get to take advantage of all the foods we preserved back in early fall. (Here's your guide to how to preserve pretty much anything, in case you missed it.)
This simple Indian stew is one of my absolute favorites to make this time of year and it's one that my kids, my husband, and I gobble down every time I make it.
I even enjoy it so heartily I couldn't help but include it in this month's issue of The Tired & Hungry Cook's Companion! So, so good. 🙂
But even more than I love the flavor of this curry, I love that it's a simple vehicle for eating more greens. We often crave greens in winter and this stew is a wonderful way to nosh on kale, Swiss chard, spinach, or any green you love.
By the way, if you – like I – are looking for more ways to get greens during the winter, be sure to read 5 Ways to Eat Kale You (Likely) Haven't Thought Of Before and 9 Ways to Eat More Leafy Greens in Winter.
But even with the greens aside, this stew is deeply nourishing – and satisfying.
Chickpeas provide excellent digestive support with high amounts of fiber, but even more notably provide high amounts of folate, protein, and trace minerals (including iron, zinc, manganese, and copper). One study even showed that those who eat chickpeas on a regular basis ate fewer snacks and reported higher satisfaction with their diet!
Also, the garlic, ginger, and warming spices provide needed immune support during these months when colds and flus spread more readily.
(Side note: did you know that when you subscribe to updates from Keeper of the Home, you get a free downloadable Cold & Flu Fighter Kit? Super handy!)
And traditionally, chana dal uses split chickpeas, but unless you already have split chickpeas in the cupboard, it's quicker and easier to use "regular" chickpeas (aka garbanzo beans), and using pre-cooked beans makes it easier still.
So, with all of that, it's time to eat! Enjoy – and hearty noshing to you all!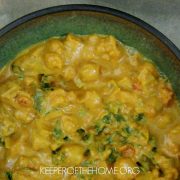 Print Recipe
Chana Dal Indian Curry with Winter Greens
Ingredients
2

tablespoons

butter

1

large onion

chopped

6-8

large cloves garlic

grated

3-

inch

piece ginger root

peeled and grated OR 1 teaspoon ground ginger

1 1/2

cups

stewed

diced tomatoes (1 15-oz can)

1 1/2

cups

coconut milk

1 15-oz can

3

cups

cooked garbanzo beans

2 15-oz cans, drained

1

large bunch winter greens

curly kale, Tuscan kale, Swiss chard, collard greens, etc, semi-finely chopped

Spice Mix

1

tablespoon

garam masala -> how to make homemade garam masala

1

teaspoon

curry powder

1

teaspoon

sea salt

2

teaspoons

ground turmeric

1

teaspoon

ground cumin

1

tablespoon

mustard seeds

1

teaspoon

whole fenugreek seed

optional
Instructions
Make the spice mix. Include powdered ginger, if using. Set aside. (This step can be done the night before in order to make dinner prep even quicker.)

Chop the onions and set aside. Grate the garlic and ginger and set aside in a separate bowl.

Melt the butter in a heavy-bottomed pot over medium high until bubbling.

Add the onions and sauté until soft, 3-4 minutes. Add the garlic and ginger and sauté until fragrant, another 30-60 seconds. Add the spice mix and sauté again until fragrant, 30-60 seconds.

Pour in the tomatoes and coconut milk and bring to a simmer. Add in the garbanzo beans and return to a simmer. This may be served immediately or left to simmer for up to 1 hour, stirring frequently.

About 5 minutes before serving, stir in the chopped greens and cook until slightly wilted. Serve immediately or refrigerate for up to 3 days.

Serve over rice, diced potatoes, or with flatbread.

What are some of your favorite hearty meals to serve in January?
Disclosure: This post contains affiliate links. When you buy through our links, we earn a small commission, which helps to keep this site going so that we can continue to offer free and useful content, so thanks!