Chicken Enchiladas and Salad in Thirty Minutes Flat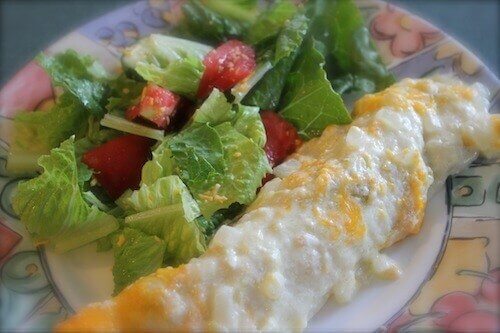 Written by Natalie Klejwa, Contributing Writer
I looked at the clock in horror. How could it be 4:30 already? My husband would be coming home soon, and I had to feed him and eight kids at 5:00. What to do?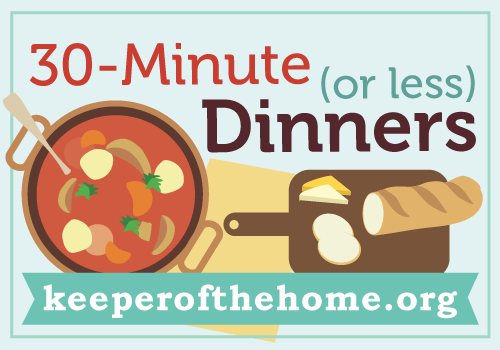 Thank goodness I write for Keeper of the Home. Knowing I had this "Thirty Minute Dinner" assignment coming up, I had a few ideas swirling around in my head. All I needed was that golden opportunity, and why, here it was, slapping me in the face like a friend with good timing.
I actually have a stash of last minute dinners waiting in the wings. Life happens, right? And not always the way we plan.
To assemble last minute dinners is fairly easy if you have a few things in the freezer ready to go:
Cooked, pulled chicken in family dinner sized portions for soups and casseroles. (One chicken, pulled, makes two meals for our family of 11. Giving myself a star for frugality. Please don't tell Stephanie, though, that we use rotisserie chickens from Costco. That would be like blaspheming on her blog.)
Pre-browned hamburger/ground turkey. I brown bunches of this with sweet vidalia onions and green peppers and then store in family dinner sized portions.
Cooked wild rice for quick wild rice soups.
Cooked brown or long grain rice for quick casseroles, burritos, soups, etc.
Chicken stock. For everything.
Cooked and chopped ham and bacon for quick egg and potato dishes, real macaroni and cheese, sandwiches and other casseroles.
I could go on, but you get the idea. I'm not a freezer meal kind of gal. Tried that and just couldn't get into the flavor and texture of most of the finished meals after they had been frozen. But having some of the components of a meal ready to go enables me to whip up fresh, great tasting meals…lickity sizzle.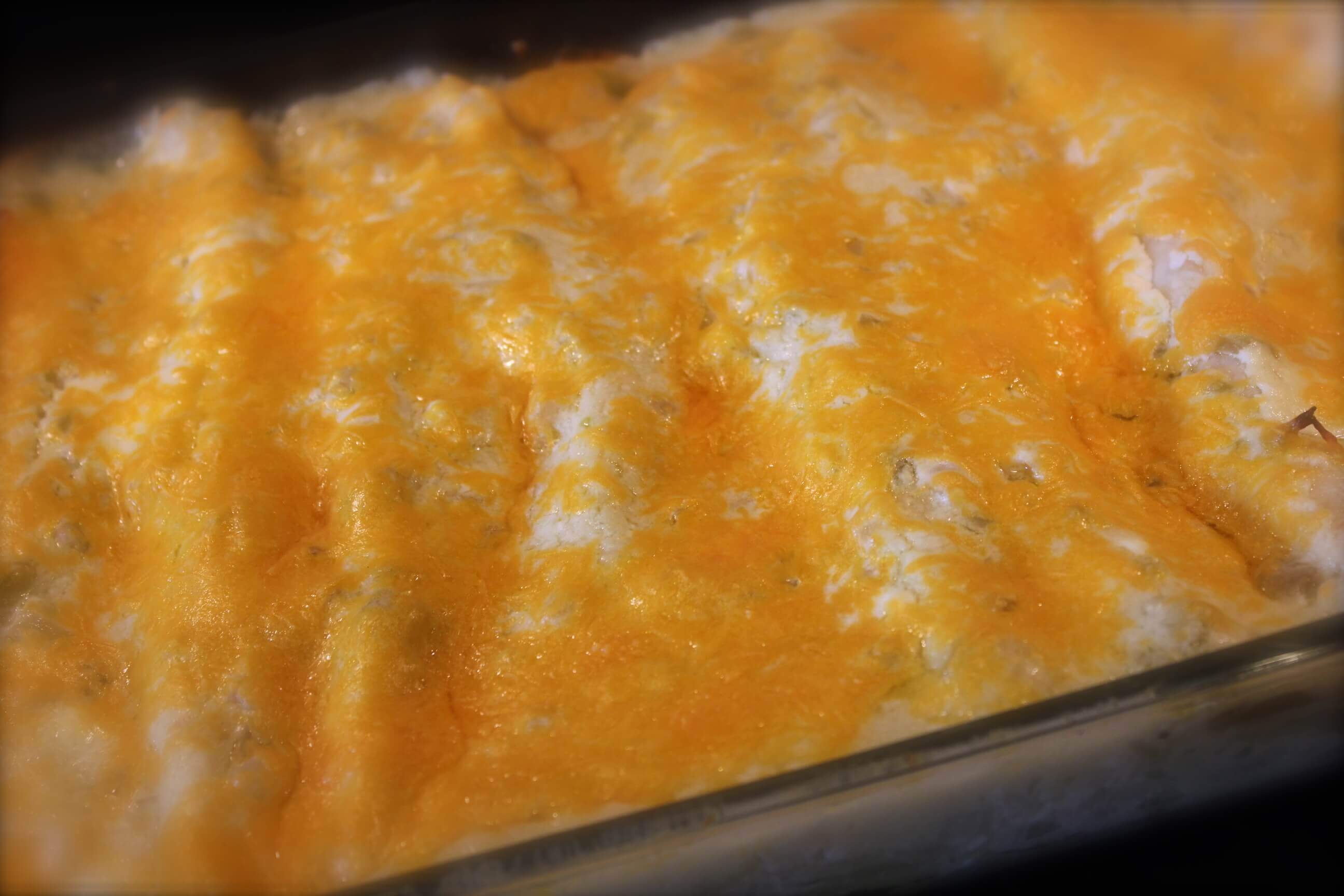 So let's make some FAST chicken enchiladas, shall we?
1. Pre-heat oven to 400 degrees. We want that baby HOT. Throw a stick of butter in a small saucepan and start melting it on your stove top.
2. Clear a working space on your counter top (this is important when you are in a mad rush) and slap 8 large tortillas down. The slapping part just feels good.
3. Sprinkle with shredded cheddar (or other) cheese and some pulled chicken from the freezer. (I thawed it in the microwave. I know. More blasphemy.)
4. Roll up the tortillas and place, seam side down, in a large baking dish.
5. Add 1/2 cup of flour to the melted butter and stir/cook for 1 minute.
6. Whisk in 1 1/2 cups of chicken broth and cook until thick.
7. Add a small can of chopped green chilis and a cup of sour cream.
8. Pour sauce over the top of the enchiladas. Sprinkle with more cheddar cheese.
9. Bake for 20 minutes.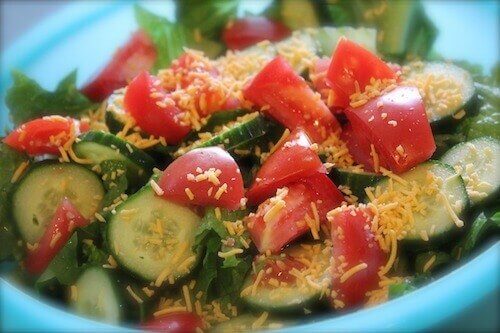 BUT WE'RE NOT DONE! While your enchiladas are baking, you'll be washing up some romaine lettuce, tomatoes and cukes. Cut and assemble salad. Sprinkle with cheese. Set the table. Yell, "It's TIME TO EAT!"
And enjoy!
What are your favorite 30-minute or less dinners?