Celebrating Our First Passover Supper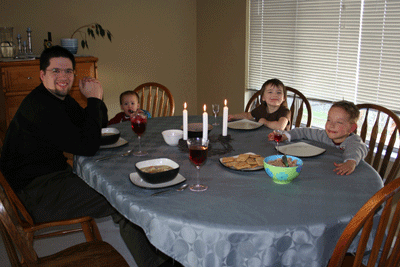 Last night we had our first Passover/Seder Supper as a family (plus my friend's sweet little guy who was visiting us). It took a bit of extra effort to pull it all together, as I only came up with the idea to do it on Monday, but it was well worth it!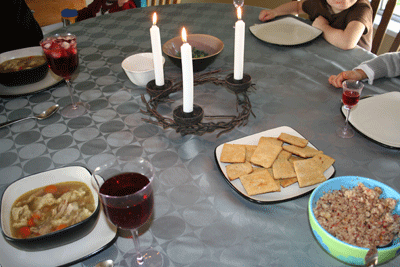 I tried my best to come up with a proper meal for the occasion, while sticking to my "Eating from the pantry and freezer" month (I confess- at the last moment, I asked my husband to pick up grape juice, because I couldn't come up with a suitable alternative. 🙂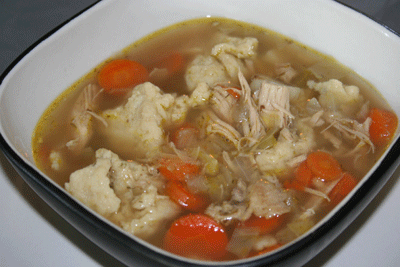 We began eating our Jewish Chicken Soup with Matzoh Balls, which actually turned out to be really delicious. While we ate our soup, Ryan very dramatically (if you knew my husband, this wouldn't surprise you in the slightest!) told us the story of the Exodus and how God protected and rescued His people, passing over them because of the blood of the Passover Lamb.
Next, we began to share the significance of the different foods and drink on our table: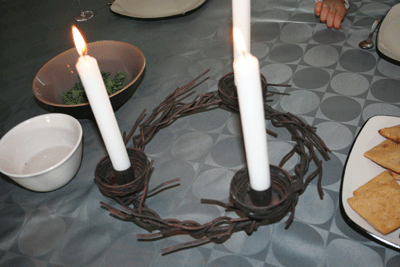 Being fresh out of bitter herbs *smile*, I substituted some kale I had in the fridge (though I liked Michele's idea of grabbing dandelion greens from my yard and that would have been my next option). We dipped pieces of it in salty water, and discussed the bitterness of the Israelites slavery and of our bondage to sin, and the saltiness of tears.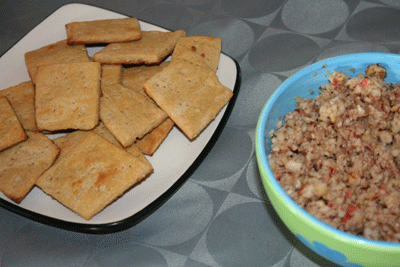 The unleavened bread, like the Israelites would have made in haste as they prepared to leave Egypt. We reflected on the fact that our sin and pride puffs up our hearts, like yeast puffs up bread, but Jesus was sinless and pure, and He gave His body to be broken for us.
The haroset was eaten last, made with apples, nuts (which I thought I didn't have, but realized we had whole nuts for cracking in the freezer, so we spent over a 1/2 hour cracking nuts!), honey, cinnamon and apple juice. We rejoiced in the fact that Jesus gives us hope, and He is sweeter than anything else.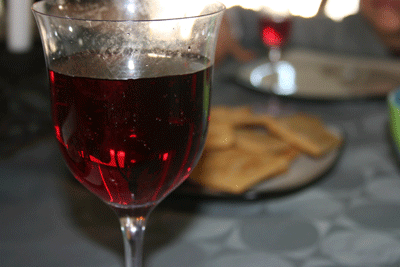 (Oops, I need to learn how to remove lip and finger smudges off wineglasses in Photoshop!)
Last, we enjoyed a special glass of grape juice and celebrated that Jesus became our Passover Lamb, atoning for our sins with his blood.
We all prayed together, and each person thanked Jesus for what He had done for us.
We finished the supper by reading the children the story of Jesus' crucifixion, seeing as we wouldn't be able to eat dinner together for Good Friday (my husband is acting and singing in our church's Easter production and will be at rehearsal before the play begins tonight).
It was a truly memorable evening, and one that I am so glad I went through the effort to pull together. We will definitely do this again next year, as it is such beautiful opportunity to share with our children the truth of the Gospel in a meaningful and very tangible way. I'm even more excited for Easter Sunday now, and so is my daughter especially, who understands what we are celebrating so much better than before!
I'm signing off until next week, in order to enjoy the rest of my husband's day off and a special weekend together with our family, celebrating that our Lord is risen indeed! Have a blessed Easter!
Do you (or have you ever) celebrated a Passover Supper? What did you think of the experience? How does your family celebrate Easter week and and how do you communicate it's meaning to your children?