As I alluded to Monday, this has been a busy week for gardening, but it's been so worthwhile. Starting on Sunday, I have put in over an hour every day up until today, and I am so glad that I did!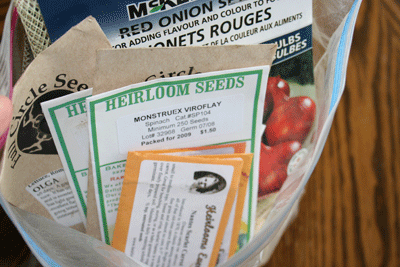 Here are some of the seeds that we planted on Wednesday. In the last several days, we have planted snow and shelling peas, turnips, beets, a bit of radishes (more to be planted yet), multiple lettuce varieties, spinach, carrots, onions (red, white and yellow, with more red and white still to be planted), and a few sunflowers.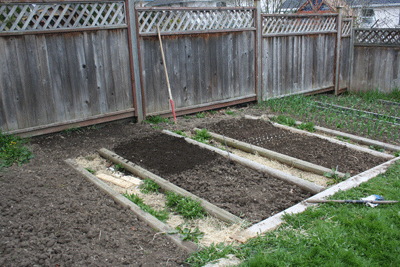 You can see how the garden is starting to take shape. The green stuff growing in the last two rows is garlic that I planted in the fall. The middle row was planted today with carrots, onions, lettuce and spinach. The second row has peas under the dark soil, and will soon have herbs and zucchini in the bottom half. Above the second row (along the fence) is the turnips and beets. The first row (far left) is waiting for my broccoli and cauliflower transplants.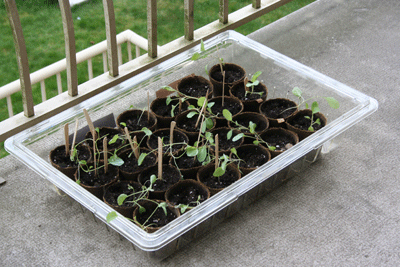 Here they are, hardening off on my patio. A little bit leggy, but they've all got a third set of leaves now, so I think they should do okay if I plant them deeply enough.
It's been a ton of hard work, getting this much done in a few days- all that tilling, fertilizing, and planting. Who knew how strenuous it was to do when you're 5 months pregnant? Whew! I am grateful, though, to be doing it now and not in another month or two! 🙂
One change I've made this year is that I'm trying out some slightly different gardening techniques, a la the book Joy of Gardening. It was given to me last summer, and I think many of the ideas are really worth trying. He advocates heavier seeding in wider rows, to provide more of a living, green mulch and to help keep weeds at bay. With the heavier seeding comes some thinning (he recommends using a rake to do it when the seedlings are young, for most crops), and also lots of early picking and eating (this part I really like!). All the early picking helps to aerate the soil and then provide more room for the remaining veggies to grow nice and big, and overall it is supposed to give a much bigger yield in the same amount of space. I'll keep you updated during the season on how I'm finding these new methods!
Just as soon as our nice weather comes back (it stuck around from Sunday to Wednesday and is supposed to be back the middle of next week), I'll be finishing up the rest, which will include some cucumbers, zucchini, the seedlings, some herbs and the remaining onions. After that is corn, and then my spring garden is all planted up! I know that I might lose the cucumbers and zucchini if it gets too cold (I'll be right around the last frost date this week or next), but it's worth a try to get a jump on the season. I can always replant.
I've got my spring and summer garden layouts all finished as well, and I'll get those posted up real soon!
Where are the rest of you at in your gardening? Have you gotten started yet, or are you still planning and preparing? (I'm so sorry to those of you with snow still… it will go away soon, really it will!)