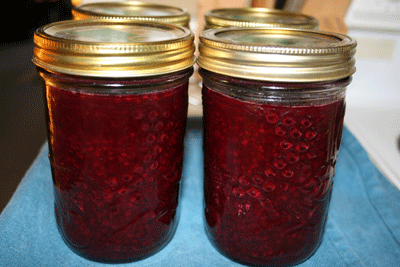 (Jars of the most delicious wild blackberry jam I made last week!)
As I am only in my second year of canning, I don't feel quite ready to
start giving lots of advice and tutorials quite yet, but I've been
fortunate to find so many great resources this year, so I thought I would pass them on to you, especially those of you who are rather new to it like myself!
Here are the main books that I am using for my preserving this summer: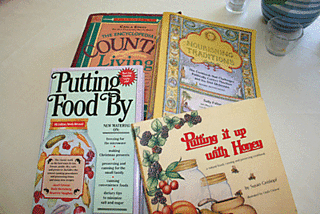 The one that I have relied on most heavily for fruit is Putting It Up With Honey, which has so many wonderful recipes for those who wish to avoid sugar as a sweetener. Putting Food By is another gift from my MIL, who tells me it is one of the standard books for preserving food. It is just a wealth of information!
I am also using the fermented and cultured recipes in Nourishing Traditions, and The Encyclopedia of Country Living, which also has great preserving directions.
As well, here are some great posts for you to check out for inspiration and how-to tips:
The Simple Women's Cannery and Garden (this relatively new blog is already bursting with canning help- a must read!)
Heavenly Homemakers– Laura has recently done a number of helpful posts on canning:
Canning 101– an excellent photo tutorial showing you exactly what you need to get started
Freezing and Canning Peaches for Winter
How to Make and Can Applesauce
Tammy's Recipes
Canning Tomatoes (this is a video, that I unfortunately can't seem to watch on my Mac, but it's supposed to be good!)
Sealing Canning Jars
Open Kettle Food Processing
Using and/or Preserving Fresh Pumpkin
Happy Canning! I'm off to do more pickles tomorrow morning!
What are your favorite canning resources? Share them with the rest of us!
Visit Tammy's Recipes for more kitchen tips!