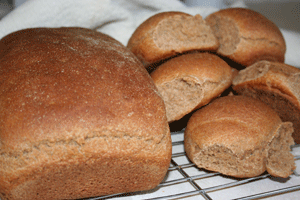 Hi Stephanie,
I saw a comment of yours on another blog, stating that you don't use wheat at all. I was just curious about that. Does your family have sensitivities, or are you trying to avoid a problem in the future, or is it because it is engineered? Or another reason?
I use a lot of wheat, but have begun to reconsider and just wondered what was your main reason for avoiding it (and paying more for spelt).
Thanks. Candace
Candace, we avoid wheat because all 4 of us have tested sensitive to it. At first it was just my husband, then my little girl, but this spring both our son and myself were added to the list.
In my humble opinion, the reason that many people have wheat allergies is because it is engineered and genetically modified (as well as being highly sprayed, and also because it is extremely overused. Most of us have grown up on diets that were almost completely wheat based, and this reliance on one grain is what gets us into trouble.
I think if you still would like to eat wheat and no one in your family shows a sensitivity to it, keep it in balance with a good variety of other grains, stick to organic, and then that would make it less of an issue.
That said, it's actually quite simple to take wheat out of your diet. Supermarkets these days have a wide range of wheat free products, including breads, tortillas and the like. When I am a bit worn out from baking or running low on time, I buy some really nice sourdough breads from my local grocery store, and we love their spelt/wild rice variety as well as their 100% rye. I can also buy sprouted organic corn tortillas or brown rice tortillas, some wheat free pastas, frozen wheat free waffles, as well as some alternative flours.
If you have the time and desire, making your own baked goods can be even more rewarding, a more nourishing option and much easier on the grocery budget. Baking with spelt, or it's cousin kamut, is very simple. I substitute them 1:1 in recipes that call for wheat and my results are great. Not to mention all the other wonderful alternative grains out there, like millet, barley, quinoa, oats, buckwheat and rice (see this post for more details on how to use these grains).
Going wheat free is surprisingly easy and we don't feel hard-done-by in the slightest!