Can Coupons Be Used Responsibly?
As mothers raising families in a tough economy, we are always looking for ways to save money and make our dollars stretch a little further. Since the beginning of time, mothers have learned to be wise stewards of the limited resources available to them. More recently, many have turned to coupons to help make the most of their family's hard earned dollars.
Using coupons and taking advantage of sales and other promotions can be valuable tools to help us maximize our family's budget. I consider myself very frugal and love a good deal! However, I'm noticing that this bargain-hunting mindset, when taken to the extreme, can cause us to lose sight of the big picture.
Much of the coupon/bargain advice and tools out there are reasonable, ethical, and sensible, but I've recently stumbled upon a particular hard-core couponing mindset that encourages the idea of "shopping" for free or next to nothing.
I don't doubt this is possible, but I question why this idea is acceptable. It costs money to grow and raise our food and to produce household goods, so who, if not the consumer of these items, is paying the cost?
A Place and a Purpose for Coupons
In theory, coupons are part of a strategic marketing effort put forth by companies wishing to introduce new products, expand their existing products to new markets, or reward and encourage loyal consumers to continue to buy. The idea of saving a few cents is enough to pique the interest of curious consumers and sometimes lure competitors' customers into switching brands in hopes the consumer will be satisfied enough to become loyal to their brand instead.
Coupons in and of themselves are not bad. In fact, they can be valuable tools. For example, combining coupons with store sales can maximize savings for the consumer and profit for both the store and manufacturer of the product, as the sharing of the consumer discount minimizes the loss to both store and manufacturer.
This is a realistic part of a free market and it used to work. Lately, though, coupons have been taken out of their proper context and used unfairly. Take, for instance, the idea of stockpiling a product that can be obtained free or next to no cost when coupons are combined with store sales. Coupons are often designed for single use per customer and stores have been known to over-ride this rule in order to stay competitive, knowing that the majority of consumers are not using coupons this way. (As this idea is beginning to take off in the mainstream, stores are starting to adjust their policies to permit coupon use as intended.)
Another way in which consumers sometimes use coupons unfairly is when they take advantage of a coupon "overage". Using a high-value coupon on the smallest size permitted on the coupon, they will use the "overage" (the difference between the coupon discount and the price of the product when the price is lower) to help cover the cost of their entire purchase. This is a strategy promoted by extreme couponers to be used even on products for which they have no use..
The extreme bargain-hunting mindset, which has the potential to take on a sense of entitlement, has essentially dissolved the idea of brand loyalty as consumers begin to make purchases based on the current low price instead.
Unfortunately, as brand loyalty dissipates, commitment to consumers in the form of quality and service has become a thing of the past. Many companies are learning that to stay competitive, offering the lowest price is all that matters to many shoppers today, where in the past, quality was an equally important consideration. In the race to provide the most competitive price today, the cheapest possible materials are often used.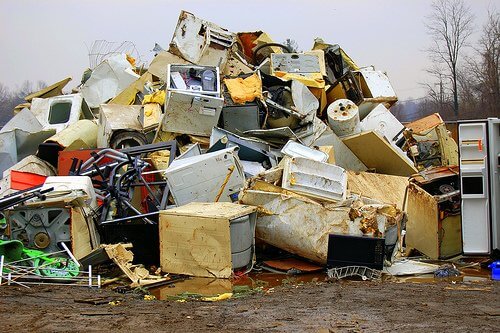 The Consequences
Over time, we've come to accept a mediocre product if it means we save a buck or two. Afterall, why would companies dedicate themselves to sourcing quality materials and ingredients for their products if consumers only care about the lowest price and will switch brands at the drop of a hat? We see this in food, clothing, toys, furniture, other household goods…you name it.
For example, we have forgotten that our grandmothers enjoyed heavy duty appliances that lasted decades, with honest and friendly repairmen to make them work like new again when something broke. Today, we have come to expect our appliances to break down after a few years and even find it normal that the cost of buying a brand new one is usually cheaper than paying someone to fix the broken one! And the cost is not in the cheap replacement parts; it's in the labor (American laborers prefer not to work for next to nothing.)
Clothing that was once sourced from quality fabrics and was handed down from one person to another is neglected in favor of cheap clothes made from poor fabrics and underpaid workers. While some consumers will pay a premium for certain clothing, the value is too often found in the status of the brand name and not the quality of the clothing itself.
Toys used to be passed down from one generation to another, becoming heirlooms full of decades of memories. Today, cheap plastic toys won't even make it through one child, let alone one generation. Some toys break with only hours of play! But we've come to think of this as normal and just buy new toys when old ones break.
There are many types of household goods that are affected by this search for the lowest price, but nowhere is it more evident than with our food supply. Coupons for food are no doubt the most common type of coupon. What is the impact of this and what does this mean for both couponers and non-couponers alike? (Yes, it affects us whether we use coupons or not.)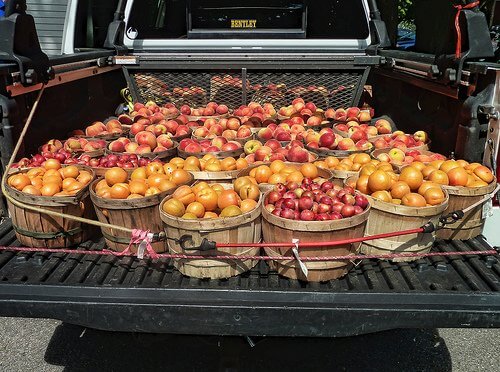 From Farm to Table?
There was a time when most people knew the source of their food and many saw first hand where it came from. Today, many meals that appear at the dinner table are a hodge-podge of a variety of ingredients from all over the place, sometimes composed of food-like products that might resemble the molecular structure of plastic more than that of real food.
Many children today don't even understand the farming process and have no idea where their food really comes from, aside from a box at the supermarket. With this loss of awareness also comes loss of culture, taste for real food, and skill in food preparation. And on top of all this, we forego our health and our vitality when we become blindsided in the quest for grocery deals.
It takes a lot of hard work on the part of our farmers to grown healthy food in organic soil and to raise healthy animals in the proper environments. It would be much easier to cram as many animals into one space as possible, providing the cheapest possible feed and giving hormones to grow them bigger and fatter and preventative antibiotics to keep them alive in their less than sanitary living quarters. It would be easier for our farmers to just plant genetically-modified seeds that can grow in any soil, rich or void of nutrients need to sustain the plants, knowing that all it takes is potent fertilizers to make them grow and dangerous pesticides to keep them alive. This, of course, is less risky and brings much more profit for the farmer.
Growing food in healthy soil and raising animals in the appropriate environments brings much risk to the farmer and generally reaps a lower profit than that of their convention farming counterparts. It's no wonder so many farmers have fallen for the easier route and have gone away from humane and sustainable farming methods.When we as mothers no longer place any value on the quality of food we serve our families, farmers have little choice. They simply can't stay afloat when the demand is not there.
I believe the biggest danger of this coupon frenzy is the loss of quality, real food as the couponing trend entices mothers to save much money as possible at any cost.
Our Choice
As mothers, we have a choice. We can serve our families wholesome food that comes from traditional family farms, food in the form of that which our God created and intended for us to eat, or we can be tempted by the lure of coupons and cheap prices and opt for food from questionable and unknown sources, maybe factory farms or worse yet, a laboratory.
We can choose quality household goods made from materials built to last. This may mean paying a little more at the store or buying used from other families or second hand stores. Our buying power sends a strong message to manufacturers and retailers.
As mothers, we learn to be creative in how we manage our homes. There are many ways in which we can be wise stewards of our resources and I'm not suggesting there is a right or wrong way. I'm not suggesting coupons are worthless or inherently bad and I'm not suggesting that you should avoid using them.
My plea to you today is to use integrity and common sense if you choose to use coupons. Please use caution and avoid the lure of "extreme couponing". Be smart and pair coupons with store promotions, but please be responsible and limit your purchases to what you need so other families can benefit from the same deals.
Don't get so caught up in hunting for bargains that you lose sight of the big picture, primarily the source of your food or other products. Think of what it takes to get it to you and expect to pay those producers accordingly. Many times, it is best to go directly to the source, as is often the case with food. Bypassing the store and going straight to the farmer is a wise choice for many reasons.
We CAN Eat Wholesome Meals On a Budget
I've shared some of the ways I serve my family healthy food within a tight budget here.
In her book, Real Food on a Real Budget, Stephanie shares a wealth of ideas for eating wholesome, nourishing meals without spending a lot of money. Stephanie reminds us that real food does cost money, but that there are many ways save a lot on our food without compromising our values or our commitment to the hard-working people who grow, raise, and help get that food to our table. Regardless of where you are on your path to health, I think you will find this to be a valuable resource and a great read!
I realize I'm preaching to the choir here as I assume many of you share my concerns. I am grateful to be a part of this wonderful community of like-minded health-conscious mothers.
Still, the extreme bargain-hunting behavior does impact us, whether or not we engage in it, and we are not immune to the temptation to compromise real food and quality household goods for cheaper, less than ideal options. I'd love to hear how you find balance between the desire to raise a healthy family and the necessity to make your family's hard-earned money go as far as possible.
In what ways are you a creative and wise steward of your family's money and health?