25 Healthy & Delicious Summer Salads {Plus 5 Tips for Creating The Perfect Salad}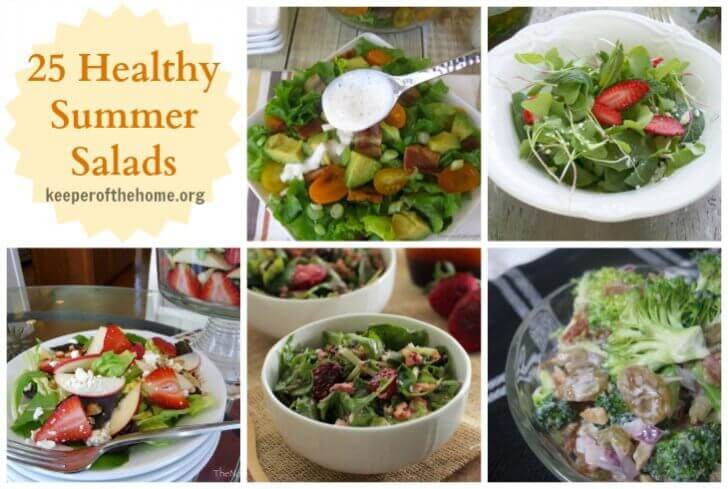 By Kelly Smith, Contributing Writer
The warmer weather of summer lends itself to lighter meals like deliciously fresh summer salads. They're not only a satisfying and refreshing way to beat the heat, they're also simple to put together, and can easily be adapted based on what you have on hand.
Perhaps the best part about salad is it's a wonderful way to showcase a variety of fresh seasonal produce, and thereby provide a nutrient-dense meal that almost everyone enjoys!
If you're looking for some fresh summer salad recipes, we've got a treat in store for you! From healthy veggie- and fruit-packed salad recipes to hearty protein-rich dinner salad recipes, each of our favorites below is chock-full of fresh, seasonal ingredients.
In fact, this collection of healthy summer salads is perfect for summer picnics, barbecues, pool parties, or just everyday family dinners. With 25 delicious recipes, we've provided you with a new recipe or two to try each week all summer long. So be sure to pin this post to refer to over and over again!
25 Healthy & Delicious Summer Salads
Nutritious, easy, and gorgeous enough for a party – these healthy salads top our list of favorite go-to recipes for family meals and summer entertaining.
Fresh Veggie Salads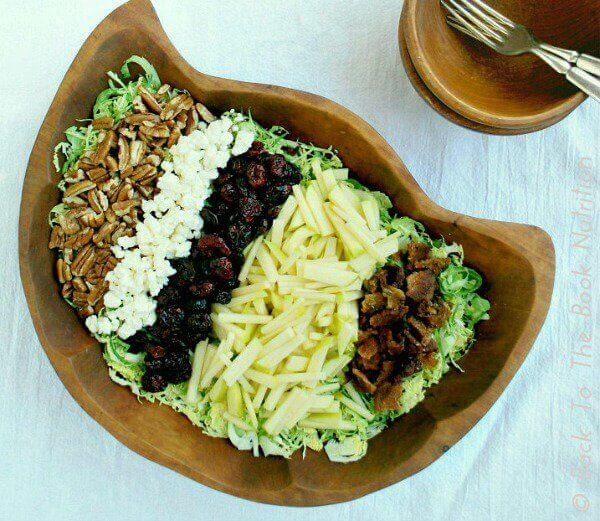 • Brussels Sprouts Salad with Warm Bacon Vinaigrette (shown above)
• Broccoli Raisin Salad with Yogurt Dressing
• Chopped Power Salad with Creamy Parsley Dressing
• Layered Salads with Homemade Mayo
• Mixed Green Salad with Cranberry Vinaigrette
• Roasted Beet and Walnut Salad with Kombucha Vinaigrette
• Simple Carrot Salad with Yogurt Dressing
• Stephanie's Greek Salad with Dijon Dressing
• Zucchini Noodle Salad with Coconut-Avocado Dressing
Salads with Fresh Summer Fruits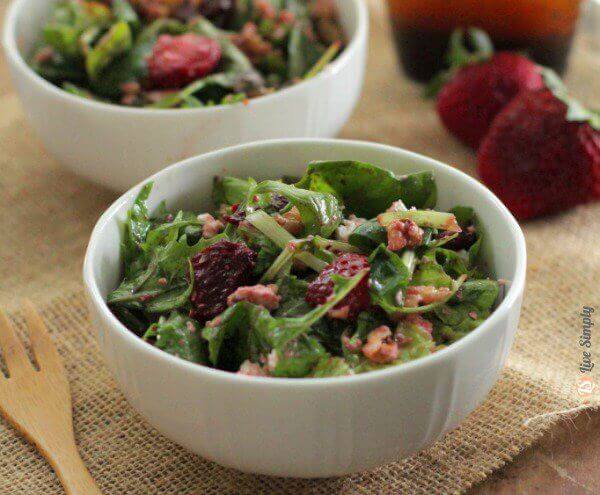 • Arugula Salad with Pomegranate Seeds and Blueberries
• Avocado Mango and Lime Salad with Citrus Dressing
• Cherry Caprese Salad with Fresh Basil
• Citrus Endive Avocado Salad
• Fresh Fruit Salad with Honey-Lime Dressing
• Spinach and Radish Sprout Salad with Strawberries and Mint Vinaigrette (shown below)
• Strawberry Beet Salad with Balsamic Mustard Dressing
• Strawberry Feta Salad with Balsamic Vinaigrette
Hearty Protein-Rich Salads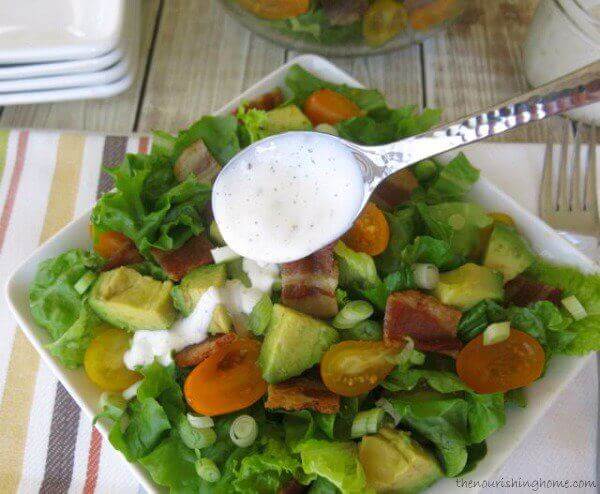 • BLT Salad with Creamy Ranch Dressing
• Chicken and Blue Cheese Salad
• Classic Cobb Salad with Lemon Vinaigrette
• Color Burst Salad with Asian-Style Vinaigrette
• Nicoise Salad with French Vinaigrette
• Southwest Fajita Salad with Spicy Ranch Dressing
• Taco Salad with Cilantro Lime Dressing
• Thai Crunch Salad With Creamy Honey-Sesame Dressing
5 Tips for Creating Great Summer Salads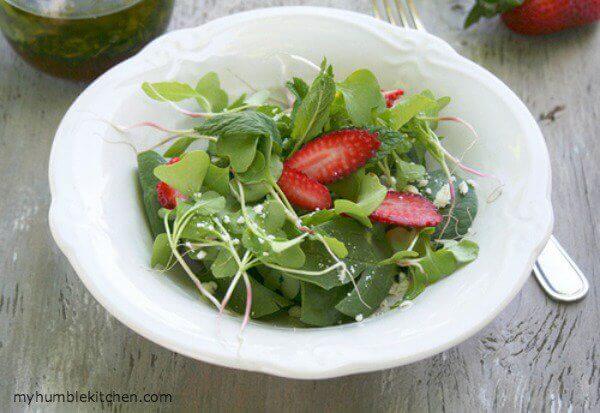 When it comes to making delicious salads, here are a few tips that will transform your salads from good to great!
• Make your own salad blends. It's certainly convenient to purchase pre-packaged salad mixes. However, the packaged salad blends usually aren't very fresh or tasty, and often contain bits of slimy lettuce. So the best bet is to go fresh and choose whole heads of lettuce that can easily be washed and cut in a matter of minutes. Making your own salad blends not only ensures the best flavor, but often saves money too!
• Soak your salad greens. The best way to wash greens is to fill a large bowl with cold water, add the greens, give them a gentle toss, and let them soak for a few minutes. Then, lift the greens out of the water, leaving any dirt at the bottom of the bowl. Empty and rinse the bowl. Then, repeat the process until no more dirt remains. The cold soak not only helps to remove dirt and debris, but also helps to freshen up the greens. Once they're clean, give the washed greens a good spin in a salad spinner
, or place them on a kitchen towel and lightly pat dry.
• Properly store your salad greens. The best way I've found to store salad greens is to first wash and dry them thoroughly, as described above. Then, wrap the clean greens in paper towels, and place in large Ziploc-style bags. Be sure to gently remove as much air from the bags as possible before sealing. Store in the vegetable crisper, making sure to check the bags every 2-3 days, and replace any damp towels with dry ones. The Kitchn also has an interesting bath towel method that you may prefer.
• Make your own dressing. Homemade salad dressing is super easy to make, and is so much healthier and tastier too. Most vinaigrettes and dressings can be made ahead of time and stored in airtight mason jars
 in the fridge so you've always got a tasty dressing on hand for making quick healthy salads.
• Dress the salad just before serving. Oils from dressings and vinaigrettes are the main cause of limp, wilted salad greens. So the best bet for crisp salads is to add the salad dressing just prior to serving. In addition, the best way to evenly distribute dressing on salad greens is with a pair of large salad tongs
, or simply use your hands to gently toss.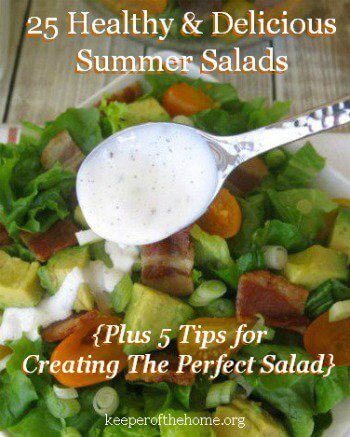 For more delicious salad recipes, be sure to check out "Sensational Summer Salads."And if you're looking for more healthy homemade salad dressing recipes, "Everyday Real Food Salad Dressings" has 10 great recipes for those classic bottled favorites.
What are your favorite summer salad recipes and tips? Please share them below.
Disclosure: This post contains affiliate links. When you buy through our links, it helps to support this site, so thanks!
This post is sponsored by Plan To Eat. If you know you need to make strides towards regular meal planning and you're looking for a tool to make it easier, I highly recommend you check out Plan To Eat's virtual tour and then sign up for a free 30-day trial to see how it would work for you! Plan To Eat was born from a desire to eat real food — great food — prepared at home, together as a family. Plan to Eat is an online menu planner that uses your recipes, scheduled for the days you want them, automatically generating your grocery list, organized the way you like to shop. Eat well. Eat together.