Battle of the BPA-free Sippy Cups
We've all heard about BPA in everything. We now know that not only is it found in our Nalgene bottles, but also in our canned foods, and even in our sweet babies bottles and sippy cups.
As a concerned mom, when I found out about this, I immediately wanted to throw out all the plastic in the house and replace it with anything I could find that seemed to be safe. Problem was, figuring out what was out there, how to choose between the different options and was it really worth the ludicrously high price tags that seemed to accompany everything that wasn't dangerous for us?
I decided to do my research. I've spent the last 4 or 5 months gathering BPA-free sippy cups (a few I bought myself and most were generously given as samples by the companies). I have two expert testers, namely Abbie (4) and Caden (21 mths) who have gladly tested them out for your benefit. 🙂 Now we're ready to share with you what we've learned!
For those wanting more info on BPA in general, here are a few links of interest for you:
Bottles, sippy cups and BPA- oh my!
Consumer Tips for Avoiding BPA
And now, on with the battle of the sippy cups!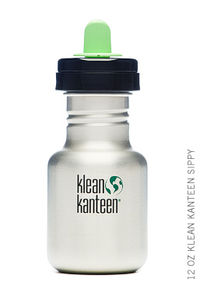 Ease of use: 9
Few pieces, simple to put together and take apart.
Ease of cleaning: 8
The spout comes apart so easily, and all the pieces are dishwasher safe. After a while, the spout eventually got some mold spots on it, so I had to replace it, but the replacements are available at most stores and weren't too costly (they're made by Avent).
Practicality: 7
It occasionally leaks a little, if not kept upright. Because it is completely stainless steel, when it is used for a cold drink, it sometimes becomes a little bit too cold for children's hands. Also, it looks great and we all found it visually appealing, but the 100% stainless steel design means that when (not if, but when!) it gets dropped on a hard surface, it will dent or scrape. Still functions, but doesn't look quite as pretty anymore. Also, as the child gets older, the sippy top can be replaced with a screw on or sport top, which makes it a versatile option.
What my kids thought of it: 8
Both kids really enjoy using this one, although I think sometimes they don't like the feel of the metal on their hands. They like it's spout the best (the same spout as the Avent Magic Cup), but given the choice between this one and the plastic cup, they'll usually pick the plastic, although they will pick this one over the other cups.
Cost: Silver $10.95, Colored $12.50-$19.99

**(this cost and all of the others are based on the current price at Amazon.com
)**

My overall rating: 8.5
This is a cup that I like to like. I feel good about supporting the company. I like that it contains little plastic (except in the top/spout). I like that when they're done with the sippy style cup, we can simply buy a new type of lid. I wish the all-metal design was a little more practical, and that it didn't hurt so much to fork out the money for one of these (or stress me out each time I think I've lost it!).
** Thought they're not quite the same cup, for a much cheaper version of this cup (yes, Klean Kanteen, I know they're not the same as your cups!), check out The Tickle Trunk, which specializes in affordable stainless steel products for food and drink! You'll need to buy your own spouts to add on to it as they don't come with spouts, but the cup looks and functions virtually the same.
Ease of use: 5
Very difficult for even my 4 year old to open and close the spout. I usually had to help her do it, otherwise it wasn't closed all the way, which resulted in leaks. My 1 1/2 year old found it difficult to drink from, and could not open/close the spout at all.
Ease of cleaning: 7
The top comes off quite easily, and only comes apart into two pieces (though I had a hard time figuring out how to separate the two when I first got it). It seemed to do fine in my dishwasher, although once I noticed a bit of a crack in the aluminum on the bottom and wondered if that was from the heat? Luckily it didn't affect the lining or the seal, and the crack was pretty superficial. To wash by hand, you'll need a thin bottle scrub brush, as the neck of the bottle is very narrow.
Practicality: 6
It's a really nice size and doesn't get as cold as the stainless steel cups do. I like that it has the flip lid for when I put it in my diaper bag. But it wasn't terribly practical in that I constantly have to help Abbie with it, and worry about whether it has been left open or not.They do come in several different sizes, 10 oz, 13 oz and 20 oz. We have the 13 oz, and it's a perfect size for my 4 year old, but a bit too big for my 1 1/2 year old.
What my kids thought of it: 7
They love the look of it! It's definitely a gorgeous cup (and there are so many adorable designs and colors), and my daughter was so excited when it arrived in the mail! Despite the difficulty with the spout, she still doesn't mind using it. I don't even bother with it for my son, as he can't open it and finds it a little more difficult to drink from.
Cost: $19.50-$21.99 for most designs

My overall rating: 6
Though this was the one I was fairly excited about, it actually disappointed me the most. Additionally, I am not satisfied with not knowing exactly what the liner is made out of, considering the bottle is made with aluminum (which is toxic). They claim that it is absolutely non-leaching, and it may well be, but the problem is that I just don't know enough about it. It seems to be quite a hush-hush secret, that silly old liner, and I just have this thing with wanting full disclosure regarding the things I am buying for my kids. Call me crazy.
;
Ease of use: 8
My one complaint with this cup is that sometimes it's hard to get the two top pieces properly lined up so that it screws on correctly. It usually works, but is sometimes finicky and takes me a minute or two.
Ease of cleaning: 8.5
Though the lid has 4 components, it's not too time consuming too take apart and put back together. It's easy to wash, and I found it one of the easier ones as far as getting the spout thoroughly clean so that mold doesn't build up.
Practicality: 9.5
It's a really nice size for little hands, with the double handles that make it easy for young ones. What I loved the most about it is that it has the safety of stainless steel, but the handles and the top and bottom are covered in plastic, so the cold metal is never touching the kid's skin. The colors are also nice and bright, and I find it appealing to look at. It doesn't leak much either. It also comes in a handle-less version, for those who prefer it that way.
What my kids thought of it: 7.5
This was my area of sadness. Though this cup had so many great features, my kids didn't really go for it as much as I thought they would. They'll use it, but they don't tend choose it when asked which one they want. However, both the 1 1/2 and 4 year old will drink from it without an issue, which is great, and they do like the colors on it.
Cost: $11.95
My overall rating: 9
It may not have been my kids favorite, but nonetheless, it's a great cup! It has so many perks, works well for little ones and somewhat older ones. Cleans easy, travels well, not plastic, easy to hold. Overall, I think this is a good choice.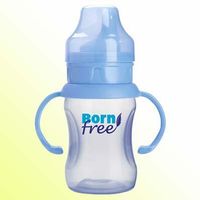 Born Free
Ease of use: 8
Depends on how you want to use it. If it's for a younger child, there is a special two-part attachment to help reduce air bubbles, as well as an optional double handled piece, all in addition to the regular two-part lid and spout. However, I usually ditched the special attachment, as well as the handles, and then it was a simple two piece deal, which made it easy to put together and take apart.
Ease of cleaning: 7
It's easy to put in the dishwasher, but I recently discovered that despite being washed in the dishwasher or being scrubbed in hot soapy water, it has developed mold spots on a sort of hidden inside ring that I didn't notice right away. Most of the plastic spouts do seem to develop mold eventually, but I guess this inner portion is not cleaned thoroughly by regular dishwasher use, so now I need a replacement spout. As well, the opening on the top is bottle-sized ao you need a special scrub brush to do it by hand.
Practicality: 6
This was one of my least favorite spouts. It has a funny opening cut out of the plastic (rather than open holes with a stopper attachment, like most sippies), and the kids found it especially hard to suck out of when we first got it. Neither of them seem to really love the spout- maybe it's a bit awkward of a shape or difficult to get a very steady stream of liquid? I think the idea is that the kids shouldn't have to suck as hard, which can create uncomfortable ear pressure build up. Also, because it's just a slit that allows kids to drink from it (not a controlled, vacuum style spout), leaks are inevitable. It doesn't leak like crazy, but you definitely have to keep an eye on it.
What my kids thought of it: 6
They don't really love it. They'll use it, but I think the spout really turns them off. My son loves his cups of raw milk, but when they're in this cup, he doesn't tend to even finish them.
**Side note– When sending me this sippy cup to try out, Born Free was kind enough to also send me two of their bottles, as well as two pacifiers. Though I had never really used a bottle with either of my kids (going straight from breast to cup), I didn't think much of it. I decided to try giving one to my son, though, just for the sake of reviewing it. I was so surprised to find that he fell in love with it, even at nearly 18 mths old (and never having used a bottle before, ever!). These are fantastic bottles, if you're looking for BPA-free but not wanting to use glass!
Cost: $10.99

My overall rating: 6.5
I wish that I liked this cup more than I do, but it just didn't do a whole lot for me. If my kids don't love it, it's hard for me to love it. The fact that it does leak makes it less desirable to use (it does come with a separate plastic, snap-on lid, but I find it impractical to use). It's a relatively affordable option, though, especially for those looking to stick with plastic, and the removable side handles for little ones is a nice feature that I haven't seen on any other cups.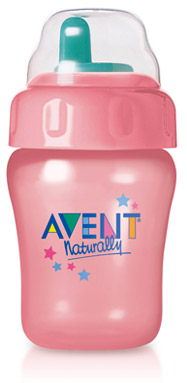 Avent Magic Cup
Ease of use: 9.5
This is the simplest of the cups I tried. It has the least amount of pieces, which I must admit, makes it very handy. It's also a really nice size for my kids to hold and use, both my son and daughter.
Ease of cleaning: 9
Again, because of few pieces, this one is a snap. The top is slightly narrow, but I can at least get a dish scrubbie in it pretty well, or else I toss it in the dishwasher. The lid and spout are simple to clean. It does have the issue of the other plastic spouts where mold builds up eventually (this just seems to be the nature of these BPA-free plastic spouts, unfortunately), but as with the Klean Kanteen, the replacement spouts aren't too costly and are readily available everywhere.
Practicality: 8
Very minimal leaking, handy size for little hands, not many pieces to lose. Overall, I like it a lot. My biggest issue with this one is that although I know that it's BPA-free, I still have these lingering doubts in my mind, since it's fairly cheap and made by a company that doesn't specialize in more natural products. Call me skeptical, I suppose. I'm sure that it really is BPA-free or they wouldn't be able to market it as such. As well, it looks like they now have some with optional handles, as well as some smaller (7 oz) ones for very young babies.
What my kids thought of it: 9.5
This might be their favorite. They love the bright blue (it comes in several colors, but that's what we have), they like that it's plastic and easy on their hands, they like the size and the spout. This one is often requested/fought over when I open up the cupboard.
Cost: $7.99 for a twin pack

My overall rating: 8.5
If you're not wanting to shell out the money for one of the more expensive ones, and are okay to stick with plastic, this might be the cup for you. It's definitely kid-friendly as well as wallet-friendly. Guess that makes it mom-friendly! Overall, I do like it and it gets a lot of use and love in our house, though I have others that I prefer more in an idealistic sort of way. 🙂
There you have it, ladies! The result of several months of cajoling for free samples and trying to test them all out fairly (I know- what a hard life I have!).
Wondering about my overall top picks?
Plastic: I love the Avent Magic Cup. Especially if your budget is small and you don't mind that you'll eventually have to get some new spouts, I think this one is a real winner.
Non-plastic: For me, it's a bit of a toss up between the Foogo and the Klean Kanteen. The Foogo is just an incredibly practical, durable cup, so easy on little hands and it's pretty similarly priced to the Klean Kanteen. However, the Klean Kanteen holds a bit more liquid (yet isn't too big for a 1 year old), and has that great ability to grow with your child by switching up the lid, as well as having a spout that my kids seem to prefer just a bit over the Foogo. Hmmm… it's a toss up!
(As an aside, if you are thinking of buying one of these cups through Amazon.com, would you consider using this link to get to Amazon, in order to support this site? The individual product links weren't working for some reason, but you can use this link
instead. Thanks so much! 🙂
Care to weigh in with your own thoughts and experience with any of these sippies? What did you like about them? What didn't really work for you or your children?

;