9 Healthy, Portable Snacks for Family Road Trips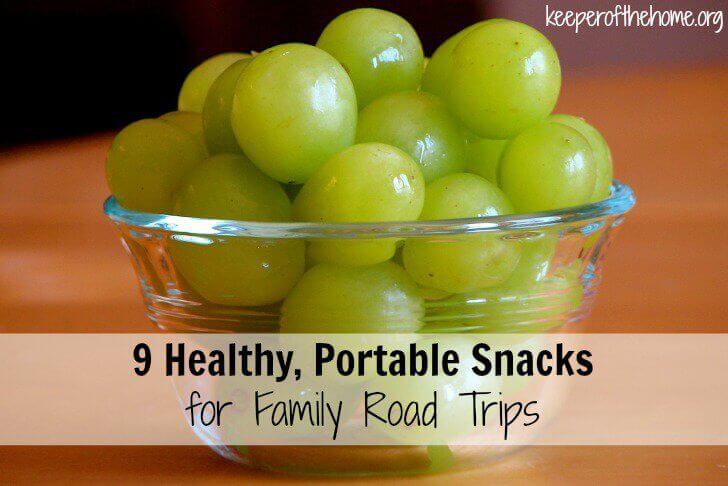 By Elsie Callender, Contributing Writer 
What's a road trip without snacks? For me, food is an essential part of any journey. Having something to snack on helps to pass the time in the car–and saves you from pulling into McDonald's when hunger strikes!
Healthy, portable snacks will keep your family full longer, and your kids won't get hyper from all the sugar and artificial food dyes in processed snacks. Because you don't want hyper kids locked in a car for hours on end, right?
It's a good idea to have a small cooler designated just for snacks, so you don't have to dig through the big ice chest every time you want a carrot stick. Store all your snacks in that cooler, along with an ice pack or two, to keep homemade snacks from spoiling or getting melty.
In addition to your road trip snacks, be sure to bring:
A trash bag
Reusable water bottles (a unique bottle for each family member, so you can tell them apart!)
Ready to plan your snack menu? Here are 9 picks for healthy, portable snacks for your summer travels!
1. Hard-boiled eggs
We love boiled eggs for road trips because they're non messy, and with 6 grams of protein they make a more substantial snack than other options. When we camp, we boil eggs for the next day while we're prepping supper at our campsite.
2. Homemade fruit roll-ups
Store bought fruit roll-ups contain a cocktail of corn syrup and artificial food dyes. Not a healthy snack! Thankfully, you can make your own easily enough, using any combination of berries or chopped fresh fruit that your family enjoys!

3. Homemade granola bars
Granola bars are filling and provide lots of nutrition in a small package. Try this recipe for Chewy Chocolate Chunk Granola Bars, or this one for Perfect Peanut Butter Granola Bars.
4. Non-messy fruit
Apples, pears, and grapes are good picks because you can eat them with their peels (unlike oranges) and they won't drip juice all over your hands (unlike plums).
5. Sliced veggies
Carrot sticks, celery sticks, and bell peppers are refreshing–and not too messy!

6. Homemade cheese crackers
If your kids love Cheez-It crackers, try a healthier, homemade version instead!
7. Trail mix
Use any combination of almonds, walnuts, peanuts, raisins, chocolate chips, sunflower seeds, pecans, dried apricots, popcorn, pumpkin seeds, etc. For a fun pre-vacation activity, you can have your kids assemble their own personal trail mixes ahead of time. Set out all the options in bowls, and let your kids fill their own labeled bag or container.
8. Beef jerky
This is another highly-processed snack–if you buy it in the grocery store! But you can make your own at home using ground beef. (If you don't own a dehydrator, use your oven's lowest setting.)

9. Snack boxes
If you're just traveling for a day or two, you can portion out individual snack boxes for everyone ahead of time. Fill sectioned snack boxes with crackers, sliced cheese, homemade hummus, sliced fruit, etc. and store in the cooler.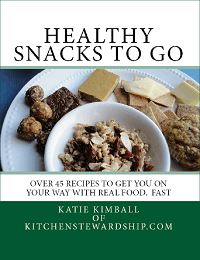 For more real food snack ideas, check out the eCookbook Healthy Snacks to Go by Katie Kimball. It includes 45 recipes perfect for camping trips, picnics, family vacation, and more! Pick up your copy HERE.
;
;
Are you taking a road trip this summer? What are your favorite healthy, portable snacks?
Disclosure: This post contains affiliate links. When you buy through our links, we earn a small commission, which helps to keep this site going so that we can continue to offer free and useful content, so thanks!