Note from Ann: OH MY GOODNESS, Thank you Kresha!!! I had no idea there were so many wonderful things to do with my milk kefir. I have used it as a straight up plain drink, added it to my smoothies and even thought to add it to my mashed potatoes, but wow, you just blew my mind!! I'm blowing you some cyber kisses….and adding these to my recipe book 🙂 

Keep reading if:
you love kefir and want more even awesomer ways to use it

if you want to try making your own

you need to add more probiotics and cultured foods to your diet
* * * * *
So…. you want to eat more probiotics and cultured foods. Way to go! After all, there are at least 10 good reasons you want to get more cultured and fermented foods in your diet.
(Besides, adding more cultured and fermented foods to your diet is a great baby step to take if you're just starting this real food / natural living journey. Absolutely!)
Well, have you tried milk kefir?
And even if you have, did you know it's actually super-versatile, so did you know there are even more ways to drink it than just putting it in smoothies or drinking it straight?
Intrigued?
Read on!
How to Flavor Milk Kefir
There a number of different ways to flavor milk kefir: blending it with fruit, blending it with spices, and using it as a base for other foods, like salad dressings or chilled soup, which is common in Eastern European cuisine.
But first, do you know how to make milk kefir in the first place? If not, go read this quick tutorial. Flavored kefir is like other cultured drinks, in that first you culture a plain, basic batch, and then you flavor it or do a second fermentation to further break down sugars and allow it to effervesce (if you so desire).
Also, if you need to be dairy-free, you can make coconut kefir using coconut milk, and coconut kefir can (almost always) be used interchangeably with milk kefir. Stephanie's video tutorial is very helpful.
So, once you've cultured your milk kefir, here are a few options for flavoring it:
Blend it with fruit.
Using the ratio of about 1 cup of fruit per quart of milk kefir, place any fruit in a blender and add milk kefir on top, then blend until smooth. My absolute favorite is blackberry, but peaches, mango, banana, even kiwi all taste lively, sweet, and fresh.
Blend it or sprinkle it with spices.
Spices not only notch up the flavor, but they notch up the benefits you receive. Cinnamon, for example, isn't just a lovely warm flavor, it's a blood and mood enhancer and helps the body function more optimally, so whether you add a spice in order to flavor your kefir or whether you add a spice and use kefir as a vehicle for getting more beneficial spices in your diet, either way you win. 🙂
Some spices I highly recommend for sprinkling on top or whisking into your kefir are:
You can also add spices in their whole form. For example, turmeric offers whole body wellness and you can juice a fresh turmeric root, then stir the turmeric juice into the kefir as a flavoring.
You can also do a secondary fermentation with whole spices. For example, if you'd like a chai kefir, place 10 whole organic cardamom pods, 1 organic cinnamon stick, and 1-inch of fresh ginger (cut into matchsticks) in a quart of milk kefir and let sit at room temperature for 24 hours, then remove the spices and your kefir is ready to enjoy.
Any secondary fermentation can be done the same way: merely add your flavorings, cover loosely, and let sit at room temperature for 24 hours, then remove flavorings and enjoy.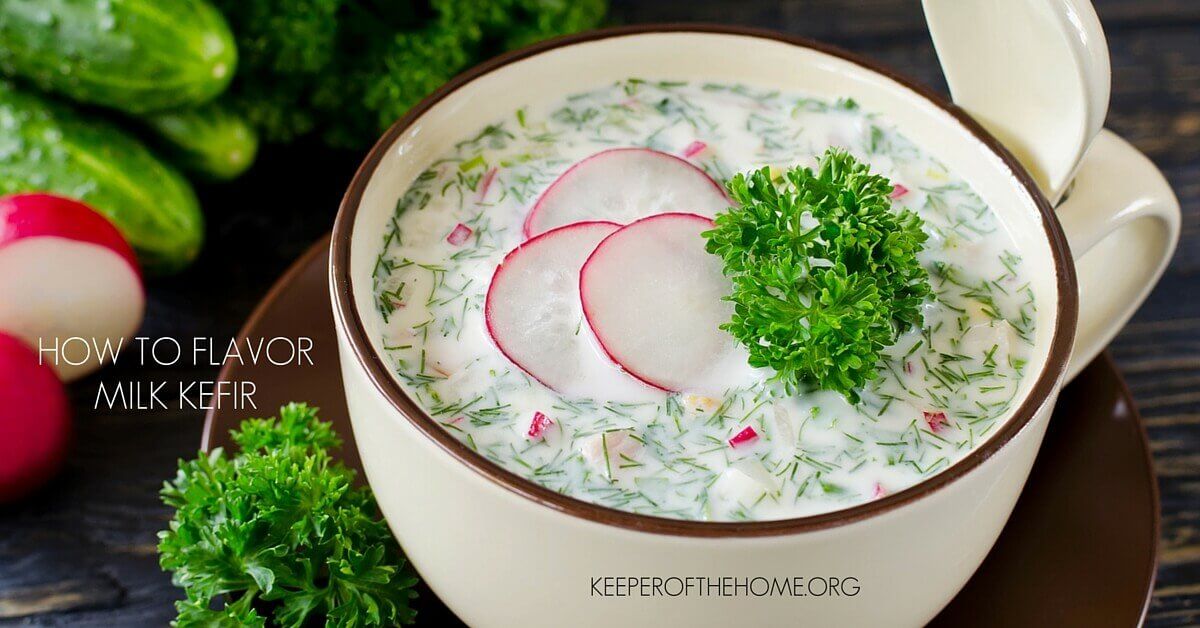 Turn it into a chilled soup.
A popular kefir-based soup in Eastern Europe is called okroshka. It's a delightfully refreshing soup in the hot months and it boasts loads of fresh dill, potatoes, and of course, kefir. Natasha's Kitchen has a lovely recipe (although I typically at least double the dill).
And a few more ideas…
Use it to make ranch dressing or dip. Other salad dressings work well too, as well as dips, like this blue cheese & walnut kefir dip.
Use it to soak your muesli or on top of your oatmeal.
Use it to make old-fashioned eggnog.
Add herbs and use it to make kefir cheese. Kefir cream cheese or kefir cheese balls are two of my favorites.
Make kefir ice cream or kefir pops. The sky is the limit on flavors, but this chocolate chip raspberry version sounds pretty alluring……
So, as you can tell, making flavored kefir is super, super simple and the flavors are up to you!
Now it's your turn: what's your favorite flavor? And do you have another way you love to flavor kefir? Tell us in the comments below!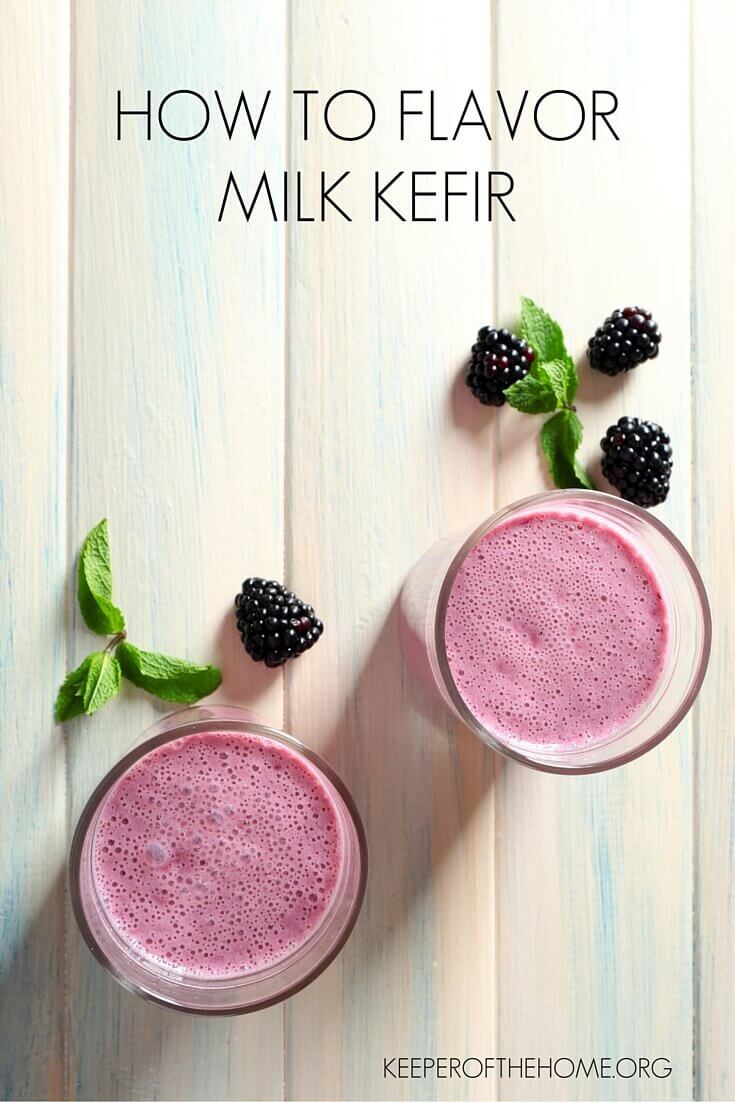 Disclosure: This post contains affiliate links. When you buy through our links, we earn a small commission, which helps to keep this site going so that we can continue to offer free and useful content, so thanks!