Baking Day Comes to an End
**Mmmm… delicious granola bars I made this afternoon!**
Phew! I am tired after a looong day in the kitchen (not to mention being up late the night before, grinding grain and getting everything soaking!).
No energy or time to post up pictures, but just wanted to share the final outcome of the day.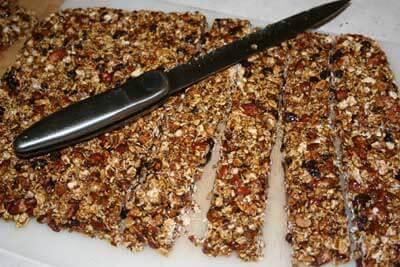 This was my hopeful to-do list:
2 loaves soaked, yeast bread (from Sue Gregg's grains book)
Double batch of banana-cranberry muffins
Triple batch of soaked tortillas
Double batch of granola bars
2 meals of Chicken Tetrazinni
1 big batch of meatballs (2 meals worth)
A batch of yogurt (in the oven to be ready tomorrow morning)

1 large Shepherd's Pie (enough for 2 meals)
Dice several large, nitrite-free sausages I bought yesterday and split them into meal-sized portions
Cook 1 lb taco meat
If I have time:
Bake pumpkins for making pumpkin puree
Wash/freeze fresh cranberries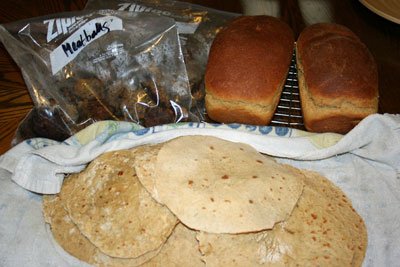 **More baking day goodies- meatballs, fresh bread, and 3 dozen soaked tortillas. I forgot to take a picture of the Shepherd's Pie, and the yogurt and mayo aren't done yet**
I can't believe I got almost everything done! I'm just about to put the yogurt into the oven for the night, and I will finish up the mayo in the morning. We will just take a separate day to do all the pumpkin puree, which had been my original plan anyways, so no big deal.
Someone asked me how often I do a baking/cooking day like this and the answer is, it's random. I did quite a bit of cooking like this while I was pregnant, to prepare for when the new baby arrived. But usually, I just do things like take a weekday morning here and there, or make an extra large meal for dinner and freeze the extras. If I'm going to bake, I will usually double or triple the recipes to have some for the freezer. It's not common that I go all out for a full day, just because it is both tiring and difficult with 3 kiddos under 5 years old.
That said, it's so worth it! I'm glad that I did it and would really recommend it to any mom who is just struggling to find the time to cook from scratch, but would be willing to give up one day and just give it her best shot!
And now this tired mama is signing off from baking day and getting ready to hit the hay… zzzzzz.