Warm Potato Salad with Bacon, Asparagus and Swiss Chard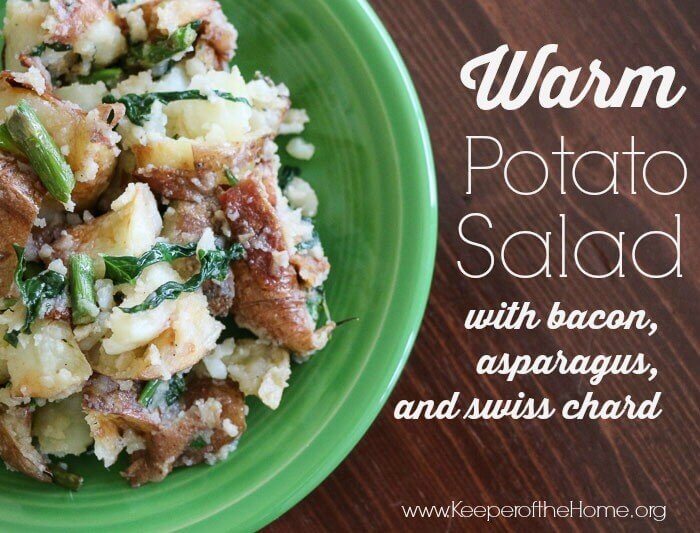 You don't even understand how good this potato salad is. A month or two ago, Ryan and I were out on a date. We had just discovered that our new home came complete with a very responsible teenage girl living next door. After our year of non-stop togetherness with four kids, being able to go out on date nights sounded divine. We found ourselves at Earl's, a local restaurant chain we enjoy. Not feeling particularly picky, we ordered the seasonal special, which included a steak, together with a decent coleslaw and a warm potato salad, whatever that was. Well. It was phenomenal. Now, I'm definitely a red meat girl and I love me some steak. But for some reason, I just kept going back to this salad. The skins were browned to perfection, the bits of vegetables and bacon were succulent, the whole thing was just delicious. I knew I had to try to recreate this recipe. A few weeks ago I attempted it for the first time on an evening when Ryan was out. Not wanting to waste any (that's my excuse and I'm sticking to it), I consumed a rather large portion by my lonesome. I happened to mention what I had made on Facebook and several friends gently hinted that I might have a blog on which I should share such things. Subtle, ladies. Last week, I made it again since Ryan had missed out the first time. There were a few differences the second time around, namely that I substituted spinach for swiss chard (this didn't really affect it, in my opinion), I used medium potatoes instead of the small nugget ones (again, not a big difference), and I added bacon instead of frying up turkey deli meat (mmm, yes, this was definitely the best change I made). Ryan agreed with me. This was incredible. He thought it was even better than the one we had at Earl's. I know that the name sounds sounds a bit gourmet and I often shy away from fancy-schmancy recipes myself, but it's really so simple to make, and not fussy at all. My 2-year-old liked it and the 4-year-old cleaned off her plate, so it's definitely kid friendly as well.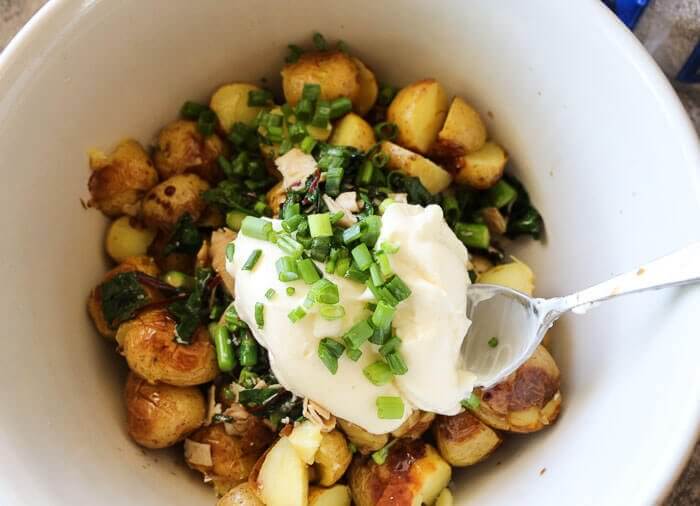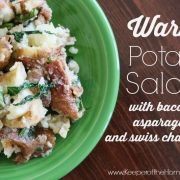 Print Recipe
Warm Potato Salad with Bacon, Asparagus and Swiss Chard
Ingredients
8

medium red or yellow potatoes

or 20-25 small potatoes

1/2

cup

chopped swiss chard

spinach is a good substitute

1/2

cup

asparagus pieces

can use 1 cup, if you really like asparagus

1/2

cup

chopped cooked bacon from clean source of pork

I've also used fried deli meat, like turkey, which isn't quite as good but still works well if you don't have/like bacon

1/4

cup

green onions

1-2

cup

to 3/4 cup mayonnaise

1

Tbsp.

extra virgin olive oil

1

Tbsp.

balsamic vinegar

Sea salt and fresh ground pepper to taste
Instructions
Roast potatoes at 400 F for about 15-20 minutes (baby potatoes) or 40 minutes for medium ones. You want them to be soft enough to poke a fork into, with brown, crispy skins. The crispier the skins, the better it tastes. Last time I made this, I didn't have small potatoes and in an effort to speed up the process, I cut my medium potatoes in half and roasted them with the cut side down on my stone baking sheet. This was serendipitous, because I had unknowingly added an extra surface that could be crispified.

While potatoes are cooking, get out a frying pan and saute your other ingredients. First, cook up your bacon then set it aside. Drain out some of the bacon grease, and then use the remaining grease to fry your asparagus pieces, and once they're almost finished (they only take 5 minutes or less if your pan is already hot), then add the swiss chard (spinach, whatever leafy greens you're using) in for the last minute. You only want to wilt the greens, mostly, not cook them to death.

Let potatoes cool off for a few minutes after coming out of the oven. I cut them in half to speed this up. In the meantime, measure out your

olive oil

, balsamic vinegar and mayonnaise. Start with 1/2 cup, and you can up it to 3/4 cup mayo if you feel like the potatoes are a bit dry still. Chop up green onions and add them to the bowl, along with your sauteed asparagus, greens, and chopped bacon.

Cut the potatoes into bite-sized pieces (about 1 inch). I actually like using my kitchen scissors for this job, but you can just chop them on a cutting board.

Mix it all really well in a serving bowl, add your

salt

and pepper, and let it sit for 5 minutes so the flavors can mingle a little.
That's it. Serve while still warm. Though not quite as good, this salad still tastes great as cold leftovers the next day, if you actually have any left over. Enjoy!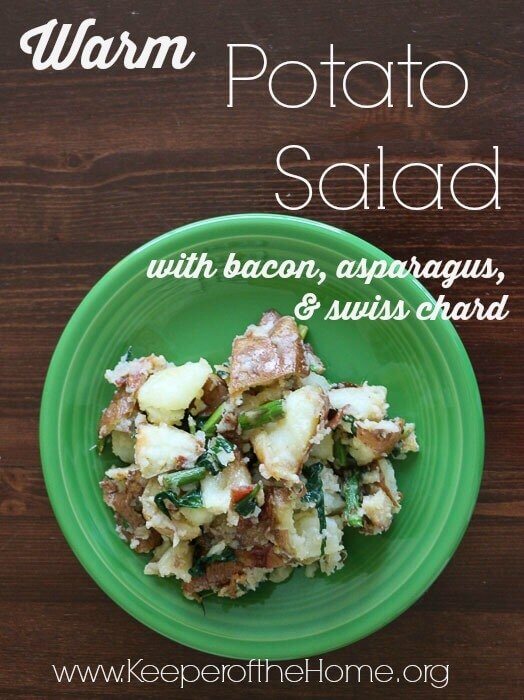 This post is sponsored by Plan To Eat. If you know that you need to make strides towards regular meal planning and you're looking for a tool to help you do it, I highly recommend that you check out Plan To Eat's tour (so that you can see what it's all about) and then sign up for a free 30-day trial to see how it would work for you! Plan To Eat was born from a desire to eat real food — great food — prepared at home, together as a family. Plan to Eat is an online menu planner that uses your recipes, scheduled for the days you want them, automatically generating your grocery list, organized the way you like to shop. Eat well. Eat together.