Home Sweet Home (and my first menu plan in ages!)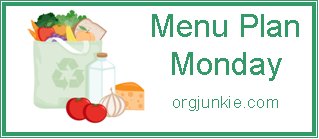 I'm back. Ahhhh… There is no better place than home. 🙂
We got in very late last night, so I am a bit wiped and hoping for an early bedtime tonight. Ryan came down in the afternoon on Saturday to pick us up, and we intended to be home by around 8 or 9 pm. Wouldn't you know it, right as we were about to get on the freeway, we suddenly had a very sick little girl in the backseat, all over everything (and I do mean everything). Poor thing!
We rushed back to Grandma's (fortunately only 5 minutes away) and spent about 3 hours, cleaning up clothes, pillowcases, briefcases, duffel bags, her car seat, and of course, the backseat of the car. Not so fun. Finally, everything was clean, dry and little girl was feeling well enough to get back in for the 3+ hour drive home. We made it home uneventfully, coming in just after midnight.
Tired as I am (Caden woke me at 6:40 this morning, and though I tried, I couldn't get back to sleep), I am just so grateful to have our family back together, to be back to puttering around my own kitchen, to worship and fellowship at church today (and see my good friend's sweet little newborn, whose arrival I missed on Tuesday morning). Although we had a wonderful time with my husband's family, it's good to be home.
We also had a guest arrive today, an old family friend who is down here taking a 3 week course and needed a place for herself and her one year old son to stay (her husband is currently studying as well, in a different city). While she takes her course, we get the privilege of caring for her sweet little boy, who we've never met until today but have already fallen in love with. What a doll he is! You should see him dance, lol!
With all the excitement of being back and having a full house, I'm definitely back to proper meal planning! Here's my first real attempt in months (I've had loose menu plans during my morning sickness, but they weren't worth sharing- honestly!). I'm trying to save all of the food that I had bought just before we left for Seattle on very short notice, and just make meals with what I have on hand as best I can, before everything spoils if it hasn't already!
Breakfasts
Toast and eggs
Pancakes/waffles x 2
Baked oatmeal x 2
Breakfast wraps (scrambled eggs, potatoes, fresh tomatos and cheese in a tortilla)
Cinnamon Raisin scones
And, a green smoothie (kefir or yogurt plus various types of fruit, blended up with dark leafy greens, like spinach and kale) every morning. We are trying to make a new habit of having these as a regular part of our breakfasts. We often have fruit smoothies, probably 3-5 days a week, but we are working hard to get more fresh greens in us, and this is a great way to start our days! Check out Lindsay's recent post on green smoothies for more information about what they are and why they're so good for you!
Lunches
Mostly leftovers, bits and pieces from the fridge, yogurt with fruit, sandwiches, etc.
Dinner
Monday: Salmon, sweet potato and broccoli chowder, with a chunky vegetable salad (no green leafies, but lots of cucumbers, peppers, carrots, cauliflower, etc. in small chunks. This is my husband's favorite type of salad).
Tuesday: Pizza (homemade soaked dough) with chicken, spinach, peppers and whatever else strikes me, plus a green salad.
Wednesday: Spicy Meatloaf (from Nourishing Traditions), 12 Clove Butternut Squash, and some kind of grain (probably quinoa or millet).
Thursday: Burritos with beans, rice, and cheese, plus fresh guacamole.
Friday: Spaghetti squash with Janet's Tomato Sauce, and coleslaw.
Saturday: Out to a birthday party for our daughter's friend (this family invites whole families over for dinner and a fun evening, rather than just a kids party- isn't that a great idea?), and we're leaving a bit early to take the kids to auntie and uncle's house so that we can have a late dinner date for ourselves before he leaves for New Orleans on a 5 day business trip. 🙁
Sunday: Macaroni and Cheese with cauliflower (from the latest issue of Real Simple), plus spinach salad.
Find more menu planning inspiration at I'm an Organizing Junkie!