The Simplify Family Life Collection: $450 Worth of Ebooks for Only $47!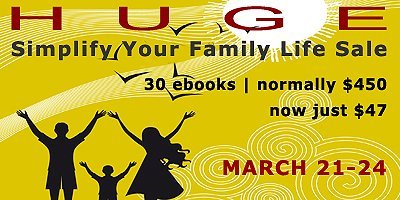 This week I'm pleased to be a part of a fantastic group of bloggers and authors, including my books in the Simplify Family Life collection ebook sale. Corey from Simple Marriage and Mandi from Life…Your Way have brought together some of the top authors in the family life space with 30 ebooks covering a variety of topics related to family life (food and health, marriage, finances, simple living and more).
When purchased separately, these ebooks are worth $450, but for four days only, you can purchase the entire collection for just $47! A portion of each sale will also be donated to The Mentoring Project, which seeks to rewrite the story of the fatherless generation.
This collection is only available from 2 p.m. on March 21st to 2 p.m. on March 24th. There will be no late sales offered.
Click here to purchase your collection today!
There are some amazing books included in this package, including a few that I already own and love (Healthy Snacks to Go, Tell Your Time, Herbal Nurturing, Family Camping Handbook) and many others that I am so excited about and have been thoroughly enjoying this past week (15 Minute Marriage Makeover, The Real Food Cleansing Guide, 5 Ingredients, 10 Minutes, A Simple Marriage, and Smalltopia, among others).
If you had been considering purchasing either one or both of my ebooks, Healthy Homemaking and Real Food on a Real Budget, which total $31.92 when bought together, it may be well worth it to consider spending the extra $16 to get this entire package of ebooks!
When you purchase the Simplify Family Life collection, you get instant access to each of the 30 ebooks listed below:
Family Minimalism
The Minimalist Mom by Dusti Arab @ Minimalist Adventures ($17)
Food & Cooking
Healthy Eating Handbook by Melanie Thomassian @ Dietriffic ($27)
Green Living
Intimacy & Marriage
Getting Lucky With The Wife by Sarah Baron @ Anonymous8 ($18)
Money
The Super-Charged Guide to Financial Freedom by Jeff Nickles @ My Super-Charged Life ($14.60)
Organizing
Parenting
Parenting with Positive Guidance by Amanda Morgan @ Not Just Cute ($9)
Personal Development
Your Life. Live It. Love It. by Sherri Kruger @ Serene Journey ($19.50)
The 7 Week Life Cleanse by Katie Tallo @ Momentum Gathering ($20)
Travel
Work at Home
Holidays
Click here to purchase your collection today!
The sale ends at 2 p.m. ET on March 24th, and there will be no late sales offered, so don't wait.