Time Saving Tips for Natural Cleaning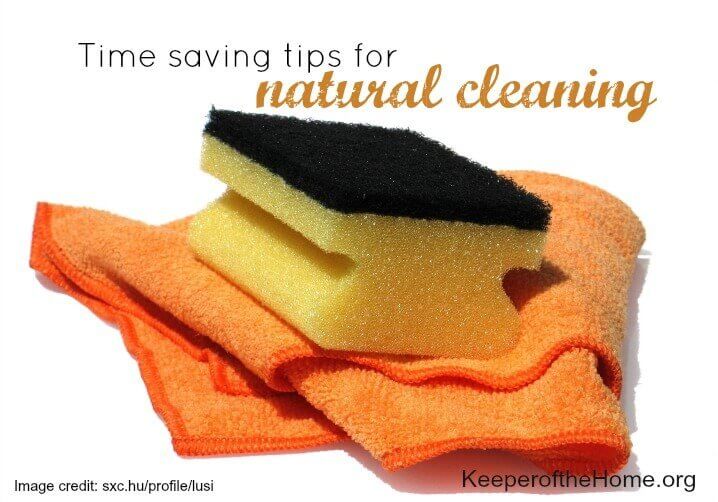 By Stacy, Contributing Writer
Do you want to clean your home naturally, but feel overwhelmed by the idea of making the cleaners yourself?
If you are anything like me, you might get carried away and think you need a new cleaner for every task. Eventually this becomes a burden that is just too much to handle.
It might seem a little silly to allow the desire to clean your home naturally drive you crazy, but when added to the mountain of tasks a wife and mom already has, it really can be the straw that broke the camel's back!
Today I'm going to share a few tips to help you save time while cleaning your home naturally so you can maintain your home, toxin-free, with the least amount of fuss.
1. Label homemade cleaners with the recipe
First of all, be sure to at least label cleaners so you don't forget what is inside. It's easier than you might think to forget what you poured into that spray bottle.
Go one step further and write the recipes on the container; it makes refills a breeze.
Since many recipes involve only a few ingredients, and can often be made by pouring those ingredients directly into the container, a label with instructions will allow you to make cleaners whenever very easily.
Just the thought of looking up the recipe can be enough to stop me from bothering to make the cleaner at all (I know, I'm sad), so having it on hand does make a big difference.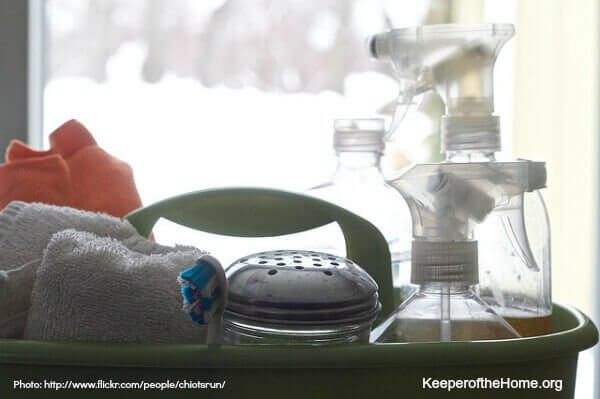 2. Use a select few cleaners
Save time by choosing just a few recipes that work for multiple cleaning tasks. It's not necessary to have a different cleaner for every chore.  In fact, soapy water will do the trick on just about anything.
These all-purpose cleaning sprays are easy to make and great for cleaning counter tops, bathroom sinks, door knobs, cabinets, and more.
Along the same vein, it is important to be selective about what you choose to make. I used to make just about everything related to cleaning. I had more time on my hands than I do now. It was fun, but after some while it became a great chore.
The most difficult for me was keeping up with making laundry soap. Especially when I had to grate the bars of soap first! I have found some acceptable alternatives and now buy laundry soap instead of make it.
I continue to make all other cleaning products, but have accepted that laundry soap is not something I am going to make for the time being. I will probably do it again in the future, but for now, I need to use my time to make other things (like breakfast, lunch, and dinner!).
(If you are able to make laundry soap, that's awesome!)
3. Prepare in bulk
Some cleaners, such as scented vinegar, can be made in bulk. Other cleaners need to be prepared at the time of use (limit your use of these, unless they are very simple!).
Create scented vinegar by adding 75 drops of lavender or tea tree essential oil to a one gallon jug of white vinegar. Close the lid and shake to blend.
Preparing a large amount means you won't have to re-make the cleaner as often.
 4. Leave spray bottles close to areas that require frequent cleaning
The easier it is to clean, the more likely we are to actually do it!
Keep a spray bottle filled with all-purpose cleaning spray in the bathroom and kitchen for quick clean ups.
I also store baking soda and vinegar in the bathroom cabinet so the toilet or sink can be deep-cleaned whenever they need it.
If you have already reduced the number of cleaners you use, then storing one or two in each room is much easier.
I hope this post has shown you that natural cleaning doesn't have to be difficult or overwhelming.
What are your best time saving tips for natural cleaning?
{ Top image credit}