A Minimalistic Approach to Summer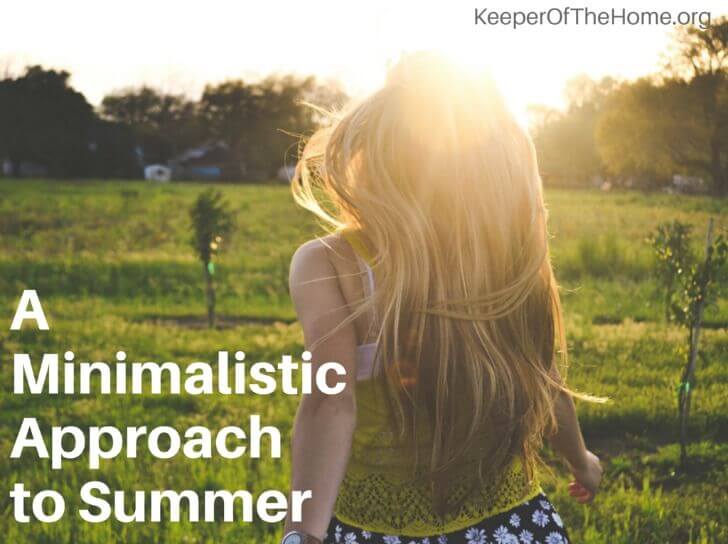 By Hilary Bernstein, Contributing Writer
Whew. The school year is over. Does anyone else want to breathe a huge sigh of relief with me?
In many ways, it feels like my family's been on fast forward since school began last August. And I'm tired.
Even though I homeschool my two children, our year's been jam-packed with co-ops and lessons. Strangely enough, I tried to be intentional with our plans this year,  yet somehow we ended up with at least one family member having some sort of a commitment five nights of the week. That left us Friday and Saturday nights as a family without having to run around – only if we didn't make other plans with family or friends.
I don't mean to complain. We weren't busy just for the sake of being busy, and we certainly tried to only commit to worthwhile groups and activities. But too much is too much. When our commitments started to wind down last month, we all breathed sighs of relief.
We could linger at the dinner table instead of rushing through dinner and running out the door.
We could play board games or card games or outside games together before bedtime.
I could teach my children how to cook or bake or garden.
I could finally start to tackle the mess that had now crept into most rooms of my house.
We could be more intentional about our lives.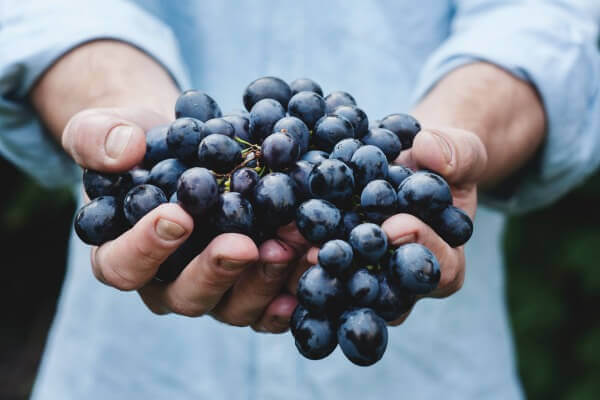 After binging on busyness for nine solid months, I'm spending the summer purging the commitments from our lives. Oh, sure, we still have swim lessons and vacation plans, but we're ditching the non-essentials.
This year, my minimalistic approach to summer includes three Rs:
Rest.
Rejuvenation.
Refocus.

Rest
I'd love to imagine that I'm going to catch up on my sleep this summer, but with two elementary-aged kiddos roaming my house, that's not going to happen. (They haven't reached the sleeping in phase yet.)
Rather, my rest is going to come from refusing to run everywhere all summer long. Our commitments are few, and we're trying to stay at home. It may mean long, boring summer days for our kids – which is OK!! – and hopefully it will mean more time spent as a family, whether we're eating out on our deck, reading books together on a blanket in the shade, or going on neighborhood walks together.

Rejuvenation
What good is a summer without some fun? Since it's finally warm in my corner of the world, I want my family to get outside as much as possible and soak up the sun and warm weather. I just know that running through the sprinkler, eating tomatoes fresh off our garden vines, or chasing fireflies at dusk will do wonders in reviving our spirits.
Refocus
As much as I'd like to ideally spend my summer resting and having fun, I do need to keep some responsibility in my life. Over the next couple months I'll try to refocus on what is truly important and ask myself the hard questions:
What needs to stay in our lives during the coming school year?
What needs to be eliminated during the coming school year?
What should our family focus on in this next year of our lives?
What should we learn about?
How can I improve our education, home, business, outreach, and relationships?
Along with my time of reflection, I need to refocus the efforts in my house. My school room must get cleaned up before another year begins. My basement desperately needs a new way of organization. (I know, I know … minimalism is all about getting rid of what you don't need, which I've done. But I use our basement to store clothing my children will grow into and their toy rotation, among other things.)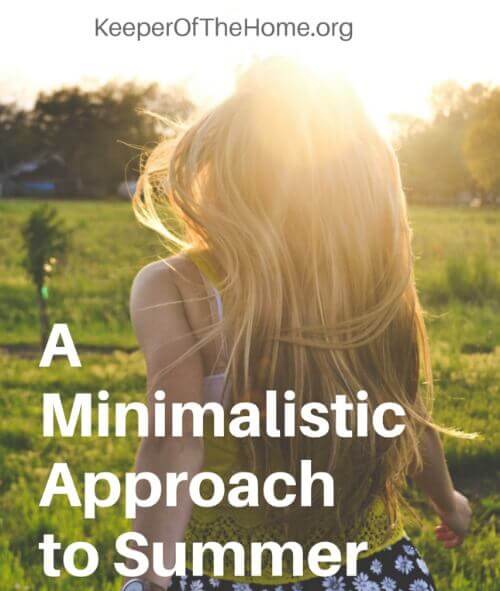 If I can refocus my home and my family's priorities by Labor Day weekend, I'll be thrilled.
And if I can stick to rest, rejuvenation and refocus this summer, I'll feel like I've accomplished much with my minimalistic plans.
If you're culling commitments from your summer, what does your minimalistic approach to summer look like?