3 Steps to a Naturally Healthy Home
By Stacy Karen, Contributing Writer
Giving your home and health a natural living overhaul can be a huge task.
One that may seem overwhelming and difficult.
When there are so many things to change, it's hard to know where to start.
Today I'm sharing three simple steps that I feel are a great place to begin.
Of course, what needs to be changed will be different for everyone, but I think you'll find these steps doable and beneficial.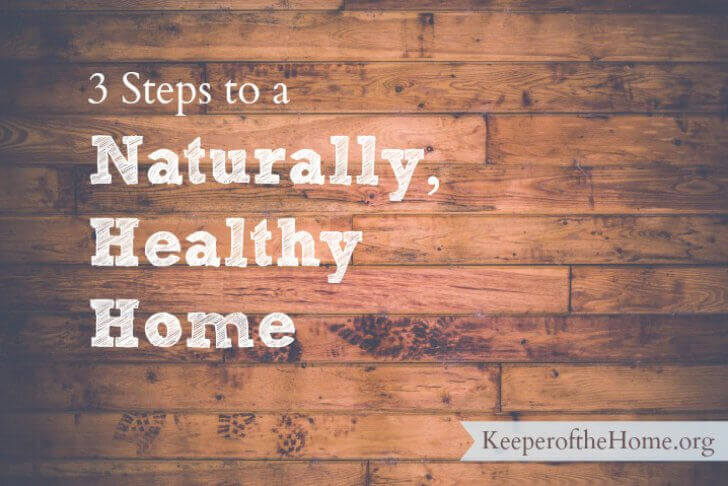 1. Replace chemical cleaners with natural ones
This is a simple, yet important step to take since chemical-laden cleaners can be harmful to our bodies and the environment.
In fact (as Stephanie mentioned in a older post):
"They can have harmful effects on our bodies, anything from a mild rash, hives, breathing difficulties, headaches, to more moderate effects, such as severe burns, to long term effects, such as being carcinogenic (cancer-causing) or causing hormone disruption."
Using natural cleaners is one of the very first areas I changed. It is reasonably easy and saves money too!
You could purchase natural cleaners at the store, but honestly, they are so easy and inexpensive to make there's really no need.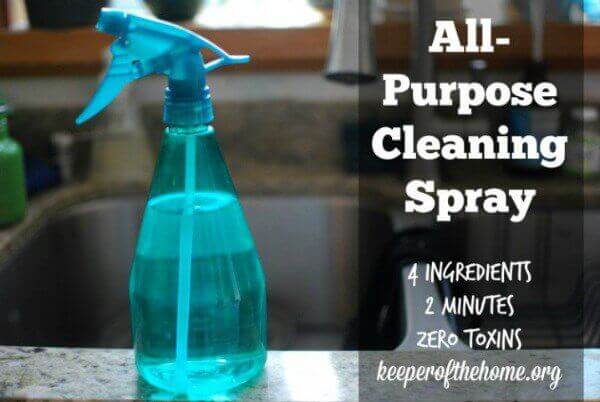 In fact, a few simple ingredients will allow you to tackle numerous cleaning tasks.
This post lists a number of recipes I use: Non-Toxic Cleaners You Can Make at Home.
You might like to bookmark some of these natural cleaning posts for future reference as well:
And, if you are not a subscriber to Keeper of the Home, I'd encourage you to do that now, since subscribers receive a free copy of Clean & Simple, an eBook that shows you how to take 7 affordable ingredients and turn them into 12 green cleaning products for a more natural home!
Action Steps

Make a simple all-purpose cleaning spray and keep it handy for regular use.
Decide which other cleaners you would like to try and make a shopping list for anything you need.
Next time you need to mop the floor, try a homemade floor cleaner, or hot soapy water.
2. Learn a Few Simple, Home Remedies
Home remedies may seem daunting, but don't feel that you should learn (or change) everything at once. In fact, there's no way to ever learn everything! (And there is really no need, either.)
Making a few small changes will greatly enhance the health of your family (and you won't lose your mind in the process). 
While you may not be ready to give up commercial pain relievers or cold medicines, perhaps you could switch out the Vaseline you regularly use on dry patches of skin for a natural, non-toxic version. It's super simple to make your own non-petroleum jelly.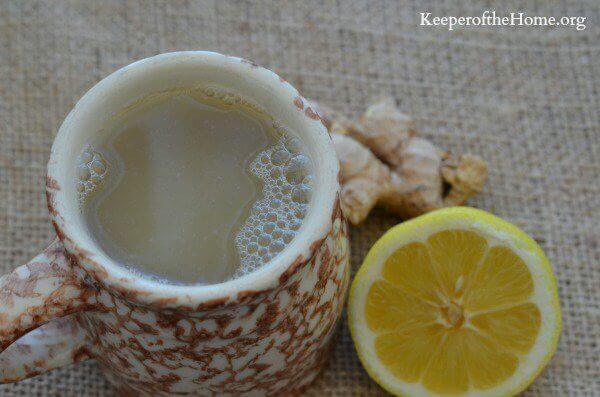 Next time cold and congestion strikes, you might like to try a simple herbal steam and this easy homemade vapo rub (or an even easier DIY chest rub).
Essential oils make natural remedies quick and easy to prepare. Although, it is important to learn how to use them as they are strong substances. I have listed some helpful tips and information here: How to Get Started with Essential Oils.
Bookmark this post for when you are ready to dive in to natural remedies: The Ultimate Natural Remedies Round-Up.
Action Steps

Decide which home remedies you are willing to try and create a plan to for buying or making them.
It's important to do this before you need them (if possible) so as to reduce stress and increase the likelihood of actually using them!
Choose only one to three remedies to begin.
3. Increase Real Food Consumption
Food has the power to change your health. It truly does. (I've experienced this personally.)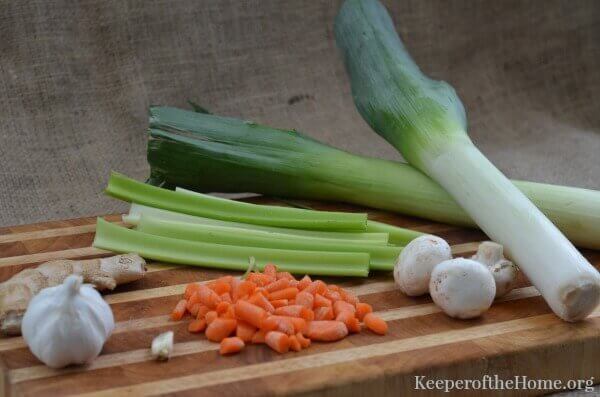 With this step, I intentionally stated to increase consumption of real food, rather than tell you to eliminate junk or "bad" food. Why? Because deprivation often causes us to binge at some point.
And it can make the changes even more difficult to stick with. (Although some of you do better with an all or nothing approach. If that's you, then ignore this advice.)
In the beginning, it's easier to add real food to your diet than take well-loved, but not-so-good-for-you food out.
Emphasize the addition of nutritious vegetables and natural meats.
Replace conventional meat with pasture-raised, grass-fed meats
when possible (even if you can't afford to buy all organic and pasture-raised meats, some is better than none!). Do what you can.
Vegetables, vegetables, vegetables. Eat lots of them.
Add an extra serving of vegetables at dinner, whip up a green smoothie a few times a week, or make the habit of eating a big salad with your lunch every day.
Bookmark this post for ideas: 7 Ways to Add More Veggies to Food You're Already Cooking.
The idea is to crowd out the bad stuff with the good stuff and to develop a taste for real, healthy food.
Action Steps

If you are not planning your menu for the week, start to do so. This usually enables you to eat much better than if you are preparing meals or eating on the fly. (Get menu planning help here.)
When planning your menu, include an extra vegetable each day. Gradually increase vegetable consumption until you are eating at least 6-8 servings of veggies a day!
If you've never tried a green smoothie, do it! You'll be surprised at how good they taste.
Having a naturally, healthy home need not be difficult or overwhelming. Making small changes over time will add up to great benefits down the road.
If you'd like more support and guidance, you may enjoy my free 10-day Healthy Living Makeover eCourse.
Which of these steps do you plan on implementing to make your home healthier?
Disclosure: This post contains affiliate links. When you buy through our links, we earn a small commission, which helps to keep this site going so that we can continue to offer free and useful content, so thanks!