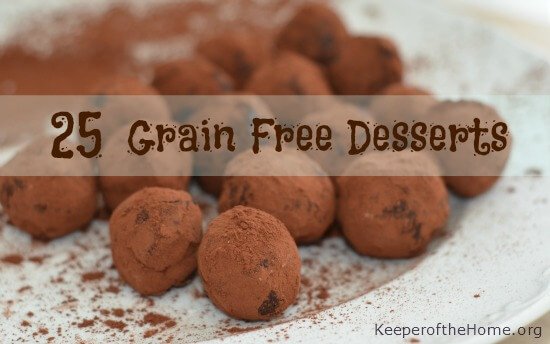 By Stacy K., Contributing Writer
Over the past few months I have been working toward eliminating grains from my diet. I haven't felt this good in quite some time.
While going grain free may not be for everyone, I am convinced that reducing the amount of grains we consume would be beneficial to most.
With the holidays coming up, I thought it might be challenging to find treats that are grain free, until I started looking! There are a plethora of grain free recipes and resources online, which makes holiday baking much easier. No need to adapt recipes or deal with baking flops. Hooray!
Today I want to share a number of wonderful grain-free dessert recipes with you, but before I do, I must pass along the most important piece of information of all: how to make chocolate truffles.
Chocolate truffles are a delicious indulgence. Not only are they grain free, but they only contain four ingredients! They appear fancy, and you might think they are complicated to make, but let me assure you, they are not (the hardest part is rolling them).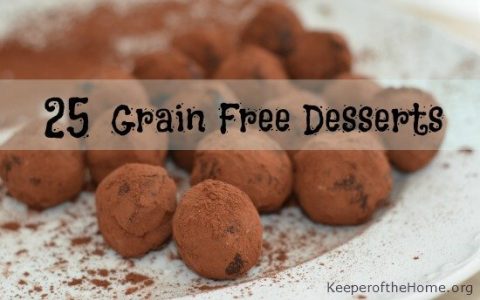 Print
Homemade Chocolate Truffles
Ingredients
Instructions
Chop chocolate into small pieces then place in a heat proof bowl and set aside.
Warm cream and butter in a saucepan until it comes to a boil. Immediately pour over the chopped chocolate and stir until the chocolate has melted.
Pour this mixture (which is called ganache) into a casserole dish and leave to cool. Once the ganache has cooled to room temperature, cover with plastic wrap and place in the fridge for about two hours.
Once the ganache has hardened, remove from the fridge. Use a melon baller or round measuring spoon to scrape about 2 teaspoons worth of hardened ganache out of the casserole pan and quickly roll into a ball. Roll the ball in the cocoa powder and set aside on a tray.
If the mixture becomes too soft to work with, put it back in the fridge to harden. Dusting your hands with cocoa powder can also help as you roll the balls.
Store truffles in the fridge for up to a week.
Truffles can also be rolled in shredded coconut or chopped nuts.
Courses Desserts and Sweets
If you want to take these truffles a step further, try these Herb Infused Chocolate Truffles (they are still very easy to make).
So now that you know how to make the all-important chocolate truffle, I will share some other grain free desserts that you might like to try this holiday season (or anytime you want a grain free treat).
Grain Free Desserts
Source: thenourishinggourmet.com via Stacy on Pinterest
Cookies and Bars
Chocolate Covered Coconut Snowballs @ The Nourishing Gourmet (pictured above)
High-Protein Peanut Butter Chocolate Chip Cookies
Grain free Chocolate Chip Cookies (also dairy and egg free)
Chocolate Thumbprint Cookies
Grain Free Gingerbread Men
Almond Joy Bars
Lemon Coconut Brownies
Raw Chocolate Pumpkin Pecan Macaroons
Super Easy Triple Chocolate Peanut Butter Truffles
Chocolate Chip Coconut Macadamia Cookies
Cakes
Grain Free Chocolate Red Velvet Cake
Grain Free Banana Cake
Strawberry Shortcake (also dairy free)
White Bean Vanilla Cake
Chocolate Chestnut Mousse Cake
Molten Lava Chocolate Cake
Fudge and Bark
Healthy Chocolate Peanut Butter Fudge
Dark Chocolate Peppermint Fudge
Chocolate Walnut Freezer Fudge
Dark Chocolate Almond Bark with Ginger, Pumpkin Seeds and Apricots
Chocolate Macadamia Bark
Mousse and Ice cream
Instant Pumpkin Ice Cream
Chocolate Custard
Coconut Lime Mousse
Coffee Ice Cream
Stephanie's note: Stacy's truffles have me drooling… I can't wait to make these! Our family has also been seeking to eat more grain free of late, and I know it can be challenging to find recipes. If you're looking for more grain free inspiration, two of my favorite e-cookbook resources for this are Against the Grain (mostly savory foods- meals and sides) and Treat Yourself (wholesome treats, many of which are grain free).
What's your favorite Grain Free Dessert?
Disclosure: This post includes affiliate links. And chocolate… lots of chocolate.