1000th Post Party Giveaway: 5 Homestead Blessings Videos and $25 Gift Certificate from FBS Books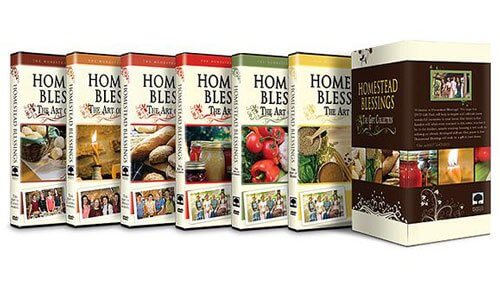 As a homeschooling mom myself, I've found that it's not always easy to find all of the curriculum and resources that you're looking for in one place.
So it was wonderful to realize that one of my current advertisers, FBS Books, not only has almost all of the curriculum that I have chosen for our next school year, but they even carry the one resource that I couldn't find anywhere else!
(It's Leagues and Legends– geography for early elementary students, in case you were wondering)

They are a family-owned business, providing classical and conventional homeschool curricula. They carry all of the traditional school subjects, as well as Fine Arts, Foreign Language, Bible and Devotional, and even supplemental resources for lighter summer studying.
It was hard for me to decide what I loved more about FBS… their homeschool resources OR their homesteading resources! You all know that I love me some homesteading books (and of course they carry this book, too)!
They have a wonderful selection of books on canning and preserving, gardening, raising animals, making cheese, and even traditional food classics like Nourishing Traditions and Real Food.
For my giveaway today, I get to feature another very fun part of their homestead collection: The Homestead Blessings videos!
These 1 hour videos each cover a different aspect of homesteading or homemaking, including Herbs, Gardening,  Bread Making, Cooking, Quilting and Soap Making (and more). There are 10 videos in all, and each one features mom Vicki and her 3 grown daughters, Jasmine, Hannah and CeCe.
Last week, Abbie and I were thrilled to receive our copy of The Art of Herbs. We watched it together and were promptly inspired to go pick the wild mint growing in our backyard to make fresh, iced mint tea. After watching the video, 5 year old Abbie is now a pro at making the tea herself and loves to make a jug for me!
Take a look at this short promo video to get an idea of what these videos are all about:
This one is from their Art of Dairy Delights video, showing yogurt making:
FBS Books carries all of the Homestead Blessings videos, and today they are offering you the chance to win any 5 Homestead Blessings videos of your choice, as well as a $25 gift certificate for anything else in their store!
To enter the giveaway, simply click on the link below to fill out a survey form. Rather than having to leave multiple comments for each entry option, you can just complete the one survey and you're done!
Giveaway ends Wednesday, June 23, at 4pm PST. Giveaway has now ended!

FBS Books has also offered a special discount just for Keeper of the Home readers. Use the code KEEPER for $5.00 off of $75.00 purchase! Free shipping within the US for orders over $25, and now shipping to Canada as well!